Array
(
    [ref_id] => 114
    [photo_file_name] => Urban-Bistro---48.jpg
    [posted_by] => 
    [text_display] => 
    [cover_photo_file_name] => 
    [slider_images] => 
)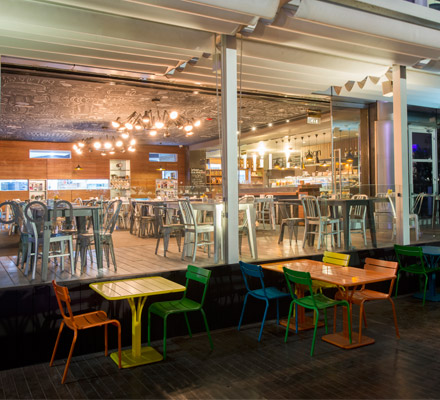 What's it like: Setting itself apart from all the other DMC venues which serve lunches for on-the-go executives, Urban Bistro is a proper restaurant, with a casual, café vibe coming from the funky, chalkboard menu-style ceiling, bookshelf-lined walls and open deli area. The menu contains all the usual suspects of lunchtime favourites such as salads and burgers, with the differentiating factor being that it is all focused on sustainability. The team strive to source locally, and the chef assures me that 75 per cent of the ingredients are from around the region, with ongoing efforts to increase that ratio. I decided to put that to the test with ordering a local calamari with chilli flakes and homemade aioli – which was crispy and delicious. My lunch companion also craved calamari but opted for the day's special, which came with a tapenade crust and watermelon sauce, so on the starters front, they got a tick mark from us. For mains, as they didn't have too many gluten-free options, I opted to have the vegetarian portabella mushroom burger (the mushrooms are from Lebanon – not bad!) which the team obligingly served me bun-free. My friend's quinoa and beef salad with an Asian dressing was nice, but with the beef on the drier side, unspectacular. We were wowed however by the sneak peek into the soon-to-be-revealed new menu which we got from the desserts – one of them an English garden with chocolate soil, berry flowers and macarons, but the clear favourite, a refreshing lemon parfait with praline topping adding crunch and texture. We couldn't get enough of it! Clearly a popular lunch venue – the brightly coloured tables and chairs on the outdoor terrace was full on a weekday – the restaurant suffers from patchy and inconsistent service, but I would definitely come back for the fresh, wholesome and overall quite tasty food, that I know doesn't have a million carbon miles notched up to it. Maybe for dinner however (yes, they are open all day, also on weekends), when I wouldn't feel guilty to try the duck confit or lamb shanks!
If you want to go: Mains are priced around Dhs70 on average, carafes of local water are served free – we like! Call 04-3624330.
Best for: An alfresco lunch date
– Sudeshna Ghosh