Array
(
    [ref_id] => 115
    [photo_file_name] => Massaad-Farm-to-Table-JBR-Outside.jpg
    [posted_by] => 
    [text_display] => 
    [cover_photo_file_name] => 
    [slider_images] => 
)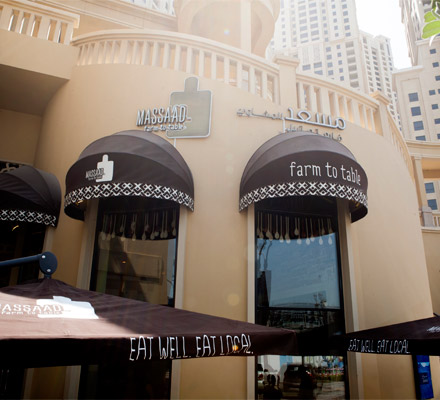 What's it like: This casual eatery nestled on the bustling Jumeirah Beach Residence Walk offers a refreshing take on Arabic food, with a focus on the farm-to-table concept – they source most of their ingredients directly from the farmers, including the chicken. The cosy, rustic-style interiors feature an open kitchen set right across the leather couch and square wooden tables, exposed brick walls with a floor-to-ceiling shelf displaying jars of pickles and olives, and lanterns and buckets hanging from the ceiling. The restaurant is rather small, but outdoor seating is available too.
My dining partner and I love a good Arabic grilled chicken with garlic paste and fattoush, so before we could even see the the menu we knew we had to try it, to measure it up to others we like. We began with the fattoush, a salad of fresh, local vegetables dowsed in pomegranate molasses and topped with crisp bread and pomegranate seeds – we both loved how juicy the tomato and cucumbers were, and were amazed that they were all from local farms. The other starter we shared was a generous portion of spicy potatoes – crisp and tossed with chilli powder – which definitely took the trophy for Best Starter Ever! My suggestion would be to order garlic dip as a side to the potatoes as they pair well. This was followed by lamb chops and a half grilled chicken, all of which came with French fries and grilled vegetables. I dunked the juicy, tender chops into the chilli paste which came with it, while my dining partner relished every morsel of the moist chicken. We also nibbled on a flavoursome chicken shawarma which was served on a thin flatbread – similar to a tortilla – and arrived on a cute miniature wooden chopping board. On the whole, we loved how wholesome and fresh everything tasted, and would definitely come back here – especially when a meal made using sustainable produce, is priced as reasonably as this.
If you want to go: Around Dhs200 for three-course dinner for two. Call 04-3589776.
Best for: A relaxed Arabic meal
– Nicola Monteath