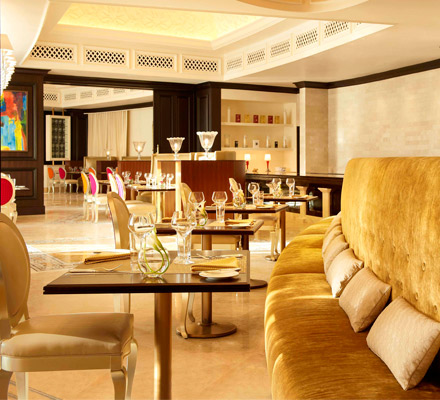 What's it like: The first thing I noticed when I walked into the restaurant was the chairs. They looked very familiar – the Baroque-style white chairs with bright pink and orange backs are very similar to celebrity chef Gary Rhodes' soon-to-be-reopened Dubai restaurant Rhodes Mezzanine. But that's where the similarity ends. These chairs combine with even more luxurious armchair-style seats in purple, champagne and bright stripes, and glamorous chandeliers, to create an environment that is opulent yet understated.
The term modern British, when it comes to food, has come to be an all-encompassing umbrella, with so many different influences, and in this case, Gary has decided to tribute the region that is now his second home, with Middle Eastern inflections onto a British-rooted flavour profile. So, for every steak and kidney dumpling, there's a seared sumac and pistachio king prawn with tahini dish on the menu.
For starters, I opted for a sumac prawn dish on a bed of sautéed greens, while the steak and kidney dumpling, a modern take on the classic pie, served with mash and onion gravy, was my dining partner's choice. Both dishes were executed perfectly, and set the tone for the rest of the meal. For mains, the pan fried salmon with flageolet beans was yet another display of exemplary restraint from the chefs to result in a beautiful dish of simple, delicate flavours, while the USDA prime ribeye – steaks are a specialty here, with a separate grill section on the menu – was a fine cut, grilled to perfection, and perfectly paired with a bernaise sauce. For dessert, it was an argument between the classic sticky toffee pudding, and my iced lemon mousse with raspberry sauce – a lovely balance of sweet and tart that had all the joys of ice cream, with the delicate texture of mousse – over which one was better; I think the lemon mousse is the perfect summer dessert. This restaurant lives up to every single expectation one has from a chef of Gary's calibre – with a surprisingly affordable price tag.
If you want to go: Around Dhs500 for three-course meal for two. Call 02-6944553.
– Sudeshna Ghosh