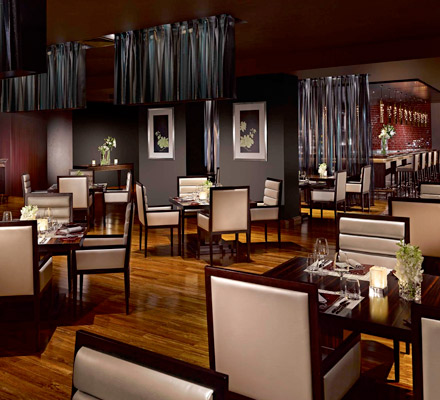 What's it like: Sometimes simple is elegant, and that's exactly what this restaurant showcases, with its clean, modern lines, contemporary fabric light fixtures, and parquet flooring. Floral paintings add a touch of femininity to the otherwise meat-loving masculine space, while an open kitchen offers a behind-the-scenes look.
The sophisticated eatery offers premium Australian and American cuts. While my partner and I decided to share an appetiser – a platter of calamari, wrapped prawn and marinated tuna slices – we were presented with a round loaf of four different breads (we loved the soft, warm tomato bread) and a juicy, slow-roasted mini lamb on bone as amuse-bouche. We found the appetiser was, in fact, too small to share, and agreed the crisp batter-fried calamari on a pungent wasabi mayonnaise bed was the best of the trio, which didn't impress overall. For mains, my partner chose a Black Angus rib eye (250g) made medium well, with steamed vegetables and shoe string fries. The meat was moist inside and slightly lean and he loved the crunch the steamed broccoli and carrots had. We tried dunking the fries into the crackled pepper jus steak sauce and really enjoyed the soggy but flavourful results! Although the rib eye looked enticing, it didn't hold a candle to the Wagyu OP rib – a 550g piece I wish I could polish off in its entirety– which collapsed on the tongue instantly. The rich, soft and buttery meat had the right amount of char on top, and I soaked every piece in a thick port wine reduction sauce which seduced me with its sweet notes. Rassoile sweet potatoes, a fried sweet potato cake, was my chosen side and made for great crunchy, interval bites from the steak. After mains, we shared an incredibly light pavlova filled with strawberry cream, topped with Chantilly, sliced strawberries and crackle pop, before we decided to roll ourselves out.
If you want to go: Around Dhs700 for two, without drinks. Call 02-6988888.
Best for: Sophisticated date-night
– Nicola Monteath