Array
(
    [ref_id] => 104
    [photo_file_name] => rhodes.jpg
    [posted_by] => 
    [text_display] => 
    [cover_photo_file_name] => 
    [slider_images] => 
)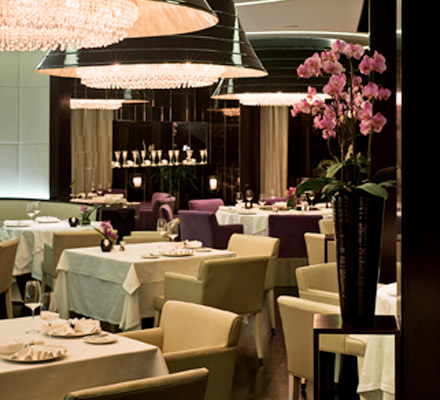 What's it like: It's all too easy for Dubai restaurants to over-kill on bling, but this one manages to strike that perfect balance between understated subtlety and glamour, with its sparkling crystal chandeliers, shiny chrome staircase leading to the upstairs bit, and the muted upholstery, with pops of purple brightening things up.
New additions to the menu seemed like the perfect excuse to check out this signature restaurant from much-lauded celebrity chef Gary Rhodes, although when it came to ordering, we ended up going for some of the well-loved classics – such as the potted chicken liver parfait with grape chutney with toasted brioche, raisin and fig bread. It came highly recommended, and we could see why – with its light, smooth texture, it's liver like it's never tasted before! The other starter my friend and I shared was a warm sesame glazed duck that brought an Asian-inspired hit to our tastebuds, washed down perfectly with the signature cocktail, Purple gangster, a berry concoction.
Mains were always going to be steaks, question was which one. Again, the staff came to our rescue, recommending a 350-day grain fed wagyu fillet from Australia, with a medium marbling score (the menu has a helpful guide to marbling) to my friend, while, in the interest of variety, I opted for a grain fed USDA prime sirloin. We tried each other's steaks of course, as well as shared sides of creamed spinach, a unique Welsh rarebit-topped Champs potatoes, and orange glazed carrots. The sides were just the right amount, and the steaks, melt-in-the-mouth beautiful – going to show that for the perfect steak dinner, all you need is good quality meat, and simple accompaniments. Job done!
With the restaurant's reputation for desserts, we couldn't resist the signature sticky toffee pudding, waving goodbye to our New Year diets as we tucked into the warm, sweet treat. Not content with sharing that, we also ordered the banoffee cheesecake with Baileys ice cream – decadent but worth every morsel.
If you want to go: Around Dhs800 for three-course dinner for two, without drinks. Call 04-3165550.
Best for: A cosy catch-up
– Sudeshna Ghosh