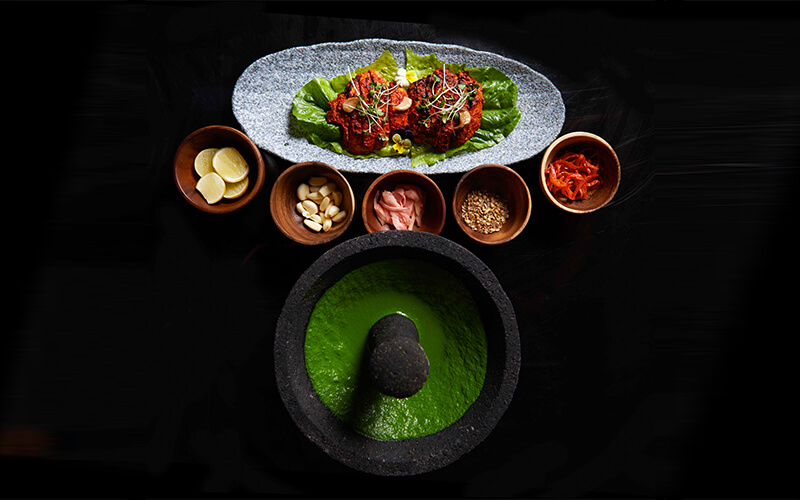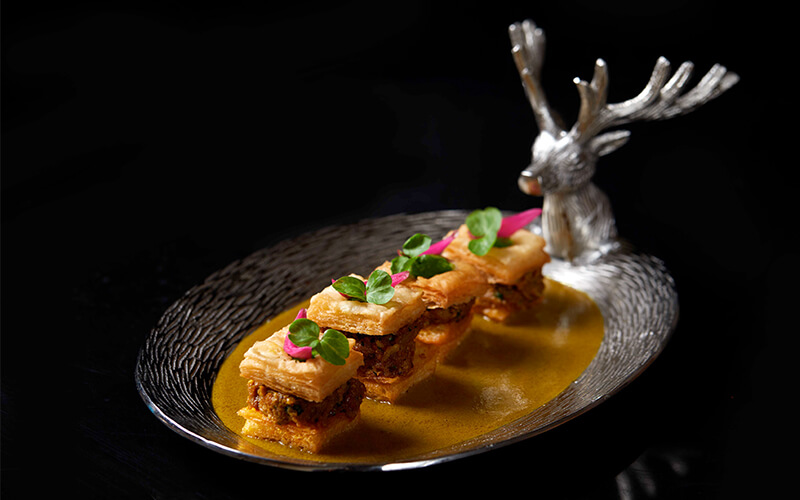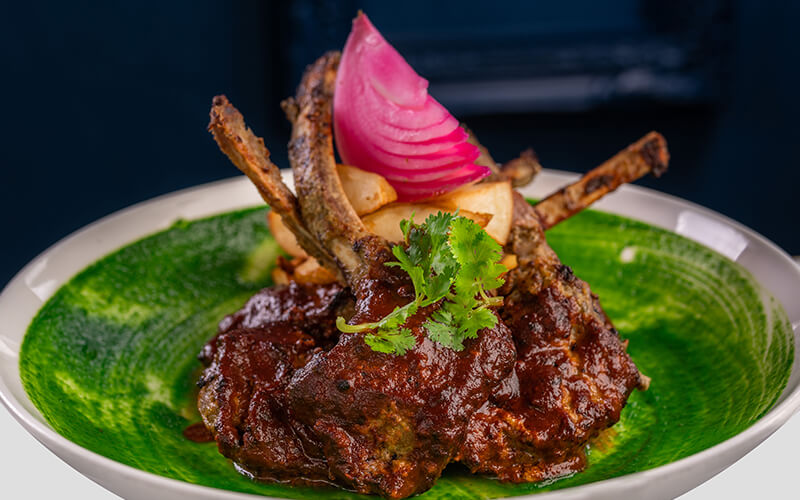 What's it like?
As one of the city's most loved modern Indian restaurants, and one that is constantly evolving with innovative concepts and cooking techniques, it comes as no surprise to hear that Trèsind has come up with a specially curated menu specifically for the Holy month of Ramadan.
Priced at a very reasonable rate of AED 179 per person, this five-course set menu – portrayed under an Indian Steakhouse concept, brings the best of Trèsind's fine dining to the table, alongside a number of Ramadan-themed additions with an Indian twist. Served daily throughout the Holy month, this meat-focused menu is available from sunset onwards, while the restaurant is also operational for lunch and a la carte dinner bookings, too. A vegetarian menu is available upon request, so veggies – don't be put off by the steakhouse label!
What are the food highlights?
To begin, guests are invited to break their fast with a selection of pre-appetisers and glass of freshly squeezed juice from the restaurant's roaming drinks trolley. Dates with popping candy are a fun twist on the Ramadan tradition, accompanied by refreshing bitesize chunks of watermelon and feta, and penne papad (small Indian chips) served with tomato salsa. The stand-out dish in the Iftar course is by far the crispy okra with yoghurt dip. As someone who would typically shy away from okra, I'm blown away by this dish. My only prior experience with ladies' fingers has been in a stew (typically served with lamb as a Middle Eastern speciality) where the veg has been slimy, tasteless and not particularly enjoyable. However, Trèsind's adaptation is deliciously moreish, and the okra has a crispy, shell-like texture, finished with an injection of spice from the cumin-topped yoghurt dip.
Next up is the meat board course, with dishes such as beef tikki served in lettuce wraps, katsu pao sandwich and chicken sausage seekh kebab. The tandoori lamb chops are our unanimous favourite from this course; tender and flavoursome, and served with green chilis and an olive tapenade.
The "sorbet course" is, in fact, a scoop of condensed caramel ice cream. It's not got the sharp citrus flavour that I was hoping for from a palette cleanser, but its enjoyable nonetheless.
For mains, chef Himanshu Saini has worked his magic on incorporating Indian flavours into Josper-grilled meat dishes; from the tenderloin wagyu steak with tandoori jus and spicy harissa, to the parmesan crusted chicken steak with korma sauce and torched asparagus. Highlights include the butter pepper garlic prawns and the slow-cooked pot nihari.
To finish, we enjoy a deconstructed baklava and nine textures of mango (we're able to count them all, too!)
The bottom line: In a city where new F&B outlets are continuing to pop up, with over 1,100 new restaurants and cafes opening in 2018 alone, competition is rife to stand out from the crowd – particularly at this time of year during iftar season. Trèsind has stepped up to the mark once again, and offers a unique twist on its much-loved dishes to bring something new to the table during the Holy month. A great value offer that shouldn't be missed!
Details: For bookings, please call 056-4209754 or 04-3080440, or visit www.tresind.com/ To check out the newest offering from the masters behind Trèsind and Carnival by Trèsind, click here.