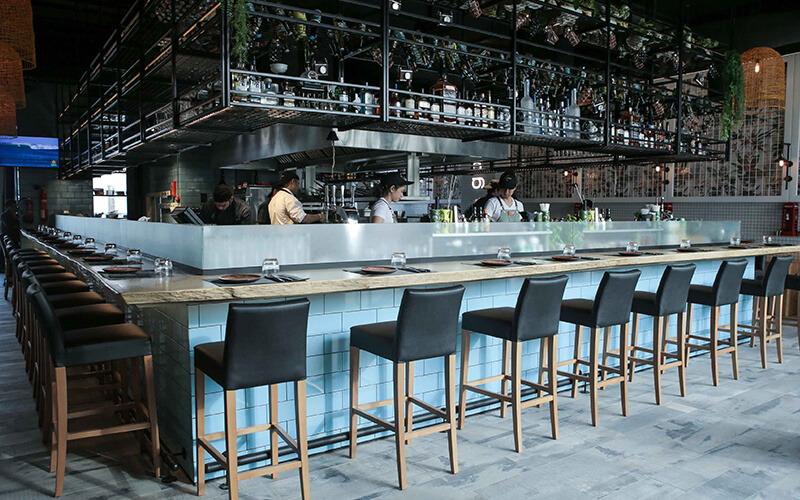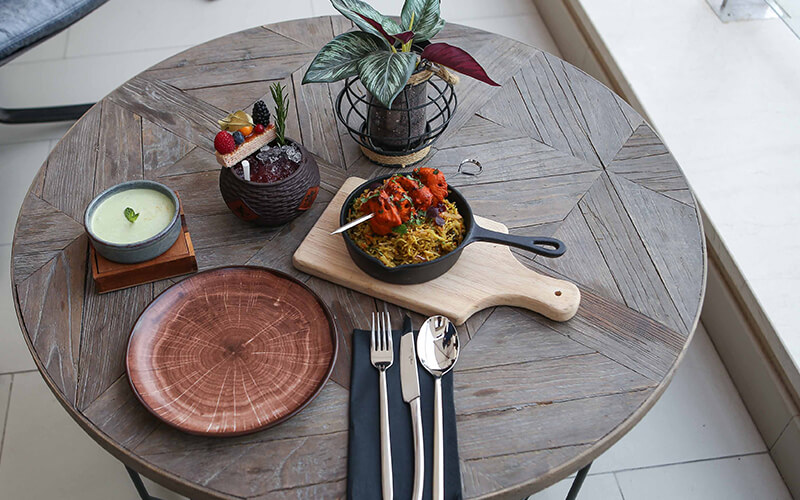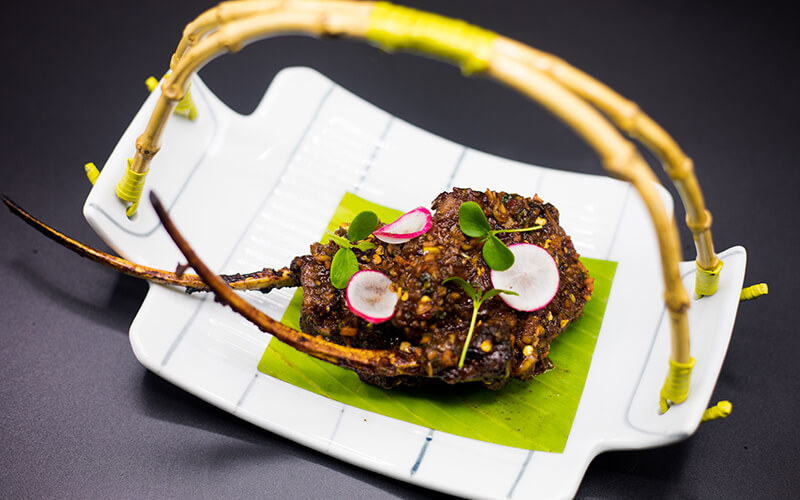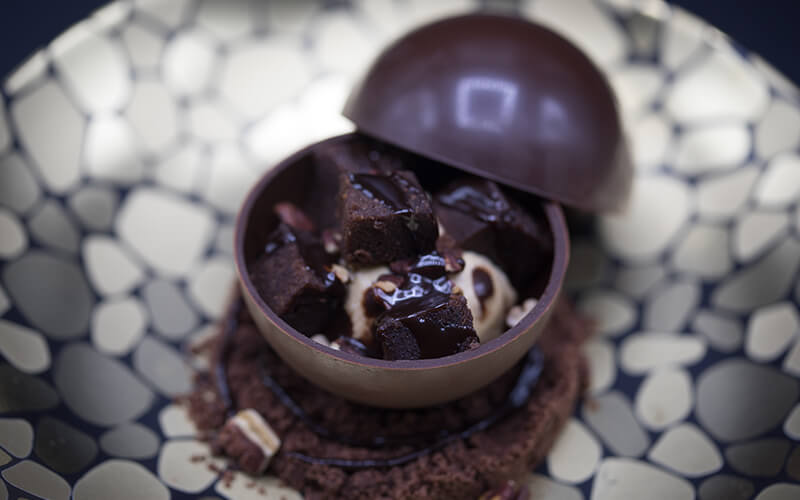 What's it like?
A Cappella is an all-new casual hangout-style lounge and global tapas bar located at Palm Jumeirah's newly-opened lifestyle destination, The Pointe.
With uninterrupted views over the water and Atlantis The Palm, A Cappella is situated on the second, licensed floor of the destination. Offering both indoor and outdoor seating, the venue is super casual, cool and welcoming. While the weather's cool enough, you can enjoy table seating outdoors on the large terrace area, or alternatively grab a seat at the quirky bar inside which overlooks an open kitchen, giving the place a very Spanish-esque feel – who doesn't love being able to watch chefs firsthand working their magic?
The atmosphere is upbeat, welcoming and fun, with the music increasing slightly as the night goes on – making it an all-round great spot for hanging out with friends, to enjoy affordably priced quality food and beverage throughout the night.
What are the food highlights?
A Cappella is brought to us by the guys behind two of the city's most sought-after modern Indian restaurants, Tresind and Carnival by Tresind. If you're a fan of these concepts, you'll know that perfected flavours blended with fun and interactive creativity run through the veins of everything produced by this team – and A Cappella is no different.
The passport-style menu at A Cappella is divided into various countries, each of which showcase a handful of dishes that the respective countries are known for. Although the menu covers a decent variety of cuisines, I like that the menu selection isn't overbearing – it's always a concern when kitchens try to pull too much off, but A Cappella ensures the selection is kept small, and quality high.
All dishes on the menu are tapas portions, so it's a great place to come when you fancy nibbling away at a variant of flavours.
The pani puri chapmenoise gets us off to a great start – little crispy bites of chickpea and potato filled with vibrant tamarind water.
Moving to the USA, we devoured the mini cheese burger sliders served in beautifully soft brioche-like buns, topped with mushroom ketchup and stick fries, which provided a great crunchy texture. This dish was fantastic paired with the mac and cheese served with lobster and truffle, which was absolutely delicious and indulgent.
One of my favourite dishes of the night was the tandoori lamb chops marinated in shichimi soy and served with a miso dip. The lamb was tender and packed with flavour – both my dining partner and I contemplated ordering a second portion they were that good.
Another dish we equally enjoyed was the de-shelled mud crab malay curry – a perfectly blended mixture of spices and beautiful creamy flavours, which we were sure to mop up with paratha and steamed rice.
To finish, I couldn't resist the mention of sticky toffee pudding from the UK's section of the menu. Prepared with a twist on the classic, A Cappella's pudding is made using dates, served with banana ice cream and topped with salted caramel popcorn.
The bottom line:
A Cappella offers fantastic value for money, with most dishes averaging around AED 30 per portion. We were also really impressed with the beverage prices – it's certainly an ideal spot for meeting a group of friends for a catch-up without having to worry about how much the bill is going to come to at the end of the night (unlike most places in Dubai).
The venue has some great offers too, including a daily unlimited happy hour from 4pm – 8pm for just Dhs150 per person. On Thursdays, enjoy a lively atmosphere with a live DJ and beatboxer from 9pm. A DJ also plays every Wednesday, Thursday, Friday and Saturday from 8pm.
Details: For more information or to make a reservation, call 0589719542 or 04 5896788. To read more of our restaurant reviews, click here.