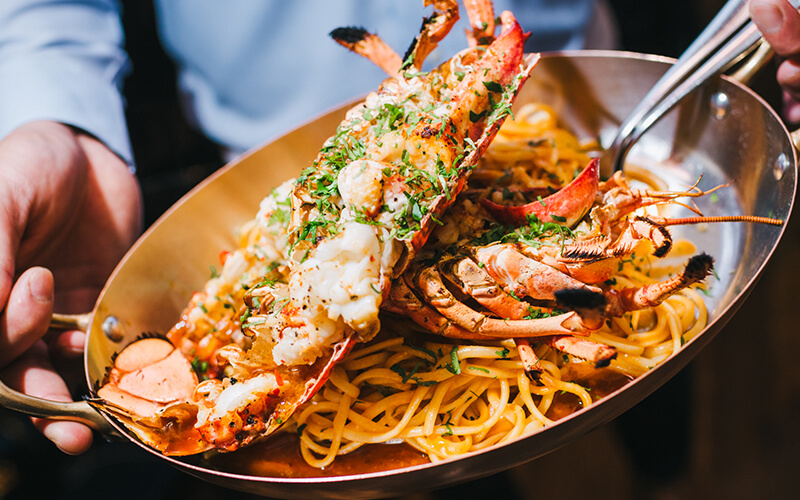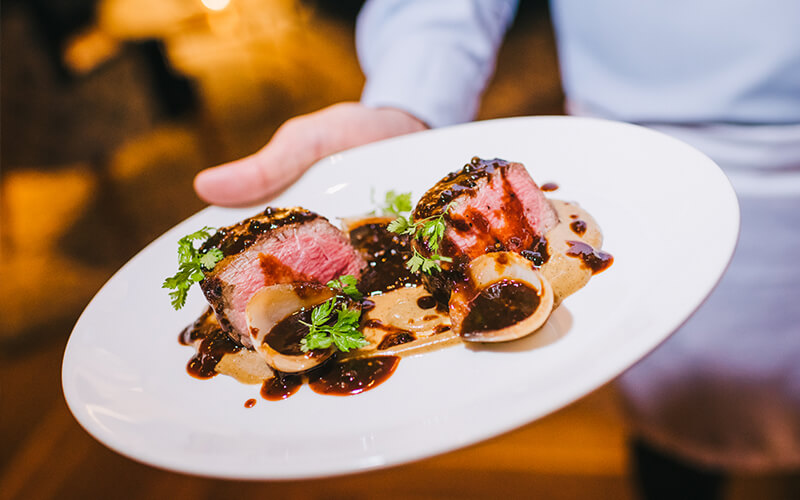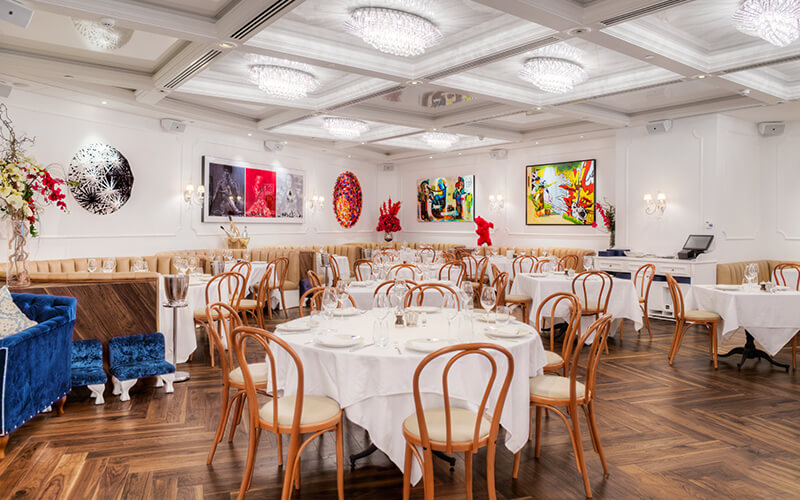 What's it like?
There's a certain air of mystery upon entering Bistrot Bagatelle. Located at the Fairmont Dubai on Sheikh Zayed Road, diners enter the French eatery via a private lift to the first floor, before being faced with a plain white door. "Are we in the right place?" we wonder. But following a nod of approval from the staff member manning said door, we're welcomed behind the intriguing white fixture and led down the red carpet to the restaurant's main entrance.
Inside, Bagatelle's striking French-inspired décor is a mix of modern and traditional, with an added splash of Dubai flair; think plush blue velvet upholstery, vibrant pop-art creations plastered across the walls and white clothed tables, which range from large booths for the party-goers, to smaller, more intimate settings for those after a more reserved evening. The venue opens at 8pm, and we're booked in for the first seating at 8:30pm on a Friday evening (the second is 10:30pm.) While it's still early (by Bagatelle's standards), there's a growing buzz throughout the restaurant as we take our seats with a full-view of the open kitchen and DJ booth.
What are the food highlights?
Luckily for the non-French speakers out there (guilty as charged), Bagatelle has done us the courtesy of including both the French and English translations for each dish on the menu. Many dishes take their inspiration from traditional European dishes, which chef Timothy Newton (read our interview with chef here) has interpreted with a French twist – a bold move, we think, but one we soon learn has paid off.
To start, we enjoy a generous portion of burrata served on a bed of sweet Datterini tomatoes, asparagus and a flavour-packed salsa verde, but we're particularly impressed with the "tartare de boeuf." While the beef is deliciously moreish and smothered in Bagatelle's "secret sauce," it's the crispy potato base that catches our attention. They're essentially bitesize hash browns – lightly fried and piping hot, and the perfect contrast to the chilled beef topping.
On the topic of beef, we try the "faux filet du Wagyu" for our main course, which doesn't disappoint. Tender cuts of wagyu striploin are served medium-rare to the table, alongside skinny fries and a green peppercorn sauce that we gladly mop up with the leftover fries. We also try the "filet de Loup de Mer au caviar," which is salt-baked seabass drenched in a champagne caviar sauce with cauliflower puree. When it arrives, I'm slightly perturbed by the seemingly small size of the fish (in comparison to the beef). However, I'm soon eating my words as it's a surprisingly rich and filling dish, but we'd recommend ordering a side of fries or veg to cut through the creamy sauce.
By the time we finish our mains, the atmosphere is really starting to pick-up in the restaurant as those booked in for the later seating begin to arrive. We grab a quick bite of dessert (the "cheesecake au chocolat blanc" being our favourite), before the lights go down and the volume is ramped up. It's not long before the waiters and diners are dancing on table-tops with sparklers, and we reluctantly tear ourselves away, conscious of our early morning alarm and full tummies.
How was the service?
The staff at Bagatelle are upbeat, enthusiastic and on-hand to help us with any requests we may have throughout the evening. Our waiter is extremely personable and attentive without being overbearing and is more than happy to offer his personal recommendations and pairings from the menu.
The bottom line:
A great weekend spot for lovers of top-quality food and a good time. If you're planning to visit mid-week, Bistrot Bagatelle recently launched its "Studio Bagatelle" evenings, taking place every Wednesday. Termed as a "glorious throwback to the disco era," expect a night of dancing paired with a delicious menu of Bagatelle's signature dishes, from 8pm till late.
Details: For reservations, call +971 4 354 5035. If you enjoyed this article, you may be interested in reading more of our UAE restaurant reviews here.