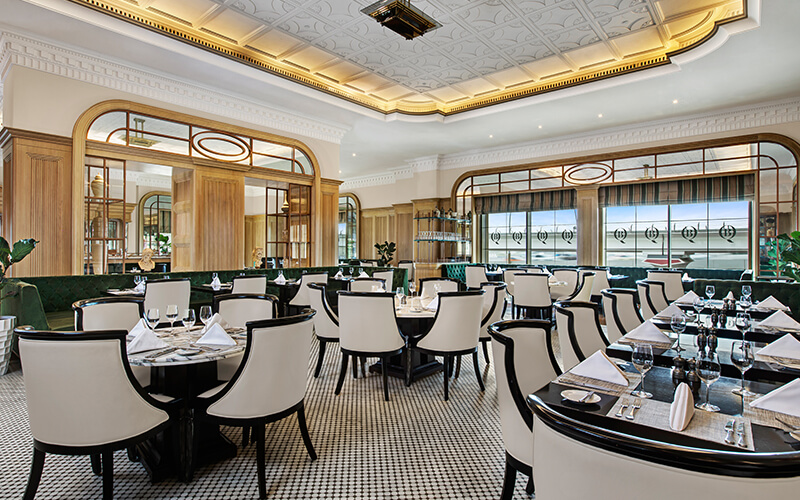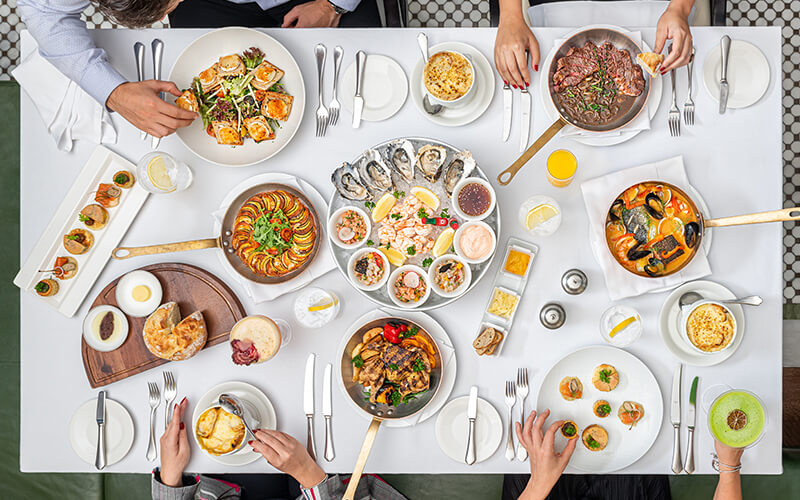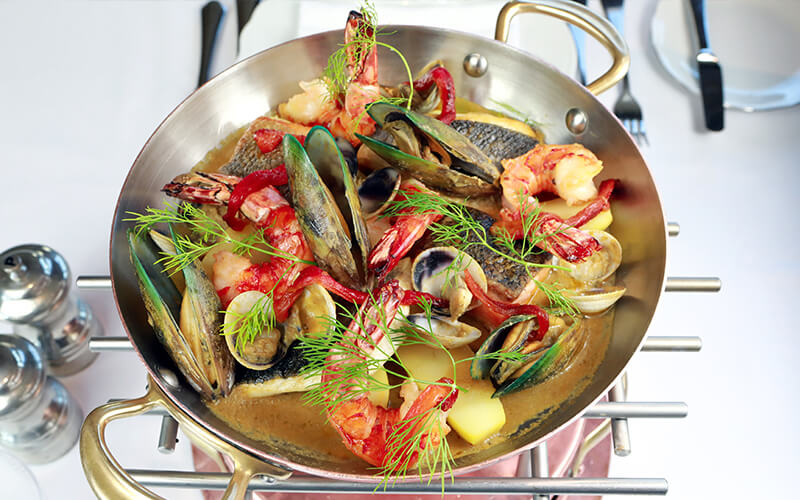 Reviewed by Mark Forker.
What's it like?
BQ – French Kitchen & Bar is situated in the stunning marble-drenched Habtoor Palace, in Al Habtoor City. From the moment we walk in, it's impossible to ignore the distinct European ambience of the restaurant, and you'd be forgiven for thinking that you had been transported from Dubai right into the heart of a Parisian eatery. Traditional French rhythm and blues serenade us as we make our way through the restaurant, which resembles a continental-boutique perfectly fused with a splash of Dubai luxury.
Upon arrival to our table, we're served with a deliciously refreshing welcome drink to quench our thirst – and a selection of homemade breads to whet our appetite before we embark upon our five-course French culinary experience.
What are the food highlights?
The Paris, Paris brunch varies slightly from Dubai's more typical brunches as it is centered around a set menu, which is all served to the table. Our first dish of the day is an entre of starters, ranging from smoked salmon, escargot vol-au-vents and foie gras. The bitesize starters are delightfully light, and though small, are just the perfect size to prepare us for our five-course meal ahead.
The next course is a seafood lover's dream, and it doesn't disappoint. Prawns, oysters and crab legs are served on a bed of ice and accompanied by a fiery tabasco sauce. The prawns and crab legs are both exquisitely juicy, while the oysters are a little salty for our liking.
Two courses in, and it's time for a short break to recharge the batteries (trust us, you'll need it!) and we enjoy a gorgeous lemon sorbet to cleanse our pallet ahead of our remaining dishes.
For the main course, we opt for the Fricasse de Poulet, which is a chicken dish for those of you who are not well-versed in French linguistics. To my initial disappointment, the chicken is served on the bone, but thankfully my dismay is short-lived as the chicken is succulent and deliciously marinated in a flavoursome asparagus sauce.
The penultimate course, and one of our favourites of the evening, is BQ's cheeseboard. In true pick-n-mix fashion, we pile our crackers high with various cheese and chutneys and enjoy a diversification of tastes across the board's fantastic selection of fine cheeses.
Last, but by no means least, is the dessert course. Chocolate profiteroles and a melt-in-the-mouth pain perdu caramel brioche are served to the table – and it's safe to say that the only criticism I could aim at both dishes is that neither portions are big enough to satisfy my insatiable desire for all things sweet. Nevertheless, both dishes are delicious, but the pain perdu comes out on top for me.
How was the service?
Fantastic – we truly cannot fault the service we receive during our experience. Staff are extremely courteous, professional and attentive from the moment we set foot inside BQ, and are well-versed on the chef's menu, offering advice and recommendations throughout the evening.
The bottom line:
The Dubai brunch scene is famous, but Friday's typically rule the roost when it comes to brunch experiences. However, the aim of BQ – French Kitchen & Bar is to replicate the experience of a Parisian restaurant on a Thursday night in Dubai – which we can confirm they excel in achieving. We can see the appeal and the charm of this type of approach, where diners can unwind after a tough week at work in a vibrant, cool and classy environment whilst enjoying all the incredible tastes and flair that French cuisine has to offer.
Details: Packages start from AED 225 inclusive of soft beverages. For reservations, call +971 4 435 5555. If you enjoyed reading this article, you may be interested in reading more of our UAE restaurant reviews here.