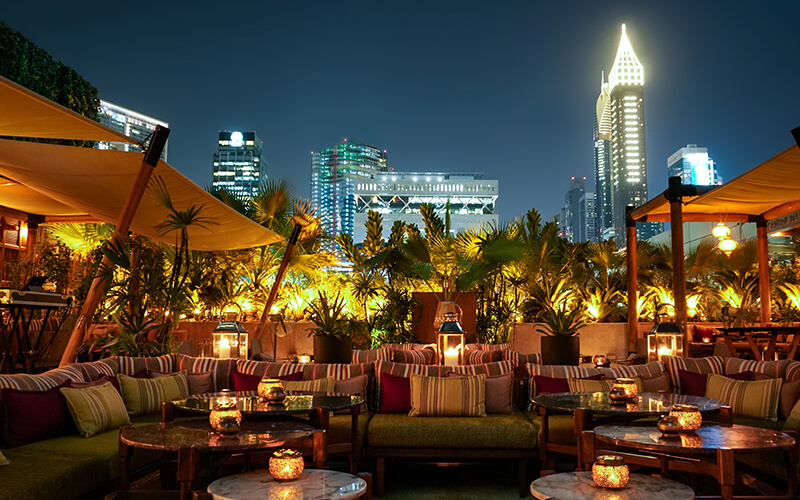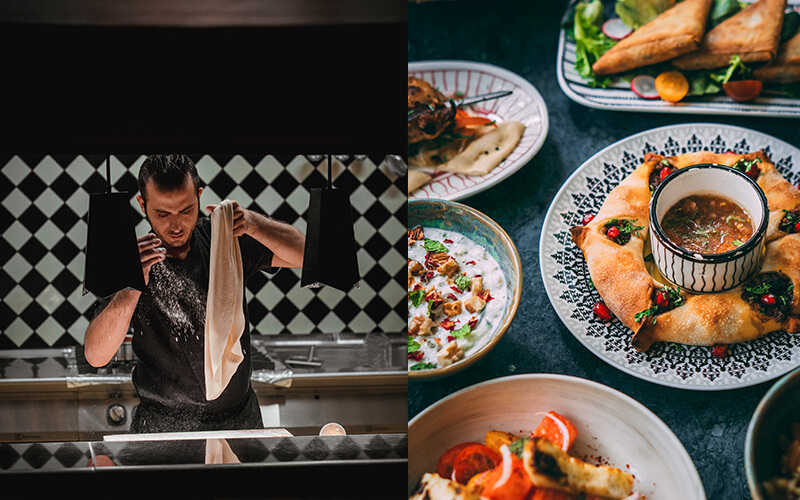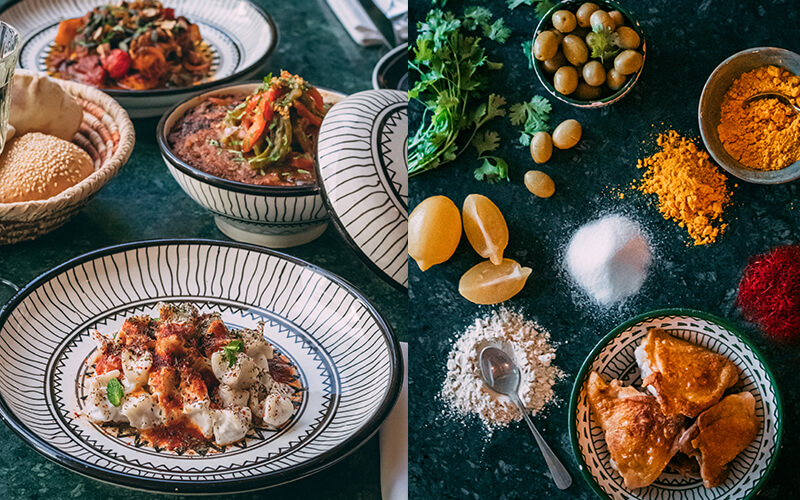 What's it like?
Nestled between the two striking Jumeirah Emirates Towers, Ninive is a picturesque urban, open-aired majlis – it's a relaxed, low-lit venue that creates an intimate setting amidst the hustle and bustle of Dubai.
Offering skyline views of Burj Khalifa, Ninive reminds me of being in a traditional Bedouin tent – only it's luxurious and lush with hanging gardens of greenery. The venue is abundant with character and heritage that honours the Middle Eastern region.
Seating here is low and cosy, with communal areas set out for sharing plates of Arabic-inspired eats with friends over shisha and refreshing beverages. The atmosphere is relaxing yet upbeat on a Friday evening as a live DJ plays trendy house-style music with an Arabic twist.
What are the food highlights?
Take a journey to the orient at Ninive, with a menu that pays homage to the Arab kitchen. Serving up Middle Eastern specialities from all over the region, plus Northern African countries like Turkey and Morocco, Ninive's offering is very sharing-style friendly with a range of hot and cold starters, dips, soups and salads, grills, mains, skewers, couscous, sides and desserts to choose from.
Everything we tried, we enjoyed, but there were of course highlights. To start, the tamarind chicken is a must-try. Served with yogurt dipping sauce and a sprinkling of pomegranate and parsley, the chicken is tender, moist and bursting with vibrant flavours. It makes for a great start to the meal paired with Ninive's fresh fattoush salad with cucumber, tomatoes, lettuce, pomegranate, apples and radishes. Considering the simplicity of the dish, a dressing can really make or break a fattoush salad, but the chefs at Ninive have the acidity balanced out perfectly here.
For mains, we opted to share a portion of lamb chops from the grill, which were cooked wonderfully and marinated in oregano and cumin, with a pot of zaatar pesto dipping sauce on the side. Next came the wagyu grade 9 tenderloin skewers, which were one of my favourite dishes of the evening – the beef was of high quality and cooked tenderly, while the marinade of honey, chili and lemon was superb, packing a lot of flavour without becoming over-powering. If meat isn't your thing, there are plenty of fish and seafood options on the menu, as well as vegetarian.
I have to be honest in saying that Arabic desserts don't always do it for me, but Ninive's pastry team excels. We shared an incredibly moorish serving of warm umm Ali with cooling vanilla ice cream in the middle, plus heated almond kunafeh, which came with orange and almond sorbet on the side, making for a refreshing palate cleanser among the creamy, rich flavours.
How was the service?
The team at Ninive is hospitable and welcoming. We were unsure with what to order and our server took the lead and recommended a selection of fantastic dishes from the menu based on our likes and dislikes, which made the experience so much more relaxing.
The bottom line:
Ninive is an al fresco oasis in an urban jungle. With its charming Arabesque décor, warm and inviting atmosphere, and high-quality food and beverage offering, it makes for a great spot to take visiting family to experience locally-inspired flavours, or for romantic date night with your other half. Ninive has live music every Tuesday from 9pm onwards, plus live entertainment on Thursdays and Fridays from 9pm onwards.
Details: For reservations, call +971 43 266 105, e-mail book@ninive.ae or visit ninive.ae. If you enjoyed this article, you may also be interested in reading more of our UAE restaurant reviews here.