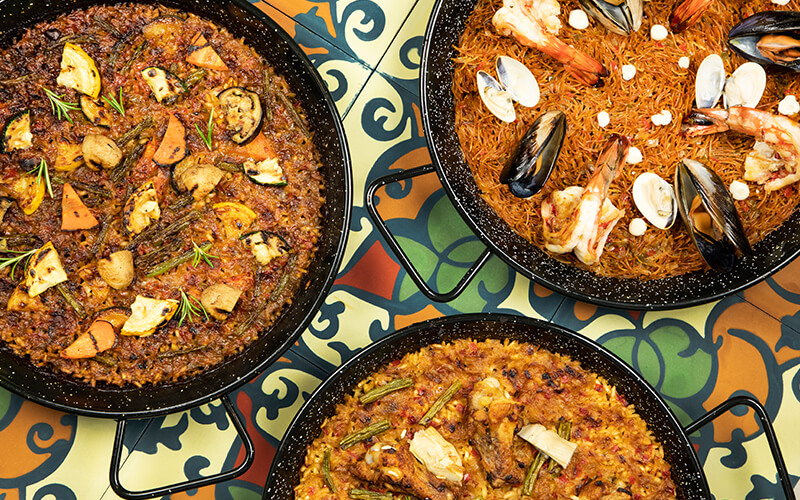 What's it like?
Le Méridien Dubai's latest culinary destination opened its doors earlier this year. Adding to its already expansive F&B offering, Bebemos is now the eighteenth restaurant to open at the complex. When BBC Good Food Middle East visit on what we expect to be a quiet Tuesday evening in mid-September, we're pleasantly surprised by the number of dining groups already stationed in the restaurant, with tables scattered with small plates and empty paella skillets as guests revel in the Spanish sharing style of dining. The restaurant's vibrant splashes of colour on the walls, mosaic-tiled tables, royal blue shutters and exposed brickwork alcoves could have you fooled for thinking you're dining al-fresco on the backstreets of Barcelona. Menus are detailed on mini chalk-boards, separated simply into tapas, starters, paella, mains, sides and desserts. Our attention is immediately drawn to the traditional Spanish tapas options, including prawn al ajillo, octopus Galician style and the pan con tomate – the latter of which arrives as the complimentary bread basket to keep our hunger pangs at bay while we peruse the menu.
What were the food highlights?
Our waiter recommends sharing four or five tapas dishes to start, so we opt for the prawn al ajillo, ham croquettes, chicken wings and calamari, plus the ibérico ham from the selection of starters. Four juicy king prawns arrive drenched in a chilli and garlic sauce, which is so good that I can't resist mopping up the leftovers with the remaining bread. The croquettes are fresh off the fryer, bursting with gooey bechamel and ham pieces and encased in a crunchy breadcrumb outer shell. They're the ultra-indulgent Spanish snack, and my personal favourite from our tapas tasting selection. I'm a big believer in the notion that no tapas outing is complete without at least one cold-cuts dish, and the ibérico ham doesn't disappoint. As expected, a plate of thinly sliced, salty deliciousness is served to the table; incredibly moreish, I only wish we had more! The chicken wings are served off the bone, much to my delight, but they're slightly on the small size and sadly lack any real flavour.
We opt to share one of five paellas on Bebemos' menu as our main course, and try the brothly rice with lobster. The fish is well cooked, presented shell-on amongst the rice – which is served al dente with the perfect amount of crunch in each bite. If seafood isn't your thing, there's a veggie paella option of grilled vegetables and mushrooms, or the Valencian version is served with chicken, artichokes and butter beans. The paellas are more than enough for two diners to comfortably share.
Despite feeling full to the brim by this point, we share a portion of churros to round off the evening – and I'm so glad we do. A tower of crispy, chewy, doughy goodness is brought to the table alongside chocolate and caramel dipping sauces – a no-frill, simple option that's both comforting and delicious.
How was the service?
The team at Bebemos are well versed on the menu (and the Spanish translations!) to ensure that we can fully appreciate chef Marc Mañosa's authentic creations, and staff are attentive in making sure our table is well catered to throughout the evening.
The bottom line:
Bebemos steers clear of Spanish clichés and serves up an authentic selection of dishes from across the region; from Northern Spain inspired seafood creations, to assorted roast meat specialities from Central Spain. It's got a large outdoor terrace, which will lend itself perfectly to Bebemos' Fiesta De Paella offer launching in October, where diners can experience interactive al-fresco dining.
Details: For reservations, call +971 4 702 24 55 or email Restaurants.lmd@lemeridien.com. If you enjoyed this article, you may be interested in reading more of our UAE restaurant reviews here.