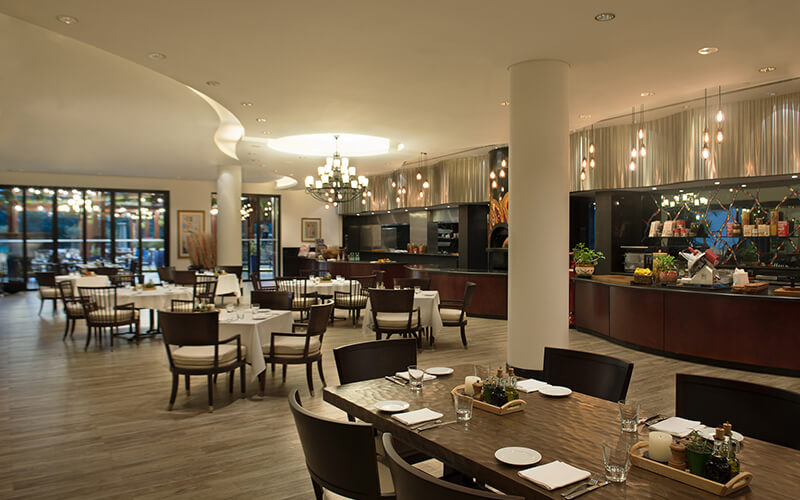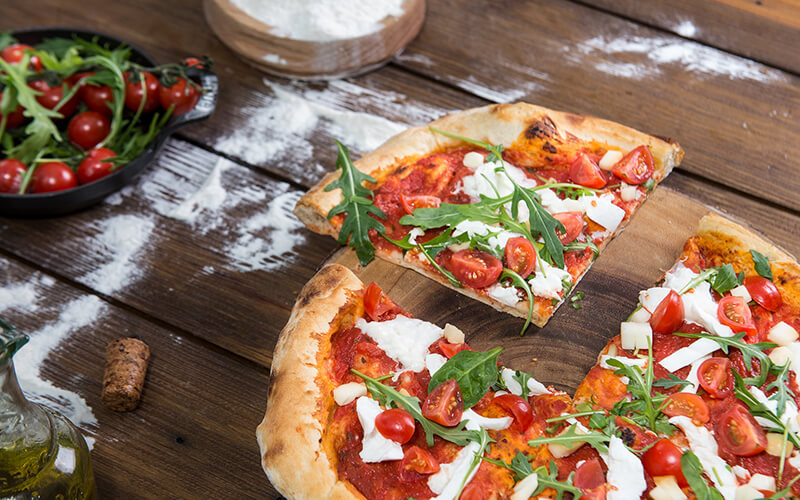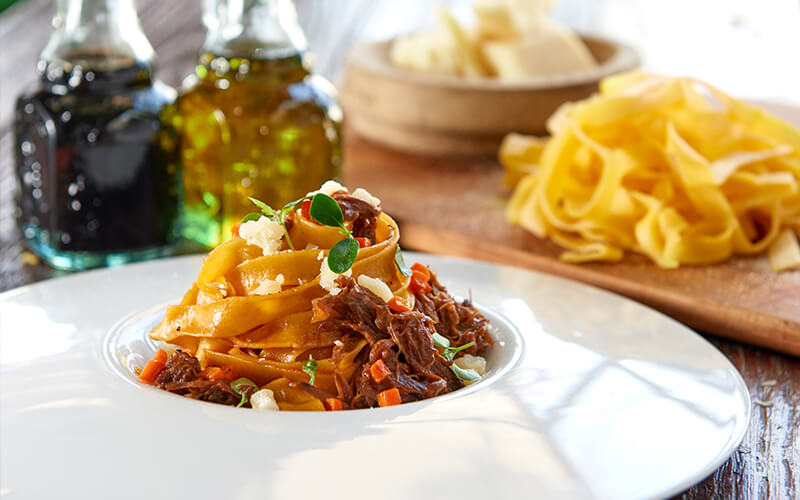 What's it like?
Boasting authentic Italian touches from the get-go, with its classic Vespa parked outside and vibrant cityscape artworks on the walls, Andiamo is a large, open-plan eatery at Grand Hyatt Dubai, serving up Mediterranean favourites in an unpretentious, laid-back setting. It's summertime when we visit, but that doesn't stop us from taking a seat on the spacious terrace, which is encased in an air-conditioned tent during the warmer months. The leafy exteriors and wooden patio furnishings give a real al-fresco dining feel to our lunchtime outing. Inside, in true Italian fashion, diners have full view of Andiamo's culinary team at work in the open kitchen.
What were the food highlights?
A quick glance at Andiamo's menu demonstrates that there is more to this Italian eatery than simply pizza and pasta. It lists just three starters, but has numerous main course options ranging from salads, risottos, meat and fish dishes. Having said that, our waitress recommends that we share a Charcuterie board to start, which isn't actually listed on the menu, so don't be afraid to ask if there are any chef specials on the day of your visit. The board serves up generous helpings of cold cuts, Italian cheeses, fresh bread, olives, artichokes and bitesize chunks of delicious bruschetta.
If you're a gnocchi fan, don't miss the Salsiccia Di Maiale for your main course. Light, fluffy pillows of potato are served in a rich, creamy cheese sauce with shredded sausage meat. Top it with plenty of black pepper and its comfort food at its best. Others on our table try the Datterino pasta dish and the Il Giardino Di Elio salad (probably the most sensible option for a lunch outing!)
But where Andiamo lacks with its starter selection, it certainly makes up for with its desserts – there are plenty of dishes to choose from! The Italians are known for their flair when it comes to crafting delicious sweets, and the ricotta-filled cannoli doesn't disappoint. Velvety, sweetened cheese topped with candied fruit, encased in four crispy shells and served with crushed pistachios and a side of pistachio ice cream – it's every inch of indulgence I'd hoped for. The tiramisu also comes highly recommended, and the portion is the perfect size for sharing.
The bottom line:
A great spot for reasonably priced, decadent Italian food in an unpretentious and authentic setting. If you'd like to go, why not head down to Andiamo to celebrate National Lasagne Day this month (Monday 29 July) and enjoy one of their five specially created lasagne dishes to mark the occasion. The menu is available daily until 31 July from 12:30pm – 3:30pm, and 7pm – 11:30pm.
Details: For reservations, call 04 317 2222. If you enjoyed this article, you may be interested in reading more of our UAE restaurant reviews here.