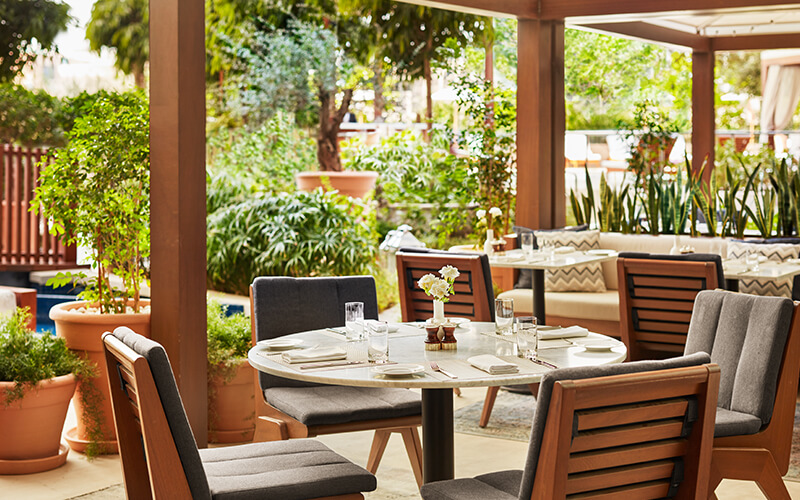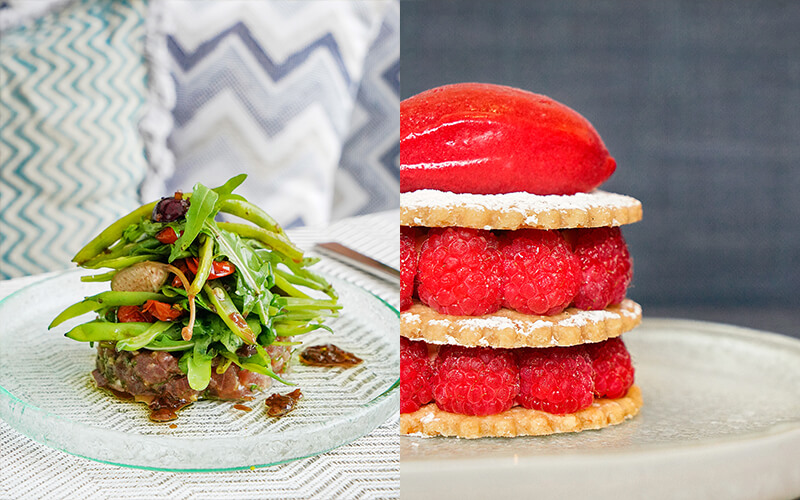 What's it like?
One of three restaurants at the Abu Dhabi EDITION led by British-born and Michelin star chef, Tom Aikens, Alba Terrace is a "day-to-night" Mediterranean concept that boasts sleek interiors, high ceilings and copious amounts of natural light. Located on the lobby level of the recently opened hotel at Al Bateen Marina, Alba Terrace welcomes guests into the main dining area via the Aperol Spritz bar; a vibrant space with a high-class brasserie feel, and the perfect spot for a pre- or post-dinner cocktail. It's mid-summer when we visit, meaning a table on the restaurant's poolside terrace is unfortunately out of the question. Instead, we head to the dining room, which is lined with marble-top tables and plush leather chairs. Despite its sleek furnishings, the restaurant has a laid-back feel in keeping with its Mediterranean roots.
What were the food highlights?
Chef Tom recently told us in an interview that the cooking style at Alba Terrace can be defined as "very light, simple and great tasting." Taking inspiration from the southern area of France in Provence, and the coastal towns of southern Italy, the menu features clear favourites from both nations.
While perusing the menu, we begin by sharing the charcuterie board – the most recent addition to Alba Terrace's menu. The board comprises a mixture of Italian cheeses, cold cuts (the wagyu chorizo is our favourite), confit tomatoes, olives and roasted garlic cloves, which are best served crushed and smothered on focaccia. It's the perfect sharing platter to get us in the Mediterranean mindset for our night ahead.
If you're a seafood lover, be sure to order Alba's signature dish to start – the fried calamari. Again, the portion is big enough to share, and the lightly battered rings are served black (having been fried in squid ink) alongside a generous helping of garlic aioli.
For mains, I try the tray-baked bream, which is served with confit tomatoes, grilled squid and olives. The fish is light and flavoursome, while the tomatoes are deliciously sweet and a welcome contrast to the salty olives. We also try the lamb shoulder, which is listed as the second signature dish on Alba's menu. The lamb is cooked well and served on a bed of spiced chickpeas, adding a warm kick to this hearty and comforting dish.
For a refreshing and fruity finish, don't miss the raspberry sable – a small stack of fresh raspberries and vanilla cream, constructed using circular slabs of buttery shortbread, and topped with a scoop of raspberry sorbet.
What was the service like?
It's a quiet Saturday evening when we visit Alba Terrace. Despite this, staff certainly aren't complacent in their approach to our service and join us in meticulously dissecting the menu and offering their recommendations and tips. We fail to find fault in their engagement nor enthusiasm throughout the evening.
The bottom line: Offering a laid-back dining experience and modern Mediterranean cooking at a reasonable price, Alba Terrace is a great spot for a classy lunch with friends or a stylish night out with your other half. If you're in the capital at the weekend, check out the Rose Brunch running every Friday from 12:30pm until 4:30pm.
Details: For reservations, call 02 208 0000. If you enjoyed reading this article, you may be interested in reading more of our UAE restaurant reviews here.