From ultimate spots to celebrate special occasions to exciting new offerings to indulge in, here are the things to do in the UAE in July
TakaHisa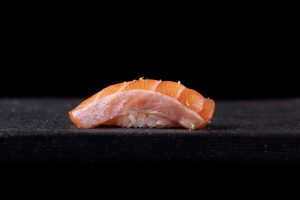 TakaHisa has introduced Japanese salmon to its refined menu.  Japanese salmon stands apart from other varieties due to its lusciously fatty texture and notably heightened flavour. Chef Takashi, an esteemed Sushi Master, scrupulously handpicks only the finest wild Japanese salmon to create exquisite sushi creations at TakaHisa. Procuring top-quality Japanese salmon is no small feat, as it necessitates navigating the intricacies of the renowned Toyosu seafood market. Its limited availability and higher price further contribute to its exclusivity.
Call +9714 556 6688.
Pincode
Experience the rich and diverse flavours inspired by different regions of India as you embark on a captivating culinary journey through Indian pin codes. Look no further than PINCODE by Kunal Kapur, which is now bringing the authentic tastes of India right to your doorstep! In collaboration with Careem, Deliveroo, and Talabat, relish in signature delectable dishes such as Bunny bhaji, Chaat hummus, Banarasi aloo, and Falooda sundae.
Call +9714 566 1424.
Mamafri
Mamafri Jumeirah invites night swimmers for a delectable post-dip meal to indulge in a range of Mamafri's renowned signature specialties. From traditional Japanese ramen to creamy Malaysian curry and flavorful Indonesian noodles, Mamafri is poised to satisfy every palate with its diverse and enticing menu offerings.
Daily at Mamafri Jumeirah. Until 1am. Prices à la carte. Visit Instagram.
Wise Guys
Wise Guys has now launched on Deliveroo, catering to cravings from breakfast through to dinner. Taking inspiration from the old-school street-side shops in the Big Apple, Wise Guys serves up hearty sandwiches including Capo dei capi, Wise Guys, and La favolosa. For those seeking a hearty yet healthy meal, enjoy satisfying salads such as Kale-Romaine Caesar, G.O.A.T., and Vito's salads.
To order, click here.
Pret A Manger
Pret A Manger, the popular UK-based chain known for its freshly made food and organic coffee, is set to expand its presence in Dubai by opening its first two stores at Index Mall and Bay Avenue Mall. Established in 1986 in the bustling city of London, Pret boasts a remarkable presence of over 500 outlets across 10 nations. Don't miss the Posh cheddar and pickle baguette and the delectable All butter croissant.
DIFC and DXB Airport Terminals 1 & 3. Visit Instagram.
Risen Café & Artisanal Bakery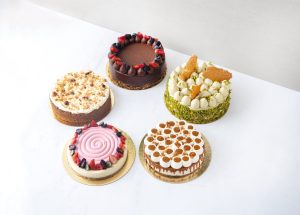 Looking to surprise your loved ones? Introducing the newest collection of delectable whole cakes from Risen Café & Artisanal Bakery, featuring an irresistible selection of flavours including the Lotus cheesecake, Pistachio gateau, Berry cheesecake, Chocolate fudge cake, and Carrot Cake.
Visit website.
Torno Subito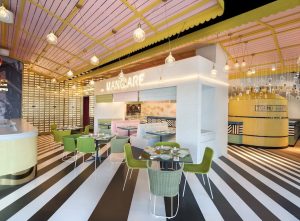 Experience the essence of Italy during your lunch break at the renowned one-Michelin-star restaurant. Delight in a thoughtfully crafted business lunch menu that blends traditional flavours with creative twists. Indulge in a multi-course feast, beginning with tantalizing antipasti, followed by signature mains and delectable desserts.
Sunday to Friday from 12:30pm to 3pm. AED125 per person for two courses. AED 145 per person for three courses. Call +9714 245 5800.
Allo Beirut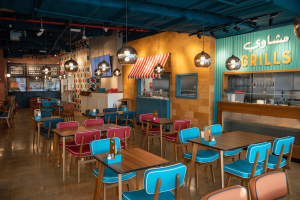 Allo Beirut has expanded its presence in the UAE by opening its seventh branch in Dubai's Motor City. With its doors now officially open in Motor City, Allo Beirut offers a spacious dining area capable of seating up to 128 customers at a time, ensuring an enjoyable experience for all. The restaurant's award-winning menu features freshly baked manakish and kaaks, flavourful grilled meats prepared to order, international favourites with a Lebanese twist, and a delightful breakfast selection. To complement the culinary journey, Allo Beirut offers a diverse range of refreshing concoctions and freshly prepared juices.
Call 800 8623 4788.
Jumeirah Living Marina Gate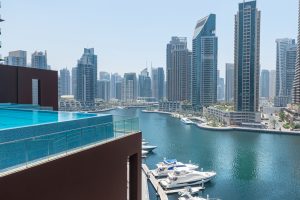 Escape the summer heat and treat yourself to a blissful day at Jumeirah Living Marina Gate, where you can indulge in the luxurious infinity pool. Located on the 7th floor with stunning views of Dubai Marina, this pool offers a serene escape for residents and tourists alike. When it's time to satisfy your appetite, Amara Lounge awaits you with a delectable array of international delicacies. From tantalizing breakfast options and refreshing salads to mouthwatering sandwiches, burgers, and pizzas, tuck into a range of culinary delights.
Available every Monday to Friday from 8am-6:00pm. Until the end of August. AED150 per adult with AED100 F&B redeemable. AED75  per kid between 4 and 12 years old with AED50 F&B. Call +9714 571 8845.
Bageri Form
Dubai's renowned Scandi-inspired bakery, Bageri Form, has launched its highly anticipated summer menu, combining Scandinavian influences with culinary artistry. The menu showcases a variety of favourites such as the Matcha & black sesame babka, Fresh figs & salted honey custard, strawberry, lemon & mascarpone mousseline, Asparagus, mustard & truffle oil Danish, Roasted aubergine, goat's cheese & pomegranate Danish, and plenty more.
Visit website.