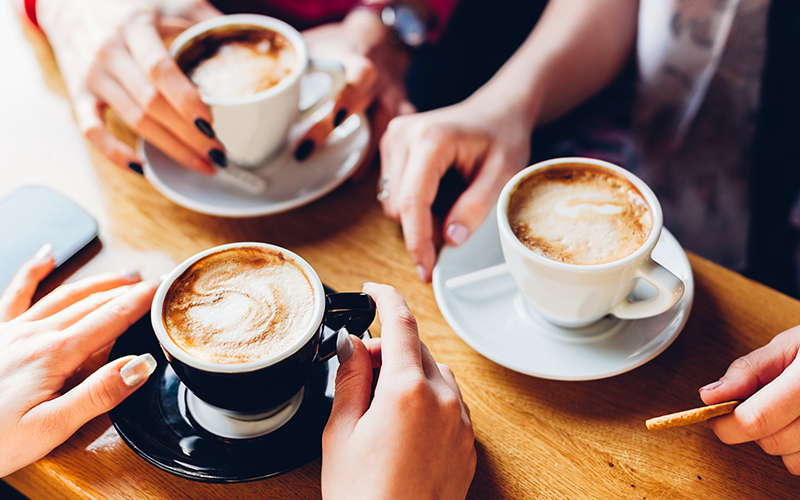 BBC Good Food Middle East sat down with Gennaro Pelliccia, the Master of Coffee at Costa Coffee Dubai.
What are your top tips for preparing the perfect cup of coffee?
Based on my experience, I would suggest readers consider three key areas:
1. Coffee Beans – experiment with different coffees, different origins, understand what you like. For example, do you prefer fruity and sour notes or more chocolatey flavours?
2. Look at what equipment suits your lifestyle. If you prefer something simple I would suggest you look at filter coffee, pour over or chemex. However if you want to go a bit deeper you can invest in some espresso kit at home, either way find something that will resonate and work for you.
3. Most importantly don't be scared to experiment! People think there are rules as to what is right and wrong in terms of variant, coffee type, grind, portion. But it is up to your personal preference. We got to where we are by experimenting and trying new things, so I would encourage anyone to do the same.
For readers who know nothing about coffee, please can you explain how a little about coffee strength and flavour is ranked?
Two key things to be aware of with coffee is flavour and bitterness. The intensity is altered by using different amounts of coffee in the brew, whereas the bitterness comes from the extraction or the darkness of the roast. You will typically get a bitter coffee when it has been over-extracted or a darker roast has been used. Over-extraction means that the coffee is saturated with too much water. The longer you extract coffee the more undesirable notes you pull as the first notes are the sweetest.
In your opinion, what should customers order on the Costa menu?
My personal preference is for a coffee that is under extracted which means you extract the intensity and not the bitterness. My recommendation would be for a flat white – this combines the short sweet extraction of the cortissimo shot with velvety smooth textured milk and topped with beautiful latte art. My favourite ones use our new character roasts. These are single-origin roasts, which means they come from one geographic region and usually one country. Our latest Peruvian roast which is now available in Costa gives a lovely bitter chocolate aftertaste – delicious!
For readers looking for a low calorie and healthy option, which coffees would you recommend at Costa?
We are investing in healthy options (for example, we now have coconut milk now available in all our coffees). However, if they want something pure and simple. a double espresso is always a great way to start the day.
What's the most unusual coffee you have tried?
I think one of the more interesting flavour trends I have seen is cereal milk latte. It's a latte with milk that has been soaked in breakfast cereal first! While I haven't tried it, I think it great that the industry is constantly innovating and bringing new things to customers.
Details: for more information visit Costa Coffee Dubai. If you enjoyed this article, you may like these coffee recipes.