We follow locally-famed executive chef Colin Clague, of the homegrown Anatolian restaurant Rüya Dubai to Coco Bodu Hithi, Maldives, where he recently took up a special guest chef residency. Sharing his experience with us, we learn of culinary delights available to visitors on this magical, isolated island, just 40-minutes from Malé International Airport.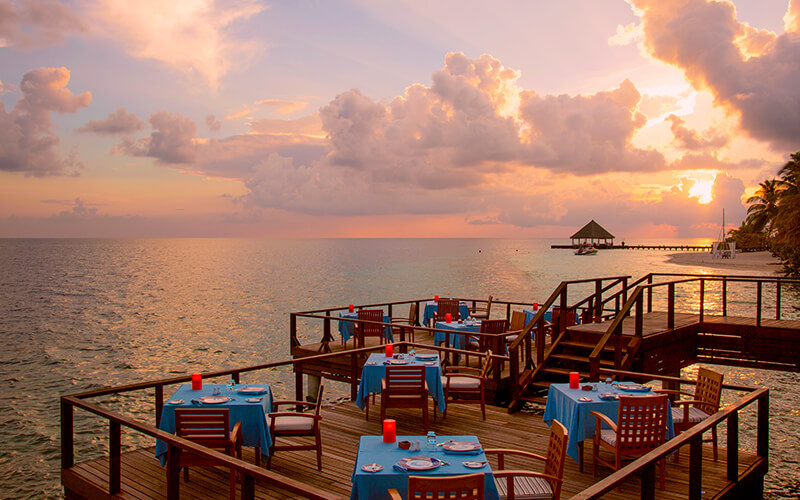 Representing the UAE in the dreamy island paradise of Maldives, chef Colin Clague partnered with Coco Bodu Hithi late last year to host two exclusive tasting menu dinners and a guest masterclass at the resort's seafood-led, fine dining restaurant Aqua.
During his guest culinary residency, Colin brought a refined taste of Anatolian cuisine to the resort. Rüya's quest as a brand is to preserve the true DNA of Anatolian food, and Colin's work reflects this in each of his dishes, which are prepared according to ancient recipes but presented with a fresh contemporary twist.
Colin's exclusive 6-course tasting menu saw diners delight in expertly prepared dishes including Levrek – seabass sashimi with mustard, apple, and shaved radish, Yer elmasi corbasi – Jerusalem artichoke soup with smoked eggplant purée, Zeytinyagli ahtapo -marinated grilled octopus, black eyed beans, and apple vinaigrette, and Firin Sutlaç – traditional Anatolian rice pudding with raspberries, rose ice cream, and more.
Speaking from the opening night of his residency, Colin revealed to us: "It's brilliant to be here. It's been a challenge – coming from Dubai where everything is current and upbeat, to an island resort where everything is so much more relaxed – but what a fantastic experience to cook surrounded by clear blue ocean waters. Heading for a dive before hitting the kitchen is a dream set-up. I can't complain really, can I?"
Initially approached by Coco Bodu Hithi's communications team, Colin was invited as a guest chef with the purpose of enhancing dining experiences available to guests visiting the island – an initiative Coco runs several times each year, with other visiting chefs recently including the likes of Monica Galetti and Tom Kitchin, to name a few.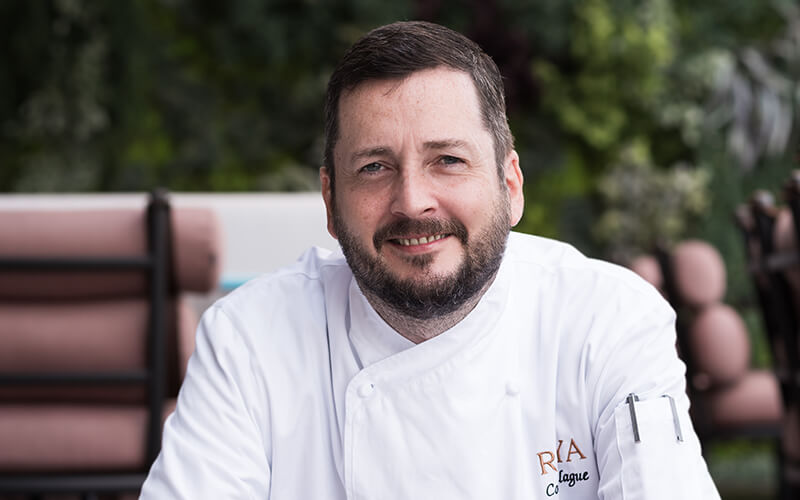 During the residencies, visiting chefs also provide the island-based culinary team with a fantastic opportunity to spruce up on their skills, learn another style of cooking and keep up-to-date with what the outside culinary world is doing.
Reflecting on his visit, Colin explained that many visitors to Maldives often forget the difficulties chefs face in order to keep culinary standards high at resorts like Coco Bodu Hithi.
"Getting deliveries and produce is the biggest challenge in Maldives. In Dubai for example, the main deliveries from Europe and Australia arrive twice a week, whereas in the Maldives it's once a week, and as the head chef there you really have to have your wits about you – if the bookings suddenly go up, you are going to be in trouble," he said.
Despite these challenges, Coco Bodu Hithi overcomes them through efficient planning and superb organisation – ensuring all its restaurants operate successfully, promising visitors a great time.
On the island, there is plenty to choose from when it comes to meal times, and whether its barefoot barbecues on the beach, or well-heeled fine dining, there is something for everyone.
Days start at your leisure, with breakfast prepared throughout the morning at Air. Latitude serves up poolside bites throughout the day, as well as a relaxed vibe to ease on into early evening cocktails – sundowners in Maldives is a match made in heaven.
For dinner, enjoy a taste of Japanese cuisine at Tsuki, locally-fished catch of the day at Aqua, the resort's upscale seafood restaurant, or Mediterranean specialities at Stars.
The resort is also home to the Wine Loft for special and intimate occasions, in addition to in-villa dining and private dining experiences held around the resort (anyone looking for an out of this world proposal opp? Here's your chance).
There's also wide-ranging activities at Coco Bodu Hithi – from fishing excursions and dolphin watching, to reef snorkeling and deep sea diving.
As an avid diver, Colin mentioned that: "Seeing my family, who joined me on the trip, so happy was the best –we were able to get in a couple of dives, which was great. There are certainly worse ways to spend an afternoon."
Wrapping up his residency at Coco Bodu Hithi, Colin noted the importance of travel for chefs and food lovers alike, for developing new skills and ideas in the kitchen.
"Cooking is a learning experience, and when you stop learning or you think you know it all, it's time to retire. You never stop learning. I hope the chefs at Coco Bodu Hithi learnt some new ideas from me, as I certainly did from them. Travel and experience is priceless," he said.
Details: Located in North Malé Atoll, Coco Bodu Hithi is located just 40-minutes from Malé International Airport. Expect palm-fringed beaches and crystal clear, blue open waters and lagoons scattered with tropical fish to swim with. Call +960 664-1122 or visit cococollection.com for more information.
If you enjoyed this article, you may also be interested in reading more about cooking in the Maldives here.