We journey to the Maldives' first ever integrated resort to discover a duo of luxury properties and their culinary delights.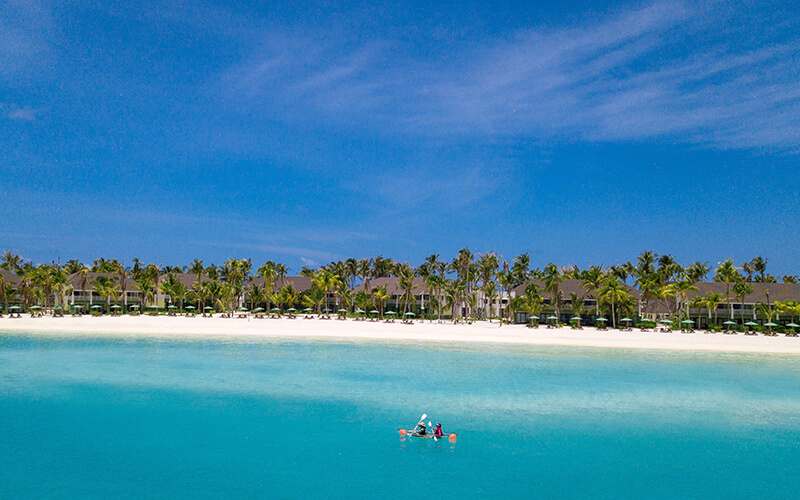 In place of the "one-island-one-hotel" tradition that is so often found among the Atolls, Thai developer Singha Estates recently brought the first integrated resort to the Maldives. An ambitious project that aims to bring hospitality, entertainment and retail to an all encompassing destination, Crossroads Maldives comprises a duo of resorts – joined by the Marina Crossroads; a central hub of activity offering premium shopping outlets, international dining options and a wellness spa. Nestled amongst the exotic Kaafu Atoll and Emboodhoo Lagoon, the destination is just a short 15-minute speedboat ride from Velena International Airport. 
Hard Rock Maldives
The distant sounds of bodu-beru drums grow louder as we edge closer to the shoreline at Hard Rock Maldives. It's overcast when we arrive, but that certainly doesn't take away the "wow factor" of arriving at this newly-opened resort – which marks the Hard Rock brand's first ever island-based destination. The resort's exterior design matches the tropical surroundings – meaning there's no sign of guitar-shaped buildings like the brand's American city counterparts to be found here. From the jetty, I spot the resort's overwater villas – a row of perfectly uniform toy houses, set over the crystal blue waters below. To the right, beach villas line the shoreline with enclosed terraces and direct sea-views.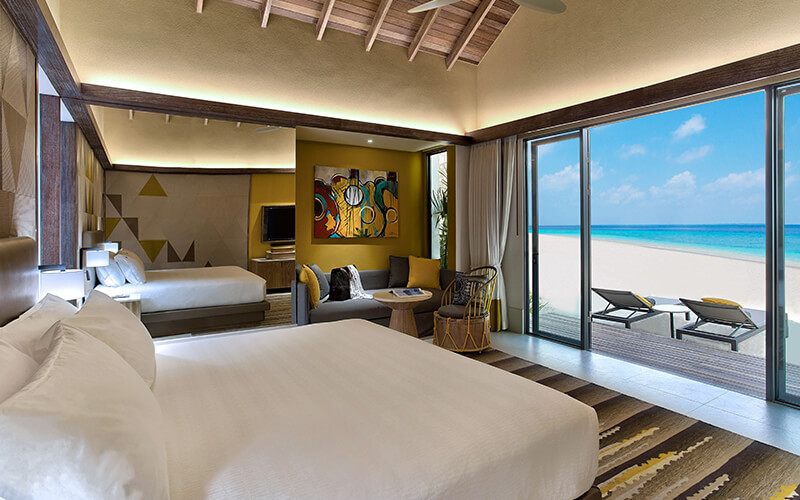 Setting the tone from the get-go, our welcome demonstrates that staff at Hard Rock Maldives prioritise customer experience above all else. As we make our way to check-in, we're handed refreshing drinks and scented facial towels, before being introduced to our personal butler, Maki – who is on-hand to assist with any request we may have during our two-night stay. Check-in is smooth, and it's not long before we're settled into our one-bedroom beach villa with a cold drink in hand, toasting the beginning of our trip to the sound of crashing waves.
Of the 178 guest rooms available onsite, there are 20 Gold Beach Villas that sit along the sandy shores. Inside, you'll find a suite fit for rock stars, with tropical-inspired interiors and contemporary fittings throughout. There are also a range of one-bedroom studio options, plus family suites and overwater villas for both couples and larger groups alike.
The stand-out feature for us is the brand's strong focus on tailoring the experience to each guest's musical preferences, which gives the resort an edge on the more secluded and honeymoon-style resorts that the Maldives is so well known for. Guitar lovers will be in their element as the resort offers complimentary Fender guitars for in-room jamming sessions (complete with headphones for a "no noise complaints" guarantee.) If you'd prefer, the team can also arrange a Crossley turntable to be installed in your room with a selection of vinyl records to suit your personal musical taste. In addition, the branded Hard Rock plectrums and guitar emblems dotted throughout the room confirm that the brand certainly hasn't lost its core musical values in its journey to becoming an island resort.
DINING
On-site F&B options are aplenty at Hard Rock Maldives, with each outlet catering to a range of tastes and cuisines. The brand's signature restaurant, Senses, serves up a fantastic breakfast buffet, where you'll find the usual favourites from made-to-order eggs and fresh fruit, to cold cuts and traditional Maldivian curry. Be sure to grab a seat outside to enjoy the sweeping sea views with your morning coffee. 
The Elephant and The Butterfly serves up a selection of Latin American-inspired cuisine in a picturesque oceanfront setting. There's a barbecue taking place on the night we arrive, and the hearty portions of buttery corn on the cob, grilled seafood and charred chicken skewers are certainly enjoyed after a day of travelling.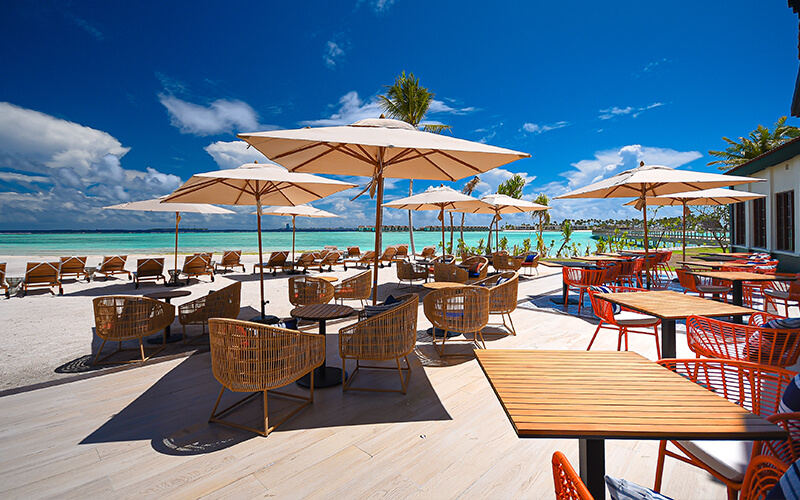 For the true Hard Rock experience, it's worth taking a buggy (or cycling, should you prefer) to the Hard Rock Café one evening, which you'll find just off the island's main promenade. Its vibrant interiors, live entertainment and iconic memorabilia of much-loved rock stars from years gone by remain akin to the brand's heritage outlet, and the burgers certainly don't disappoint either! Be sure to look up when you're checking out the café, as you won't want to miss the 60-bottle chandelier that sits above the bar.
FACILITIES
There's certainly no danger of guests being short of things to do during a stay at Hard Rock Maldives. Our days are packed with upbeat activities, from self-defence classes and aqua aerobics, to relaxing pamper sessions at the Rock Spa. Treatments take place in oceanfront beach huts, and my deluxe massage is made all the more special by the sound of raindrops bouncing off the rooftops in a brief storm. When it calms, my therapist Aprille offers to open the hut's ocean-facing doors to allow the sound of rippling waves and tropical raindrops to combine. 
Should the sun be shining (as it so often is in the Maldives), adults will find haven at the swim-up pool bar in the main guest pool, while kids and teens enjoy the fantastic program of activities on offer at the onsite kids' club. Aligning with the resort's love for music, children aged 3-11 years can enjoy music lessons, Battle of the Bands and lip-sync battles at the daily Roxstar sessions, while big kids (aged 12-17 years) take part in beach volleyball, karaoke nights and the Friday pool party. 
After stocking up on as much Hard Rock memorabilia that we can carry (and afford), it's time to leave this show-stopping resort and head across the waters to our next destination. 
SAii Lagoon Maldives
Just over the bridge and a short 5-minute buggy ride away is our home for the next two nights: SAii Lagoon Maldives. Signifying another first in the hospitality world, SAii marks the debut of Curio Collection by Hilton in South East Asia, and the fifth Curio Collection by Hilton property in Asia Pacific. 
Our personalised journey begins en-route to our villas, when we stop by the Aroma Lab to create our very own amenities ahead of our two-night stay. Here, guests are invited to choose from 16 essential oils to create their own mixture of scents. I opt for a combination of lavender, cedarwood and lemongrass, which are said to settle nerves, balance and calm emotions and relieve stress. In addition, I'm told lemongrass is good for cold and flu symptoms, and can also act as an insect repellent. We love that this is a free of charge service for guests as it's such a personal creation. It's worth noting that there are already pre-mixed essential oil amenities in the villa, but the "mix it yourself" set makes a perfect gift for a loved one back home, or a great souvenir from your trip.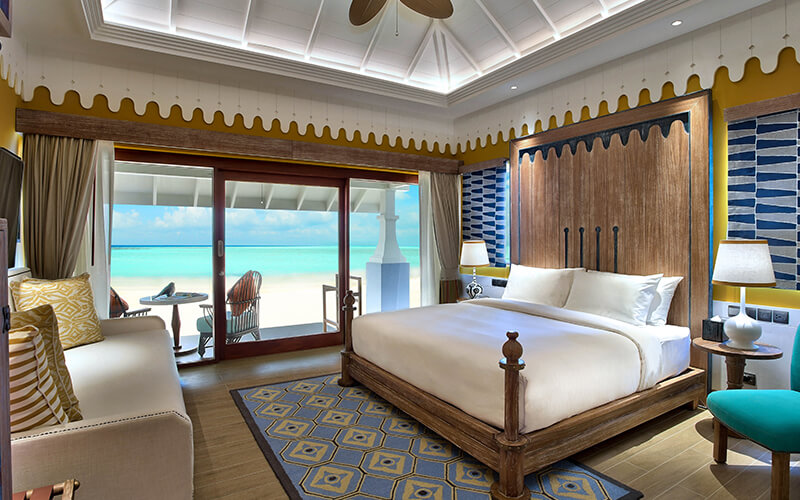 We're told at check-in that all rooms at SAii have views of the ocean, so it seems there are no "bad" room choices to be had. We're staying in a Beach Villa during our stay, which is a stunning tropical haven throughout. Reflecting the archipelago's maritime heritage, each room is adorned in bright and contemporary designs, complete with natural textures, driftwood décor and marine-inspired hues and views. There's so much to love about the villa – from its direct ocean access and gorgeous secluded terrace, to its stunning outdoor bathroom with rainfall shower and free-standing bathtub – perfect for a midnight soak under the stars. There are also larger beach villas available, plus overwater lodgings and individual room options at the resort. 
DINING
Begin your day with breakfast at world-renowned Cafe Del Mar, a popular lifestyle brand founded in Sant Antoni de Portmany on the Spanish island of Ibiza. Making its Maldives debut at Crossroads, this bright beachside restaurant serves as a laid-back breakfast spot by day, and a trendy outdoor bar and dining experience by night. Expect a lavish breakfast buffet to kick-start your day with freshly-brewed coffee and sun-soaked mimosas, before enjoying a leisurely stroll through the marina and along the beach back to the resort.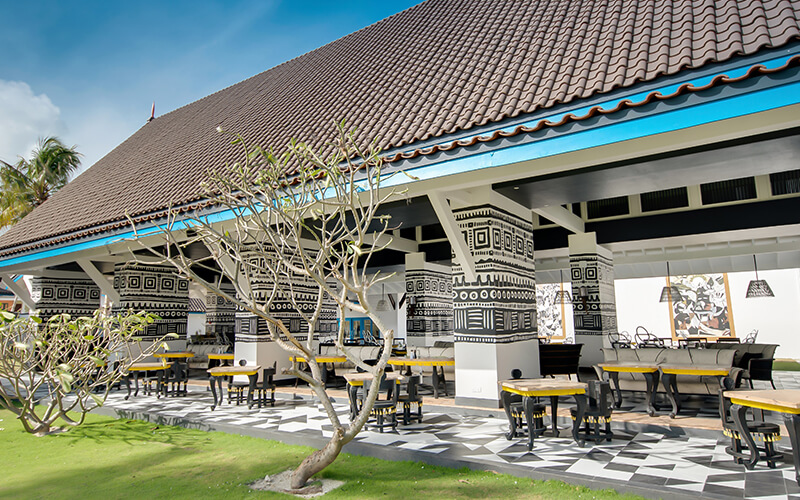 After a morning of sunbathing by the infinity pool, head to Miss Olive Oyl – centrally located in the heart of the resort, and the perfect spot for a laid-back lunch. Its vibrant tribal exteriors with mustard tones are a stark contrast to the Greek-inspired decor inside, where royal blue furnishing and mosaic tiles adorn the walls. But while the restaurant's identity may seem confused in its decor, its Mediterranean-inspired menu is far from it. Expect live cooking stations serving up fresh seafood and your choice of pasta, plus grilled fish, chops and patties, fresh from the barbecue. 
In the evening, make your way down to the shores at the far-side of the resort, where you'll find Thai Italian fusion restaurant, Mr Tomyam. This playful beachside eatery is packed full of character, with its colourful mosaic tiles, vibrant furniture and stunning sea views. On the menu, south-east Asian influences weave their way into Italian classics. Highlights include the beef carpaccio, served with a fiery side salad, and the spicy coconut risotto with lime shrimps. 
FACILITIES
SAii's ocean-view infinity pool is a must-visit for sun worshippers, and the resort's onsite fitness centre is perfect for refreshing and recharging during your stay in paradise. Should you be left with a bout of rain during your stay, there's still plenty to do on the island to keep guests entertained, such as spending an afternoon at the Marine Discovery Centre to learn more about Crossroads Maldives' coral propagation project. As part of Singha Estate's Toh Wai Wai program (Thai for "grow quickly"), the set-up at the Discovery Centre aims to educate guests on the importance of coral health in our oceans. Anis, the on-site coral expert, tells us that 1.5 billion people sustain their livelihood on fish – so it's crucial that we protect the coral on which they live to ensure this can continue. "The best conservation is word and mouth," he says, "and the best way to protect the coral is to tell people not to touch it." Over the course of the afternoon, we analyse, repair and replant damaged pieces of coral in a bid to ensure its safe passage back to the water. It's certainly an education for someone who (like myself) has little knowledge on coral or its true role in ocean survival.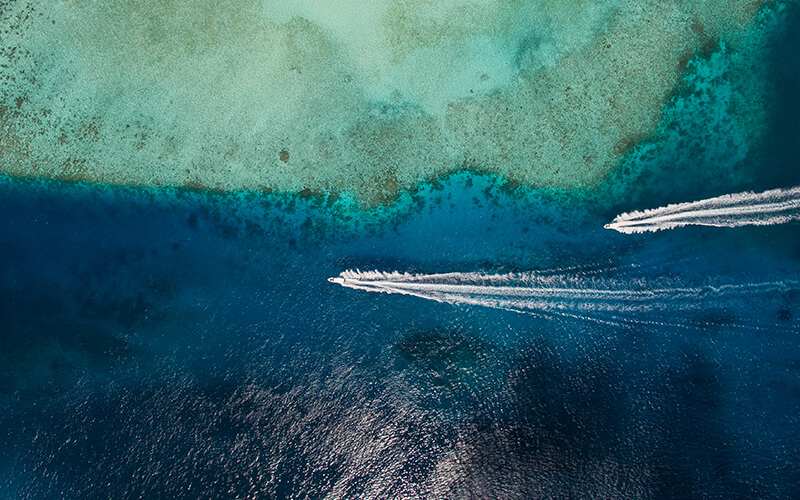 The bottom line: Crossroads Maldives offers the perfect escape from everyday life, while also providing plenty of things to do in embracing island life. For more information, visit crossroadsmaldives.com
For more of our international travel reviews, click here. Or, if you're interested in visiting a local hotel, you may be interested in reading this review of a Dubai-based desert retreat.