Use your time in lockdown to start planning for when the world's in a healthier place. Whether it be for an island-hopping adventure or a long-stay at an isolated resort, we have three tempting picks to choose from in the Maldives.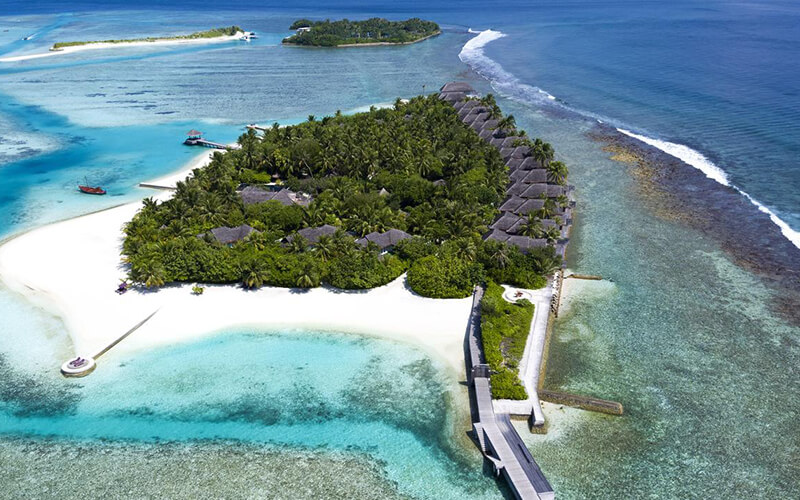 Naladhu Private Island Maldives
BEST FOR: Couples and privacy
Unwind in blissful seclusion at Naladhu, an ultra-exclusive private island resort boasting just 20 villas, or houses as they're known here. All about privacy and personalisation, Naladhu's key messaging centers around making each and every guest feel at home, and from the moment your speedboat transfer from Male Airport arrives at this island, that's exactly how you're made to feel, at home.
All houses feature private pools, and come with the option of being ocean-facing or on a private beachfront. The décor in each of the houses is homely and elegant – making you feel like you've just arrived at a timeless beach house of dreams – the place you never want to leave, and where memories to last a lifetime are made.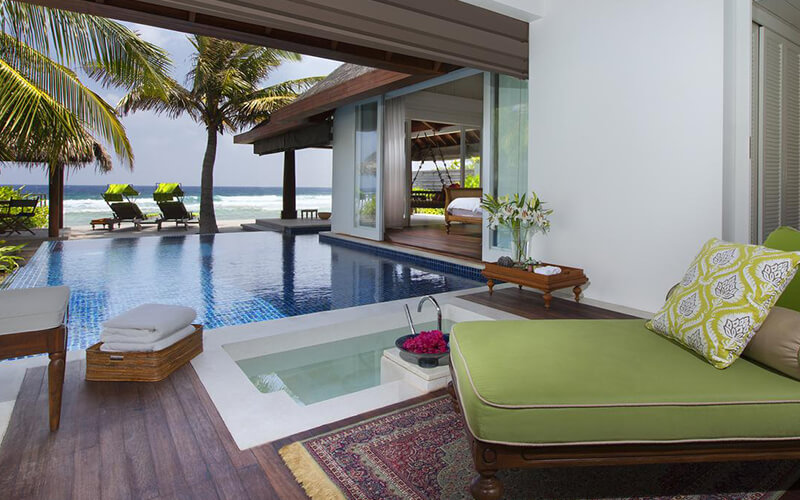 What's great about Naladhu is that it's part of a lagoon of three sister resorts – Naladhu being the smallest and most exclusive. The other two resorts, which are accessible by shuttle boats whenever you need them, are Anantara Veli and Anantara Dhigu.
When it comes to dining at Naladhu, experiences are intimate and tailored to all tastes and dietary requirements.
"It's all about personalisation and ensuring that a guest's requirements are always met," said Cluster Executive Chef Christof Egli.
Unlike most resorts, breakfast served in-house is included in the price and is available at any time you'd like it.
For when you may want to venture out, intimacy can still be maintained at a picnic set up by the Naladhu team on a nearby deserted island, or dinner by candlelight on a sandbank or coconut grove.
Naladhu's restaurant, The Living Room is where guests can enjoy a bite at any time of day.Over on Veli and Dighu, expect to find modern Japanese cuisine at Origami, signature Thai at Baan Huraa, international menus at Fushi Café, grilled meat & seafood at Sea.Fire.Salt., and authentic Italian dining at Terrazzo.
To book your stay, e-mail stay@naladhu.com or visit anantara.com/en/naladhu-maldives for more information.
Anantara Veli Maldives Resort
BEST FOR: Honeymooners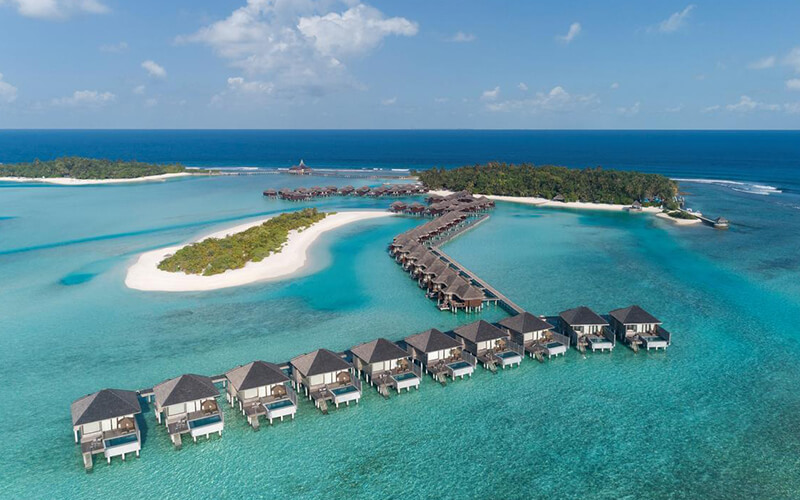 Fringed by a crystal clear turquoise lagoon, Anatara Veli located in the South Male Atoll is a postcard-perfect, adults-only resort just a 30-minute speedboat ride from Male International Airport.
Closely neighboured by Anantara Dighu (a family-friendly island), and Naladhu (the lagoon's most exclusive resort), Anantara Veli makes up the third sister property located within the lagoon.
Home to 67 luxury over-water and ocean bungalows, there isn't a bad villa option at Veli. All villas boast warming, tropical interiors, privacy and direct access to the ocean, while some feature private swimming pools.
During your time at Veli, head out on a dolphin-spotting excursion, fishing trip or go snorkeling with wild dolphins, manta rays, whale sharks and more.
On-island at Veli and Dighu, you'll find Fushi Café, which serves a full breakfast buffet, complete with live cooking stations, plus Aqua and Dhoni poolside restaurants and bars for lunch and snacks throughout the day – not forgetting sundowners and after-dinner drinks.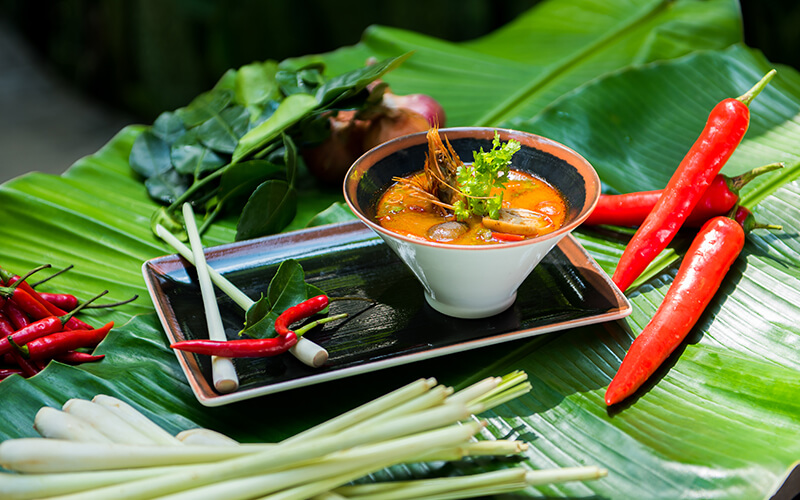 One of Dighu's stand-out restaurants is Sea.Fire.Salt, a grill-led restaurant that specialises in meat and seafood. Above, you'll find a taste of Italy at Terrazzo.
As a Thai brand, Anantara prides itself on offering the best Thai food available in the atoll, and that it does. Head to Bann Huraa for a dining experience that immerses you in Thai hospitality and charm. Also on the Asian-style list is Origami, the Japanese restaurant on Veli that serves Teppanyaki, sushi and sashimi.
For guests wanting to enjoy local flavours, there is a Maldivian-themed 'Spice Spoons' cooking class available upon request, where participants can sample and discover a range of local ingredients.
As a tropical nation made up of 26 atolls, comprising 1,200 tiny islands in the Indian Ocean, the Maldives is plentiful with fish and seafood options.
"We have a daily delivery of fresh reef fish – mainly white snapper, grouper and my favourite, the red snapper. Our yellow fin tuna is excellent as well," explained Cluster Executive Chef Christof Egli, who maintains high culinary standards at Veli.
To book your stay, e-mail velimaldives@anantara.com, or visit anantara.com/en/veli-maldives for more information.
Niyama Private Islands Maldives
BEST FOR: Families and active travellers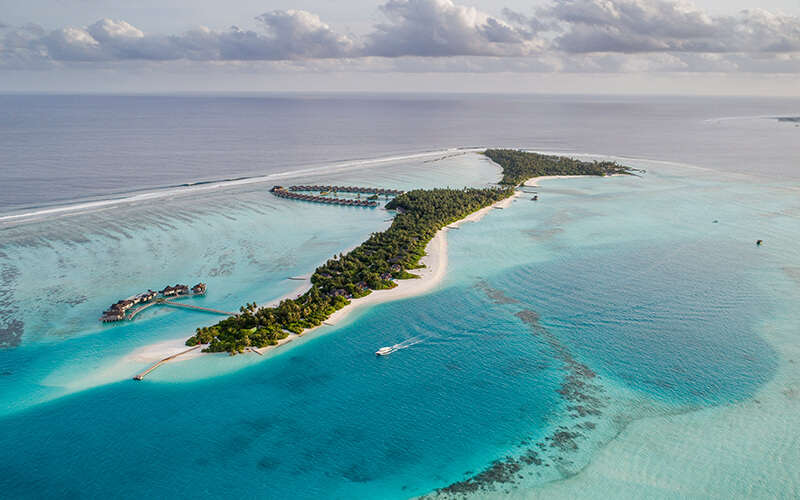 After a 40-minute seaplane journey from Male International Airport, your stylish arrival to Niyama Private Islands couldn't be more dreamlike.
It's immediately obvious that attention to detail is key here, with all guests' names carved into wooden plaques on each of the villas, plus personalised name tags on every bicycle.
There are 134 villas at Niyama, each one as luxurious as the next. Nestled amidst jungle-like settings of the beachfront, the villas are all about privacy, acting as perfect little hideaways for visitors.
Niyama also has over water villas with their own terrace-top plunge pools, as well as an option for larger groups, like the 'Cresent' – a playground of five ultra-chic villas, all with private pools, for up to 14 adults and eight children. To top it off, the accommodation comes with a private chef, two butlers and a host of complimentary activities.
When it comes to F&B, what really stands out at Niyama is how every restaurant feels like a standalone outlet, with so much attention to originality.
Set in the treetops, literally, is Nest. This Asian avant-garde restaurant offers the most magical of settings, and the food is equally as impressive. On the menu, you'll find specialities from China, Thailand and Indonesia, plus, there's also a Teppanyaki table located on the lower level.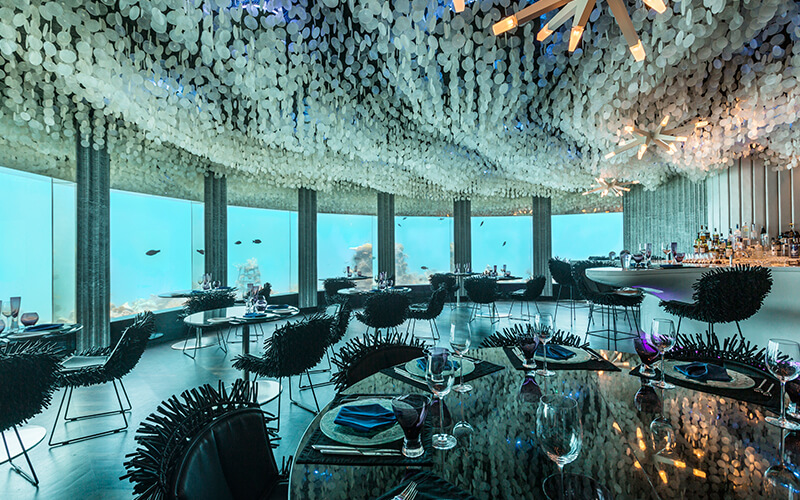 Next on the gourmet journey is fine dining, seafood-led restaurant Edge. Accessible only by boat, Edge is set half a kilometer out in the ocean away from the resort, on its own small terrace. Sundowners here are not to be missed, before delighting in an al fresco degustation menu under the night's sky. Expect to enjoy premium dishes featuring Japanese wagyu beef, lobster and salmon gravlax.
Just when you think things have reached a pinnacle, you discover underwater restaurant Subsix just below Edge. It's like being inside an aquarium, only you're not. Serving Champagne breakfasts, subaquatic lunches and wine pairing dinners, Subsix is where to celebrate a special occasion – there's even nighttime glow parties that take place down there.
Then, there's Tribal, a signature restaurant at Niyama serving African and South American cusine. A trip to Tribal will certainly allow you to try something new, from warm ostrich boboti – a South African dish consisting of spiced minced meat baked with an egg-based topping, and luwombo guinea fowl – luwonbo is a method of cooking from Uganda, where chicken beef, ground nuts, or dry fish is tied up in a banana leaf and steamed over green bananas. Tribal also offers an exciting cooking class, where you can experience cooking these ingredients firsthand.
Niyama consists of two islands, joined by a bridge. 'Chill' island is where the Drift Spa resides, and 'Play' island houses the water sports shack, and the island's best surfing spot. Niyama is one of the Maldives' most sought-after surfing destinations, with some of the world's best surfers visiting annually to take part in competitions.
To keep you busy, head out on a dolphin excursion, fishing trip, or go snorkeling with whale sharks. On-island, there's also plenty of water activities including kayaks, jet skis, jet packs and diving equipment to enjoy.
To book your stay, e-mail reservations@niyama.com, or visit niyama.com for more information.
If you enjoyed reading this article, you may be interested in reading more of our Maldives travel reviews here.