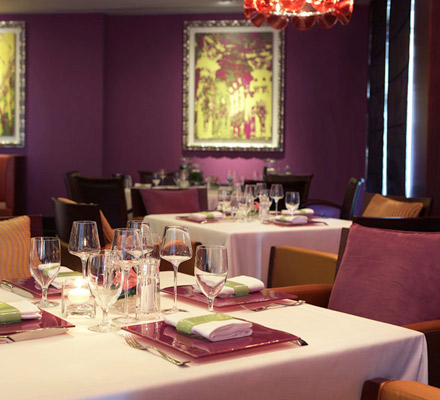 What's it like: I was looking forward to trying out the new menu at this elegant restaurant, a refined alternative to the casual sidewalk café-style eateries of JBR Walk. A glittering crystal wall greets you at the entrance, and a purple-themed décor scheme creates a chic, modern setting.
Their new menu includes a selection of the usual suspects, from antipasti to pizzas, and is refreshingly easy to navigate. But, if nothing catches your fancy, fear not, as the chef likes to step out of his kitchen now and then, and talk guests through what he can come up with off-menu, depending on what's available in the kitchen on the day. We, however, found plenty to interest us in the menu, and after knocking back the delicious shot of pumpkin soup served as an amuse-bouche, I opted to start with an angus beef carpaccio, topped with quail egg, truffle oil and a parmesan biscuit – a delectable adventure of tastes and textures. My partner's hearty broad bean soup, with pecorino and sour cream, couldn't have been more different experientially, but was equally flavourful. A lovely minty palate cleanser later, I went with the chef-recommended crispy skin Atlantic salmon with cauliflower purée and baby vegetables on the side, for mains – the fish was perfectly cooked, pink inside and crunchy on the outside. My partner couldn't resist the lure of the faux wood-fired pizza oven glowing behind the bar, and decided to go for a traditional tomato, mozzarella, truffle fragrance and porcini mushroom topping, on a light, thin crust, that any Italian mama would be proud of. The tiramisu came highly recommended, as the chef recreates an authentic version here – it didn't disappoint, with the fluffy mascarpone, and coffee offering a subtle kick. The only blip on my radar of an otherwise good evening was the service, which, while attentive, was on the slow side.
If you want to go: Around Dhs400 for 3-course dinner for two, without drinks. Call 04-4484743.
Best for: An intimate date