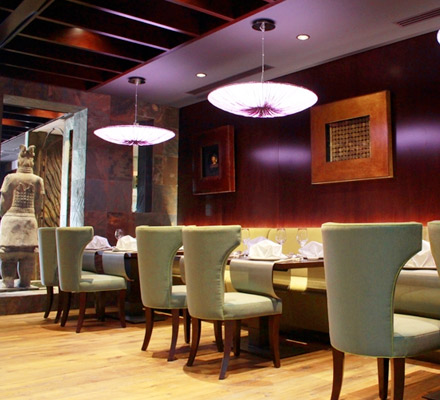 What's it like: There are a real shortage of good Chinese restaurants in Dubai, and thankfully Long Yin is a real gem down in Garhoud. Even though it feels like a long way away for those of us living in New Dubai, once you rid yourself of the mental block, it isn't really that far – and the drive is well worth it for the food here. One of the stable of eateries at Le Meridien, it's fairly full even on a weeknight and the alfresco terrace to the left of the hotel entrance has a real atmosphere, so make use of it while the weather still allows for it. The menu is vast, from a separate dim sum selection, along with soups, starters and salads to mains that include all the Chinese classics such as sweet and sour chicken, beef in oyster sauce and so on.
One thing that's really hard to find is great crispy Peking duck, but Long Yin has one up its sleeve – and they even provide a waiter to chop it up and roll it into spring rolls for you, as you devour them as soon as they hit the table. Beware though, it's so easy to fill up on these before you've even hit the main course. The dim sum comes in a choice of two of four pieces and all the starters are of a fairly large size.
For the mains, one crispy lamb with five spices is enough for two and hits the seasoning just right, with the crispy skin hiding a melt- in-your-mouth morsel of lamb inside, while sides like Szechuan seasonal greens and fried rice with prawns, while delicious, are vast. The rice perhaps needs a little more flavouring, but the greens had a refreshing kick to them.
Desserts offer up both Asian and European options from a fruit platter to a crème brulee, although after the delicious savoury morsels we didn't have anywhere to put dessert so opted out of ordering any.
If you want to go: Approximate price for dinner for two is Dhs400, without drinks. Call 04-2170000.
Best for: A relaxed, affordable date night
– Georgina Wilson-Powell