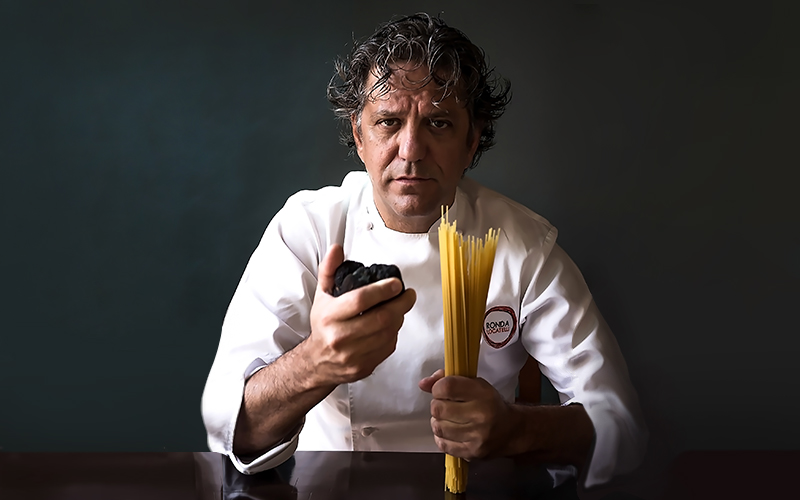 BBC Good Food Middle East caught up with the 'king of truffles' chef Giorgio Locatelli during a recent visit to his restaurant Ronda Locatelli at Atlantis, The Palm in Dubai to get the lowdown on buying, storing and using the much-loved ingredient, truffles.
Considered one of the finest Italian chefs in the world, Giorgio Locatelli was born into a family of restauranteurs in Northern Italy. He has since worked at some of the UK's most sought-after restaurants including the Savoy and opened Zafferano, where he earnt his first Michelin star, followed by a second star at his current restaurant, Locanda Locatelli. In Dubai regularly to touch base with his team at Ronda Locatelli, here's what chef Giorgio shared with us…
You've been in town recently to launch a special white and black truffle-inspired menu – tell us, what is the difference between white and black truffles?
I've been sourcing my truffles for several years from truffle hunter San Pietro a Pettine, based in Trevi. Although the truffles are from the same family they are totally different and have completely different characteristics. For example, my grandfather wouldn't eat black truffle, only white. He barely acknowledged that black truffle existed! At the beginning of the year we created a delicious one off menu at Ronda Locatelli with black truffle signature dishes. Although the white truffle aroma is intense, it tends to fade quickly, as opposed to the black truffle, which has a subtle taste, but lasts much longer.
When buying great black truffles, what should you look for?
When I'm buying black truffles for my restaurants I always make sure they are hard but not too heavy. This is because if they are heavy it can be a sign that they are spoiled. As a rule I only choose fresh black truffle, as this tastes the best, and recommend that you avoid jarred or pickled products. I like to speak directly to my supplier to ensure I know exactly where the truffle has been sourced from as this can also affect flavour and taste.
How should black truffles be stored and prepared for use?
The best way to store black truffle is in a cloth within an airtight container in the fridge. I'd also recommend taking the truffle out of the fridge and leaving in room temperature for one hour before you start cooking. Make sure you then give them a good clean using a small brush, being extra careful to get in the crevices and never to put the truffle under running water, as this will spoil it.
What's your take on truffle oil? So many restaurants are using it these days, but we hear mixed reviews…
For me this is an ingredient I never use. Truffle is best served fresh, and grated directly onto the dish.
For our readers visiting Ronda Locatelli, which dishes 'must try' dishes would you recommend?
One of the must-try dishes at Ronda Locatelli is our pizza. We have a wood fired pizza oven and it makes delicious authentic pizza. Also, the puntarelle salad and ravioli with ossobucco are favourites of mine.
For our home cooks out there, what mistakes should they stop making when whipping up a bowl of pasta?
Try not to overcomplicate it and keep it as simple as possible. One of the most pleasurable pasta dishes is spaghetti with tomato sauce; it's simple and delicious!
And what about risotto? So many of our readers say that they struggle with getting the consistency right.
The consistency of risotto is a big debate, in the north it is very soft the further south you go it becomes firmer. The idea is to achieve the consistency you want before you add your butter or cheese at the end. Keep in mind you can always thin it down little bit. It's a matter of opinion as to what you like really
Taking it back to the beginning, what got you started in the kitchen?
Since as long as I can remember I have always loved food. I actually spent most of my childhood at my family restaurant; it is all I have ever known and a life-long passion of mine.
Tell us a little bit about your restaurant here, Ronda Locatelli in Dubai?
Ronda Locatelli at Atlantis, The Palm offers guests the tastes of Italy in a warm and family-friendly environment at one of the most luxurious hotels in the world. The team and I have created a menu that focuses on authentic Italian cuisine, serving pizzas, pastas and other traditional favourites, all of which could be found in a restaurant in Italy.
How often will diners find you visiting the outlet?
I try to visit as much as possible, normally at least a couple of times a year. I love spending time with my team in the restaurant, as it's an opportunity for us to work together and develop ideas and new menus.
What do you think of the Middle East's food scene? Do you think Italian food is authentically represented here?
The Middle Eastern food scene is constantly evolving, and this includes Italian cuisine, which is getting better and better every year. However, we recognise that there is lots of competition within the Gourmet lifestyle Chef interview market and therefore understand how important it is to offer delicious and importantly authentic Italian food at Ronda Locatelli. I'm sure over the next 10 years we will see some great fusion food from Dubai, due to the incredible mix of cultures and emphasis on local food.
For those looking to learn more about Italian cuisine, which region in Italy is best to visit for food?
Each region in Italy, offers a fantastic expression of its history and culture through the food served there and the season also has an effect. For example, Piemonte in autumn is absolutely is perfect.
For more information head over to Ronda Locatelli.