Array
(
    [ref_id] => 433
    [photo_file_name] => Marcos-WAFI-Dubai.png
    [posted_by] => Emma Hodgson
    [text_display] => <p>
	<em>Head chef and manager Marco Ghezzi of Marco's in WAFI, Dubai talks to BBC Good Food Middle East about the best Italian produce, passion and cooking tips…</em>
</p>
    [cover_photo_file_name] => Marcos-WAFI-Dubai-cover.png
    [slider_images] => 
)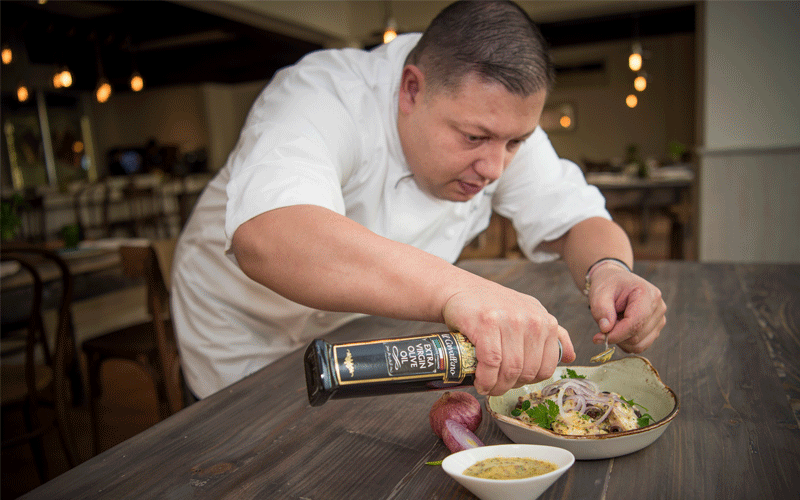 Head chef and manager Marco Ghezzi of Marco's in WAFI, Dubai talks to BBC Good Food Middle East about the best Italian produce, passion and cooking tips…
What inspired you to choose a career as a chef?
I fell in love with food when I was six thanks to a grandmother who taught me the basics of cooking and sauce making. My hometown of Milan, Italy, meant that I had a rich heritage of traditional Milanese fare to explore as I grew up. As a young boy I would be in playing with the pots and pans helping to cook while other boys my age were out playing football. When it came to choosing a career I had two choices, be a truck driver or a chef. Of course the natural choice was for me was to become a chef.
If you could only have 4 ingredients in your cupboard, what would they be and why?
I would always have organic tomatoes, olive oil (the best from Italy), pasta dough and mozzarella or parmesan. They should all be top quality ingredients. These are basic ingredients for a great traditional Italian dish. Italians naturally use olive oil rather than butter. Tomato is also used in lots of dishes.
What's the biggest challenge you have faced as a chef?
To grow every day. Starting as a Commis Chef hoping that one day you will become the best with the end goal to become a Corporate Chef.
Aside from being a great cook, what qualities have contributed to your success?
Passion is the first and most important thing. If you don't have passion you will never succeed. You have to put your heart into everything you do. I love this job more than anything, more than my good friends.You have to understand your ingredients and have consistency in what you are doing.
What's one mistake home chefs tend to make when making Italian food?
Over complicating their cooking. For instance carbonara, people will cook this with cream however an Italian chef will use olive oil, egg and parmesan cheese to get the creamy texture.
What's the biggest misconception people have about Italian food?
People think Italian food is just pizza and pasta. Our food is so diverse like lamb shank, veal, braised chicken and so many more dishes. Marco's concept was built on offering traditional Italian dishes like dry aged beef and cheese.
What's your favourite Italian dish to make, and what advice would you give to BBC Good Food readers trying to attempt it?
Slow cooking braised wild rabbit or lamb shank as it requires time and passion. Marinate 2-3 days before for the best taste and make sure you cook it long enough. Have patience and put time into your cooking.
What's your favourite food region of Italy and why?
I would have to say Tuscany, it is a more complete region where you can find everything from soup and beef to pasta. In Tuscany there are great ingredients readily available.
Why do you think Italian food is so internationally popular?
It's simple good food. It's in an Italians DNA to cook especially for older generations. We are taught from an early age how to cook and this creates popularity and availability.
What are your tips for making pasta from scratch?
Use great ingredients, try and stick to a set ration, I use the ratio I kilo flour to 35 yokes of eggs. Be patient mixing the dough and mix by hand not a machine.
What are your tips for making focaccia from scratch?
Follow the correct timings to proofing the dough so it isn't too heavy. Use mother yeast which has been left to ferment over night. You should be able to feel when the dough is ready as it will feel light. Humidity is also very important, there should be no humidity or it will ruin the dough and create a crust in the top. If your dough has a crust on the top then it's ruined.
For information about Marco's visit the WAFI Dubai website for bookings email mariano.andres@wafi.com