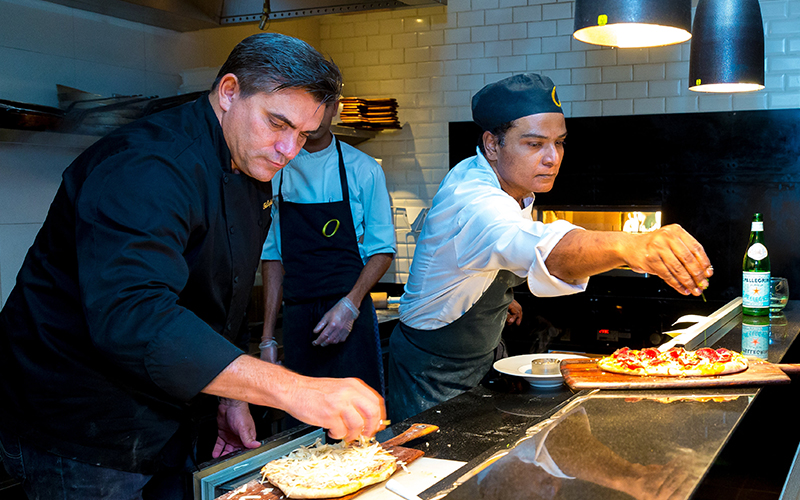 With an admirable list of successful restaurant concepts, a well-established on-screen chef role, and a selection of critically acclaimed cookbooks to his name, Todd English has earnt himself an impressive culinary reputation stateside. And now, just a year and a half after launching his first restaurant, Todd English's Olives, in the Middle East, the seasoned chef talks further expansion in both Dubai and Abu Dhabi with us during his recent visit to the capital.
Located at the Venetian Village in Abu Dhabi, Todd English's Olives restaurant has fast become a popular dining spot for residents and tourists alike to enjoy Italian-inspired Mediterranean food in the capital. "Abu Dhabi is a melting pot of cultures and Olives has been so well received in the UAE – we have had a great year," says chef Todd.
Having experienced a successful debut to the region, we caught up with the American, celebrity chef behind the restaurant to hear of his international culinary journey and the exciting Middle Eastern culinary pipeline in store….
What got you started in the kitchen?
My earliest memory of cooking is with my mother. She's Italian and our family gatherings growing up were always in her kitchen. She grew up preparing food, eating, exploring flavours and how to incorporate them in her cooking, and her patience to cook for a large family is something that has always pushed me in the kitchen. The kitchen is my happy place and my stress-free zone. My cooking style has been heavily influenced by my mother and I will always be grateful for her presence in my life. Her teachings have allowed me to go on and cook for so many wonderful people throughout my culinary journey.
Where in Italy do your roots originate?
My Italian roots come from the tip of the Italy in a place called Calabria, also famously called the 'toe' of the country's boot-shaped peninsula. The place is popular for its old-fashioned villages and beautiful coast line.
How would you describe your cooking style?
I've always said cooking with love is the first ingredient to make any dish taste delicious. I like to cook with love, layering ingredients and textures a lot. I believe the key is being fearless in the kitchen and experimenting with different flavour profiles. You should give everything a go at least one in the kitchen.
Tell us about your restaurant Olives in Abu Dhabi…
Olives was the first restaurant I opened in Boston in 1989, the Olives at Venetian Village in Abu Dhabi is our 2016 version. Much of the classic elements like the open kitchen, warm décor, and original menu items remain the same, however, we have updated a few elements of the design and menu to give the restaurant a sense of place. I am happy to see that the restaurant is so well received among the gourmands of the capital and the UAE.
Which 'must try' dishes would you recommend having at the restaurant?
Our bestsellers include the beef carpaccio dish for sure, it's a classic. Plus, the veal agnolotti pasta.
How often are you present at the restaurant? When will we see you here next?
As often as I can be, I love to be in the kitchen more than anything! I am hoping to travel more to the Middle East with expansion plans in the pipeline. You'll be seeing more of me for sure. I'll be travelling to Abu Dhabi once or twice a year from now on. I'm very excited to further explore the city and the region.
What attracted you to the Middle East?
As a chef I am always looking to introduce people from around the world to my take on Mediterranean cuisine. The Middle East is a melting pot of a variety of nationalities and a busy tourism market – it's been an exciting journey so far for me over here. Historically, a connector of the east and west, the Middle East – in particular Abu Dhabi and Dubai in the UAE – have become major global food cities, and a lot of my Mediterranean roots are not so far away from this area.
What's your take on the UAE's culinary scene?
It's amazing to see how many international brands and chefs are represented here, and it seems to be growing. Locals and tourists who expect and seek out excellent dining experiences continually encourage us to bring our brand of food to them in the UAE.
Which Italian restaurants do you like visiting in Abu Dhabi and Dubai when you're in town?
I have been to Villa Toscana at the The St. Regis Abu Dhabi, and I really enjoyed eating there. Each time I visit, I'm always looking to try new spots as they open.
Do you have any plans to expand elsewhere in this region? Dubai, perhaps?
Yes, we will be bringing our Food Hall concept to Dubai in 2017 as well as the Todd English Pub & Market, to the new Abu Dhabi Airport in 2018.
You have quite a few cookbooks yourself – what are they like?
I would have to say my original cookbook, The Olives Table, is still my favourite. Generally speaking across the board though, I like to write about things that are simple and easy to understand. I like cookbooks that can be used daily in homes, and not just sit on the shelf.
For our travelling foodies, which one of your global restaurants would you recommend visiting the most?
In Manila go and check out our restaurant called The Food Hall by Todd English, or our burger shop called Pound By Todd English – both located at Fort Bonifacio. Or, if you are in Las Vegas or the Bahamas don't miss the other Olives outposts!
Todd English's Olives Call: +971 2 404 1941 Address: Venetian Village, within the grounds of The Ritz-Carlton Abu Dhabi. For more information, head over to Todd English's Olives.