The Experience by Reif Othman is the first of its kind in the Middle East. The VIP restaurant seats just 12 people and boasts a no-menu policy. In a one-to-one with the man himself, chef Reif welcomed BBC Good Food Middle East behind the scenes for a memorable experience…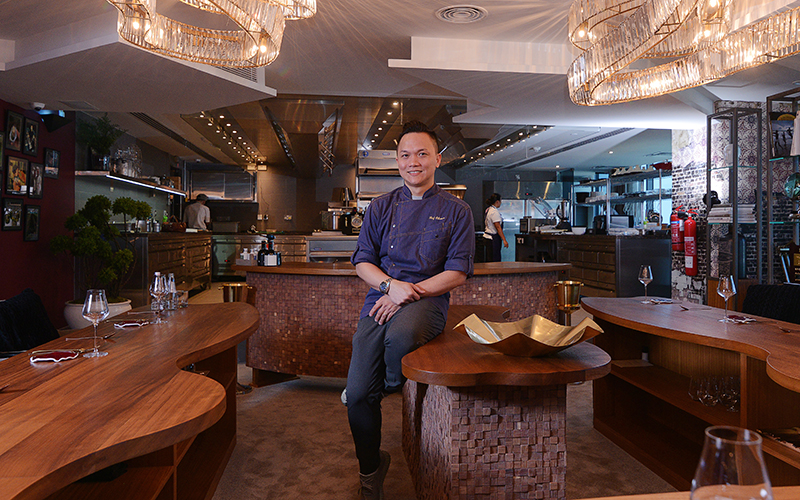 So, where did the idea to open such an interesting concept come from?
When we looked at the space I knew I wanted to do some sort of chef's table concept – but in a way that made it homely, cosy and altogether different that the usual.
For diners looking to visit, what can they expect?
Well, I think everyone that comes has a different, unique experience, so it's hard to pinpoint exactly.
How would you describe the type of food and cuisine that you're doing?
The whole menu is inspired by my experiences throughout my career since I was young. I've travelled a lot and learnt about many different types of food around the world, so I'd describe it as free-style cooking. I don't want to say that it's a specific cuisine, because it's not. I'm also very open and flexible, so if people want to call me up the day before and request a certain style or type of food, I'm open to that too.
Where are most of your ingredients from?
I'd say about 50% from Japan, and 50% from across Europe – France, Italy, Spain and a few other places.
What's the cost?
When you come, a ten-course menu in the standard for AED 750 (includes a glass of French bubbly and a few extras). But, if guests want more, additional dishes are costed per course.
Do you think this concept will be something you'll expand elsewhere in the future?
No. I want to keep it like this. My name is on the wall and I want to be present. It doesn't make sense to open a restaurant with your name on the door, offering an exclusive experience without being present – and I can't be in more than one place at once, so here's the only place.
How many chefs are in the kitchen with you here?
I have five at the moment. I think in the long run I'll have about eight, plus myself. This will allow us to keep moving forward with our ideas and take the next culinary step, so we'll need more hands in the kitchen then.
Details: The Experience by Reif Othman, 37th Floor, H Hotel, Dubai, UAE. For more information call +971 4 336 2222 or visit The H Hotel.