Proving that age is just a number, 23-year-old chef Luke Thomas was named the UK's youngest head chef at the age of 18, and is the creative mind behind three thriving F&B concepts. From work placements at Alinea, The Fat Duck and a French Laundry pop-up in London, to opening his first international venture, Retro …

Continue reading "Britain's youngest head chef comes to Dubai"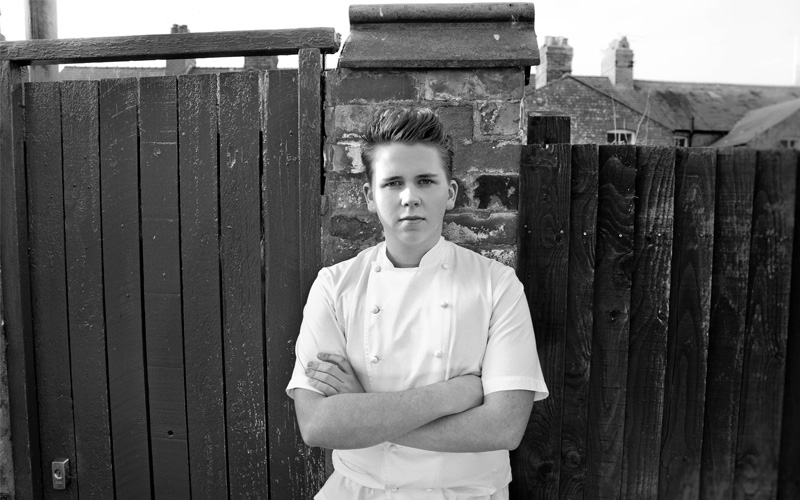 Proving that age is just a number, 23-year-old chef Luke Thomas was named the UK's youngest head chef at the age of 18, and is the creative mind behind three thriving F&B concepts. From work placements at Alinea, The Fat Duck and a French Laundry pop-up in London, to opening his first international venture, Retro Feasts at The Beach, Jumeirah Beach Residence in Dubai, chef Luke's passion clearly lies in the kitchen. He's accomplished a lot so far, and what's best is that his culinary journey is just beginning. BBC Good Food Middle East caught up with Luke to learn the secrets of his success…
Where did your desire to become a chef start?
I've been interested in food for as long as I remember. My grandmother used to get me helping in the kitchen from the age of three, all the traditional British dishes from her generation, and it sparked a lifelong passion for food and still today is the inspiration behind the food concepts I create – connecting people through food experience is very powerful and rewarding.
How did you successfully submerge yourself in the culinary industry at such an early age?
I started working at a local butcher shop at 12, which was a fantastic way of really getting to understand different meat and cuts. The guy I worked with also used to teach me about how to cook the different cuts and what style of cooking and flavours worked with the different animals, which was a great foundation for a chef. From there, it was on to a local restaurant working after school and weekends in the kitchen and building up my knowledge.
Did you find it tough, coming up against chefs who were all older than you? Was it difficult to prove yourself?
Absolutely – it's hard for them to take instruction from someone half their age, and it's hard trying to tell chefs who have been in this industry a lot longer than you have what to do! I think the key in this industry is that it's ever-evolving, you're never done learning. If you keep that in mind then it's always interesting and you tend to bounce off each other in the kitchen, throwing different ideas and knowledge around. I also would say I am not a typical chef, I really am just a guy who loves food who gets what people like – and my style isn't the typical shouting try hard head chef mentality, its super relaxed and I approach a service in the restaurant as if we have a lot of people coming for a dinner party to your house, difference being it may just be a hundred people instead but applying the same mentality.
Which chefs have been your biggest inspiration so far in your career?
Without a doubt Jamie Oliver, someone who has changed the way people cook, think about food and importantly he is behind some very strong and powerful campaigns that really matter – his style is unique to him, the way his shows look and fell, he makes food look simple – delicious and unpretentious. He is someone I have always admired.
Who have you worked with in the kitchen that's taught you the most?
Many chefs but in my early teens this was my real education, learning to cook the perfect piece of fish, grilling and resting a steak perfectly with the correct seasoning – this was my first head chef Daniel Hunter, then one of my big inspirations Simon Radley, the head chef of The Chester Grosvenor – he taught me a huge amount and gave me a lot of time which was incredibly valuable but learning from guys that have some much knowledge and a lifetime of experience is very special and will be the foundations for a life time.
What's been the biggest highlight of your career so far?
Being part of FutureChef in 2009 was incredible, this moment was when I realised the opportunity in the world of food – before this I was just focused on learning about food and learning my craft, when I won FutureChef opportunities became more apparent and it made me more determined, focused and launched a new chapter of my life that made me think that there were really no limits, the only obstacle is yourself most of the time.
Tell us a little bit about your restaurant here in Dubai…
Retro Feasts started as a pop up in London, before bringing it over to Dubai in 2015. It's a fun, nostalgic, relaxed beachside spot that's quintessentially British. When we came up with the concept, Mark Fuller and I had obviously both grown up in very different eras, but the foundations of the dishes were often very similar. So we created an amalgamation of childhood dishes from every era, mixed up a bit and with a few twists here and there to bring them up to date.
How often are you at Retro Feasts in Dubai?
I come over a few times a year – it's great to catch up with the team and get stuck in in the kitchen, as well as change up a few dishes and get to know some of the regular customers. Dubai is such a great place for food, drink and wonderful restaurant concepts – it's constantly growing and being part of this is so great for not just me, but also our awesome team here.
For our readers visiting the restaurant, which 'must try' dishes would you recommend?
Definitely our Retro Burger – it's a classic 'Dirty Burger' but with all the best ingredients. Cheese, all-beef patty, iceberg lettuce, pickles and our special Wimpy-style sauce all wrapped up in a charred brioche bun.
Can we expect to see any other projects from you in the Middle East any time soon?
Who knows? I have no immediate plans but I am always up for great collaborations and fun new things – let's see, for now it's all Retro, Retro, Retro for me in Dubai. The future here I'm sure will be an exciting one.
For other young, aspiring chefs out there, what would your advice be to them on succeeding in this industry?
Go for it! Passion is key, without this – it's super hard, it has to be the continued foundations for your chef career. Don't be scared to be different, take risks, however, knowing the basics is never a bad thing, it isn't critical because you can thankfully with the modern world we live in, literally do what you want and if you believe in it strongly – but the foundations of classic cooking will help you evolve in the future.
You've already achieved so much for your age. What's next on your project list?
My end goal is to enjoy it, work with great people and see the world and see the best food around the world to continue learning and developing new ideas. A London restaurant is on the cards, which is very exciting but there are no big plans in all honesty – I take each opportunity as it comes and select very carefully what could be next.