BBC Good Food Middle East talks to Elena Kinane, the managing director and founder of Greenheart Organic Farms in Dubai to discuss farming, health and organic food… Please could you tell us a bit about your background, what inspired you start Greenheart? I come from quite an eco-friendly family. We've always grown our own produce, …

Continue reading "Organic matters: An inside look at Greenheart Dubai"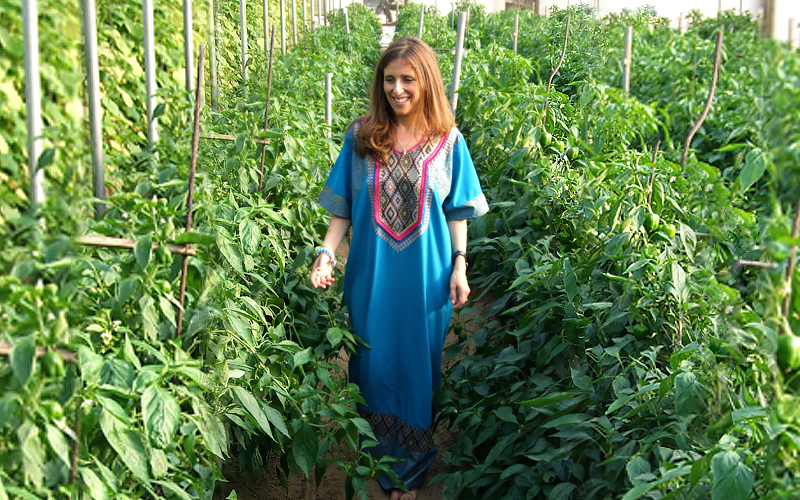 BBC Good Food Middle East talks to Elena Kinane, the managing director and founder of Greenheart Organic Farms in Dubai to discuss farming, health and organic food…
Please could you tell us a bit about your background, what inspired you start Greenheart?
I come from quite an eco-friendly family. We've always grown our own produce, made our own jams and preserves and so on. Before coming to Dubai I studied in London where there were, event at that time, quite a few health food shops and organic eateries. However when I first came to Dubai 20 years ago there wasn't really any organic produce available, either locally grown or imported. So I started growing my own, first in very small quantities. Gradually this increased until I finally took the plunge and set up Greenheart.
Why is organic produce important to you?
I believe wholeheartedly that living an organic lifestyle is the only sustainable and healthy way to be. Long before setting up Greenheart I was committed to the cause. We only buy eco-friendly products. We recycle as much as possible and steer clear of any harmful chemicals present in items such as cleaning detergents, cosmetics, plastic containers, paints etc. We try to avoid modern day consumerism, focusing on the things that really matter to us. Growing organic fresh food for my family was just part of this development. The world can be fed organically. We are living proof of this. If we grow genuine organic produce in this very challenging environment it can be done everywhere. Of course this is not in the interest of the powerful corporations who produce the engineered seeds and chemicals. Consumers are powerful too though and can change how things are done.…
What has been the biggest difficulty you have faced setting up and running Greenheart in the UAE?
For the first 6 months we could grow very little. In the desert, soil building is a priority and initially we were busy making compost from animal droppings and alfalfa. We only had two grow houses and very few seeds. Our range consisted of about 15 types of vegetables and we could only manage one weekly delivery to Arabian Ranches. For the first few months we had now electricity at the retail / storage space so we had to prepare all the boxes at the farm during the night and deliver them during the day. Despite the fact that we've always tried to keep our running costs down, the low yields made it very difficult to make ends meet and there were times when we didn't think we'd survive.
Tell us a bit about your delivery service?
All the produce we grow and import from countries close by is available at our online shop. Customers can order set boxes (we currently have 16 different types) or choose to customize their order. During the main season we grow up to 130 different kinds of vegetables and each variety can be ordered in small quantities if required so there isn't any pressure to purchase a full kilo of anything. We also import a large selection of organic fruit from small partner farms in Sri Lanka and Lebanon as well as organic grass-fed beef, (sustainable) fish, groceries, superfoods & lots more. Customers can also order the most amazing freshly baked organic bread, locally made organic ice cream and vegan cheeses. Orders of AED 130 are delivered without a delivery charge and we now offer a next day delivery service to most areas in Dubai, twice weekly to Abu Dhabi and from next week onwards we will introduce our first weekly delivery to Sharjah City. Orders should be placed before 12pm for delivery the next day and can be if and when required. There is no pressure to sign up to a weekly delivery, although this option is available.
Is all the produce you sell grown in the UAE?
At the beginning we sold only our own organic produce but soon realized that it was important to stock a good selection of quality organic fruit. So we started working with a small organic farm in Lebanon and a then one in Sri Lanka. The flying time from both is less than 4 hours and they're both small privately owned companies where harvesting is done on the day of shipment. So the produce is as fresh as imports can be. Oranges and Lemons for instance still have all the leaves attached and the fruit is seasonal. So some items are only available at certain times of the year, as it should be. During the summer we also import some vegetables which we're unable to grow here. This allows us to offer the best possible selection to our customers for the time of year.
Do you follow seasons with the produce grow, or is it grown in a controlled environment
Throughout the year we grow produce on our farm. However, during the summer months we're limited. We now have 42 climate controlled grow houses but even they reach over 40 degrees in July and August. Between October and May we grow all our produce (up to 130 different varieties) in either climate controlled grow houses, shaded grow houses or in open fields. What we grow where, depends on the season. Coriander is a crop we grow all year. During the summer we have to grow it in one of our cooled grow houses but during the winter it does very well outside in the open field. Most Brassicas are seasonal. We plant them in early October and start harvesting crops such as Cabbages, Broccoli and Cauliflower from December onwards but we're now able to grow Kale all year round. Many of the Fruit Vegetables can be grown all through the year but yields are smaller and we also change they variety according to the season. The tomatoes we grow during the summer are different to the ones we grow in the winter.
What plans do you have for Greenheart in the next 12 months?
We're in the process of launching our new website and expanding our delivery service. In addition we have been cherry-picking lots of new and exciting organic products, which will arrive little by little over the coming months. We will introduce an organic vegan deli counter as well as recipe boxes. There are always developments on the farm; we expand our growing space by an average of 15% annually. We have a few more surprises in the pipeline but it's too early to say.
How would you describe the benefits of organic food to someone who has never tried it before?
When you first set foot in our farm shop the first thing you notice is the wonderful aroma of all the freshly harvested produce. "It smells of real food in here" is something we hear a lot. Many people that come and shop with us are not necessary convinced to begin with that organic food will be beneficial for them but they are just fed up with eating tasteless, old, watery vegetables that are quiet expensive. Once you embark on a clean, organic diet that is low in sugar and processed foods you can feel the difference within a week. Your body starts to detox, your skin looks healthier and you are more energetic (once with withdrawal symptoms have subsided). By making the switch you stop absorbing chemicals pesticides, herbicides and preservative and instead feed your body with the nutrients it craves. After the summer holidays many of our customers return and tell us how much they have missed eating our produce!
Describe your daily work routine.
No two days are the same. I get up quite early around 5am and answer emails and maintain the website. After the school run I either drive to the farm or to our farm shop and office or attend meetings. If I'm working on expanding the farm or launching new crops I spend more time at the farm. Right now we're about to launch our new website and are focusing on stocking a larger variety of organic products so I'm more office bound than I would like to be. As a working mum I try to incorporate my children and their needs as much as possible into my day, which can be a challenge at times but also great fun.
Visit Greenheart to find out more about their organic food or to shop online.