Array
(
    [ref_id] => 693
    [photo_file_name] => Michelin_Starred_Chef_Thomas_Keller_800X500.png
    [posted_by] => Emma Hodgson
    [text_display] => <p>
	 <span style="background-color: initial;">Thomas Keller opened his first bakery in Dubai this summer, ahead of his visit to the UAE in November, we caught up with the award-winning chef</span>
</p>
    [cover_photo_file_name] => Michelin_Starred_Chef_Thomas_Keller_200x181.png
    [slider_images] => 
)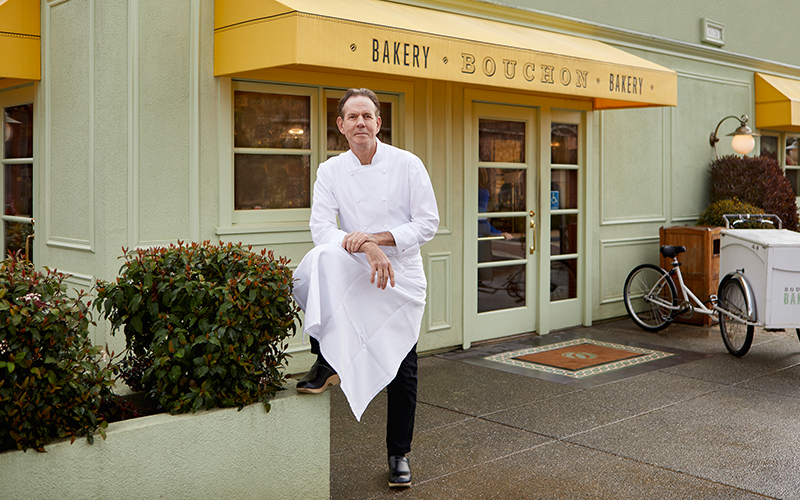 Thomas Keller opened his first bakery in Dubai this summer, ahead of his visit to the UAE in November, we caught up with the award winning chef
What is your favourite thing to make, and what advice would you give to BBC Good Food readers trying to make the dish at home?
Roast chicken. It's the first recipe in Bouchon cookbook and is the perfect comfort food. A simple roasted chicken really satisfies that innermost desire of food. It's a simple recipe to follow.
What's your favourite food memory?
I have many. One that stands out is now featured in the Bouchon Bakery cookbook. My hardworking mother always kept a package of Keebler brand Pecan Sandies, a butter and crumbly cookie, in her cupboard. She'd often enjoy it at the end of a long day raising us six boys. I have memories of her eating those and sharing them as well. So we developed a recipe similar to those from my childhood, called "Pecan Sandies for My Mom."
Out of all your career achievements which one are you most proud of?
I have been so blessed beyond believe in my career, but those are the three most significant things in terms of accomplishments. Being the first American chef to win three Michelin stars was certainly one. And of course, being honored with the French Legion d'Honeur, getting recognition for my work from another country. And winning the Bocuse d'Or this year. The Bocuse d'Or is so important because unlike the other honors, it's about our whole country. It's about elevating the respect that the world has for our culinary profession in the United States. We have always been proud and in the past 40 years, there has been tremendous growth in the influence and impact of what we do.
Why did you pick Dubai as the place to open your first international bakery?
I originally opened Bouchon Bakery as a place that would foster community and provide a foundation for memories. Whether it is a croissant, a sandwich or a chocolate-chip cookie, the food we serve at Bouchon inspires joy that speaks across generations. I am pleased to see Bouchon expand outside the United States to expand its community.
What can customers expect from your new bakery in Autumn/Winter 2017?
We'll continue to provide our guests with a taste of the magic I first discovered in France at boulangeries in the country.
What food trends do you think will be big in 2018?
The true definition of a trend is something that has an end. So why would you want to be trendy? It doesn't make sense to me. And what is a food trend? This food is in this year and out next year. I'm more interested in movements—things that begin with integrity that will last and remain with us for a long time. We've seen a move toward chefs owning restaurants and that has changed America's culinary reputation and legacy.
If you could only have 5 ingredients in your cupboard, what would they be?
I always have salt, vinegar and olive oil in my cupboard. I prefer MANNI organic extra-virgin olive oil for its high antioxidant quality.
What's the best advice you have ever received?
I was very fortune to receive advice that forever changed my path [as a young chef]. It was a few words from my mentor, Chef Roland G. Henin one summer at The Dunes Club in Narragansett, Rhode Island. He told me that there is a reason that cooks cook. And that reason is to nurture people. Cooking was physical. But it was also emotional, a conduit for human connection. We cook to nurture. To make people happy. To create lasting memories around a meal. Chef Henin's words became my guiding principle, the foundation of everything I try to do.
Details: For more information on the chef's cookbook, visit Thomas Keller. For information on the new Dubai outlet, visit the Bouchon Bakery Middle East Facebook page.