We caught up with the 'world's fastest butcher', chef Cüneyt Asan during a recent visit to his restaurant Günaydin Dubai at Souk Al Bahar, to get the professional's take on butchery basics, hear what it was like to be 'Salt Bae's' mentor, and learn of Turkey's must-visit food spots. Considered one of the world's fastest …

Continue reading "Q&A with the world's fastest butcher: Chef Cüneyt Asan"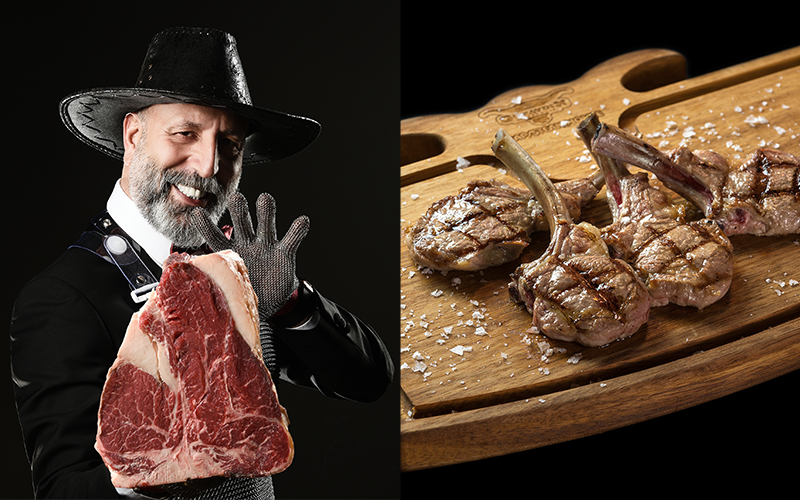 We caught up with the 'world's fastest butcher', chef Cüneyt Asan during a recent visit to his restaurant Günaydin Dubai at Souk Al Bahar, to get the professional's take on butchery basics, hear what it was like to be 'Salt Bae's' mentor, and learn of Turkey's must-visit food spots.
Considered one of the world's fastest butchers and best meat speciality chefs in the world, chef Cüneyt Asan has more than 50 years' experience working with meat – during which, he's earned titles including 'The Professor of Meat' and 'Fastest Butcher in the World'.
In Dubai monthly to touch base with his team at the meat-led restaurant Günayd?n Dubai, here's what chef Cüneyt Asan shared with us during his most recent trip…
Growing up did you always want to become a chef? Where did your journey in the industry begin?
I started working as an apprentice at the Bostanc Butchers' Market after moving to Istanbul during my primary school years. That was when I first got introduced to the 'world of meat'. I immediately felt a strange appreciation for the industry, especially to working with meat; it was like art to me. I decided to dive deeper into the core of this business and learn everything there is to know about it.
When you're working with your hands, you gain more knowledge about the product than by working with any other means. Meat became familiar to me; it became a passion that I was determined to build my future around.
At the age of 21, I was able to develop my skills and grew from an apprentice to the master of my realm. However, I had to delay plans for my ultimate goal to join the military service.
After paying my dues to the country, I went back to the butcher shop which was then owned by the two brothers Nimet and Yalçn, who eventually offered me a partnership in order to keep the butchery's legacy alive.
Talk us through the concept at Günayd?n Dubai…
Günayd?n is a pioneering brand of the steakhouse concept in Turkey, where we have divided the many outlets into different categories, including burger, döner, and kebabs. In Dubai, we have combined the four concepts into one wholesome location, offering an array of the best meats there is to offer, either by cooked meats or raw meat from the butcher's shop. The main focus and concept of Günayd?n's menu is meat. The restaurant explores the flourishing culinary diversity of Turkish cuisine by incorporating dishes from both the Far East and Mediterranean regions of the country. Günayd?n Dubai showcases its craftsmanship with the most delicious high-quality meat and provides a unique kebab experience for its guests. All the meat is prepared by hand; from mincing to marination. Kitchen equipment is used minimally, as it takes away the natural juices of the meat that are so important to retain the true flavour.
Günaydin Dubai's open kitchen welcomes guests with a culinary display of its tasty steaks and kebabs being grilled to perfection while the delicious aroma from the freshly baked treats served straight from the brick oven can help work up the appetite.
Which dishes are a must-try at Günayd?n Dubai?
I am biased so I would recommend everything! The adana kebab, which is chopped lamb kebabs with Turkish spices and herbs, is an absolute classic. Alinazik kebap is one of my favourites as it is a combination of minced lamb kebab over a mixture of yoghurt, eggplant and garlic puree. For dessert, katmer is perhaps the most popular. It is a crispy baked pastry filled with pistachio and served with mastic vanilla ice cream. We have a dedicated 'Katmer Maker' at the restaurant, who hand spins the dough to order and who has specialised in the craft for over two decades.
We have to ask; what was it like to mentor Salt Bae?
I am sure it gives all teachers great pride to watch their students excel in their respective fields. I am the same. For the world, he may be 'Salt Bae', but for me he is still 'Nusret', the little boy who I gave a chance to. With pure dedication and willpower, he succeeded to be known for his culinary talent. Watching him today, I am proud that he's been able to create a mark for himself in the culinary world.
You've been titled 'the fastest butcher in the world'. How did you earn that title?
This is a title given to me by some of the best chefs in the industry. Over the years, chefs from around the world watched me play with meat and were unable to match up to my speed and precision; hence, they coined this title.
For someone who hasn't yet visited Turkey, which area is best for its food?
This truly depends on your personal preference. Turkish cuisine varies across the country. For example, in Istanbul you will find many elements of the Ottoman cuisine with lighter use of spices. In the western parts of Turkey, where olive trees grow abundantly, olive oil is the major type of oil used for cooking. The Black Sea region uses fish extensively. The Southeast is famous for its variety of kebabs, mezes and dough-based desserts such as baklava and künefe.
Turkish food aside, which cuisine is your favourite?
If meat were a cuisine, it would be my favourite. I do not discriminate and appreciate all cuisines, especially if their dishes have quality meat involved.
When you're in Dubai, where do you love dining out?
Play Restaurant & Lounge, it is one of the best in Dubai.
For our home cooks reading that want to learn the basics of butchery, where's best to start?
First of all, I would strongly recommend ensuring the meat is already well-prepared as much possible when bought from the butcher before cooking as any slight mistake during preparation, for example the slip of a knife while cutting, could cause serious injury.
The first step in basic butchery is to understand the anatomy of livestock. In other words, to know what kind of meat comes from which part, the right way to cut the meat, slicing the meat, trimming the sinews, deboning, etc. To move comfortably during the preparation process and to maintain the hygiene of the meat, I recommend using a medium size counter and a cutting board at all times. You can also buy a small size meat grinder that has been specially designed for use at home. Another good start would be to have a good knife, which I believe is key to working with meat.
Which type and cut of beef would you most recommend trying at Günaydin Dubai and why?
I would recommend the rib eye steak, done medium, which is the best way to enjoy a steak. Our ribeye is specially sourced and put in a special chiller to rest for 28 days. We like to retain the natural aromatics of the meat and enhance the flavours by simple seasonings of mountains sea salt and pepper. It is then cooked on a chargrill.
When will you be in Dubai next for our readers to come and see you in action?
I do tend to visit Dubai very often, at least once a month for a week. Your readers are welcome to the restaurant anytime and maybe I will surprise them…
Details: For more information, visit Günaydin Dubai