Array
(
    [ref_id] => 615
    [photo_file_name] => Katsuya-Madinat-01.png
    [posted_by] => Sophie Voelzing 
    [text_display] => <p>
	 <span style="background-color: initial;">We caught up with Katsuya Uechi, executive chef of Katsuya Worldwide, to learn sushi etiquette, Japanese cooking know-how and to take a look at his newly opened restaurant, Katsuya by Starck at Jumeirah Al Naseem.</span>
</p>
    [cover_photo_file_name] => Chef_Katsuya_200X181.png
    [slider_images] => 
)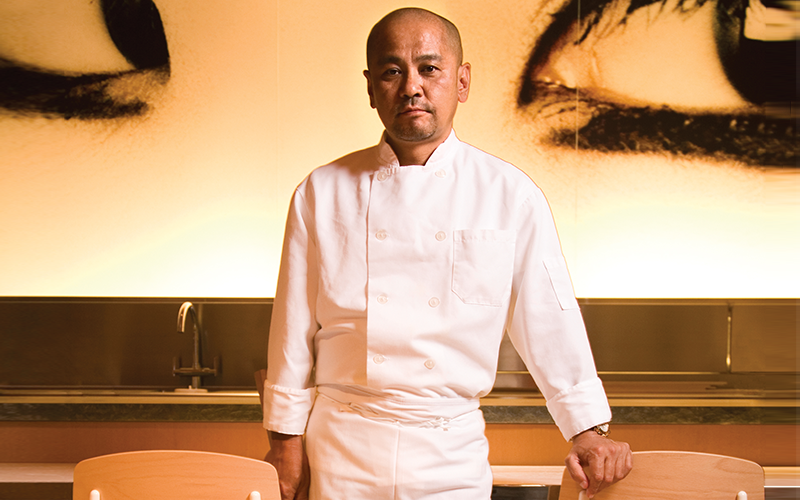 We caught up with Katsuya Uechi, executive chef of Katsuya Worldwide, to learn sushi etiquette, Japanese cooking know-how and to take a look at his newly opened restaurant, Katsuya by Starck at Jumeirah Al Naseem.
Tell us about yourself, and how your journey in the kitchen began…
I grew up in Naha, the capital city of Okinawa, where I lived with my parents who were very active in the restaurant business – so it wasn't new to me. After graduating from Osaka Tsuji Culinary School, I went on to do a couple of apprenticeships in Osaka and Tokyo, and got my first job at a first-class Okinawa restaurant.
I then moved to the U.S with my wife in 1984, and after working as an executive chef at a few local L.A restaurants, I decided to become independent. I started my first restaurant in Ventura Boulevard in LA, an area that is often referred to as 'Sushi Ginza' meaning 'Sushi Corner.' This is where I began experimenting with my own sushi creations, and the restaurant's reputation spread throughout the city by word of mouth, attracting a variety of clientele, including celebrities.
Let's talk about sushi etiquette! What's the correct way to eat sushi and sashimi?
It is OK to use chopsticks or even your hands (as some people do in Japan), but dipping the fish side in the soy sauce is the right way to eat sushi, not dipping the rice portion. Also, if you sit at a sushi bar, it's proper manners to eat sushi immediately when the chef serves it, rather than having a chat and letting the sushi wait on the platter.
What are your top tips for rolling the perfect sushi roll?
It is difficult to perfect the regular sushi roll the first time – I think a hand roll is better. Put sushi rice on a half sheet of seaweed and then put sashimi grade fish or vegetable and wrap it. It all sounds rather simple when you say it but you can only perfect the technique with practice. It takes some people only a couple of years, while it takes some a lifetime.
For our readers that cook at home trying to make sushi, what ingredient essentials are needed from the supermarket?
If available, go to an Asian supermarket and get medium grain rice, sushi vinegar, wasabi, soy sauce, sashimi grade fish and some vegetables – that's enough for a perfect sushi meal!
For those who haven't yet visited Japan, where would you recommend going for the best culinary experience?
There are many options in the culinary world in Japan and one can enjoy any place you go, even if you don't go to an expensive restaurant. For example, if you go to Tsukiji, go to Asakusa, if you like sukiyaki (a Japanese dish that is prepared and served in the nabemono, a Japanese hot pot) or unagi (freshwater eels).
How would you describe the dining experience at Katsuya?
Japanese cuisine, American palette, international appeal. The hospitality and quality is the same as the US, but it's the positive energy of the employees that create a well-rounded dining experience.
How does Katsuya's offering differ from other Japanese outlets in the city?
The offering is created to fit in with what the locals like, while keeping an authentic taste of Japan. I've added my own personal touch and created some special dishes that aren't traditionally Japanese, but are now Katsuya's signatures. We've also got some dishes specifically created for the region, like the edamame hummus, which is our take on the local favourite.
What are your thoughts on the Middle East's F&B scene? Any favourite spots (other than Katsuya, of course)?
Because I've only had a short trip, I've spent time primarily in the kitchen and I wasn't able to experience the F&B scene this time, however I look forward to the next opportunity!
Any other expansion plans to come in the region?
Of course, lots in the pipeline. But we'll only be able to confirm once we see how the Madinat Jumeirah branch does.
What are some of your signature, 'must try' dishes that you'd recommend ordering at Katsuya?
The crispy rice with spicy tuna is definitely a must try, and the baked crab hand roll is quite unique and one that you don't often find at a traditional Japanese restaurant – we've tried to play with flavours while keeping the essence of Japanese cuisine alive.
When can we expect to see you in Dubai again?
Whenever I am needed!
For more information about booking a table at the new restaurant, visit Katsuya restaurant.