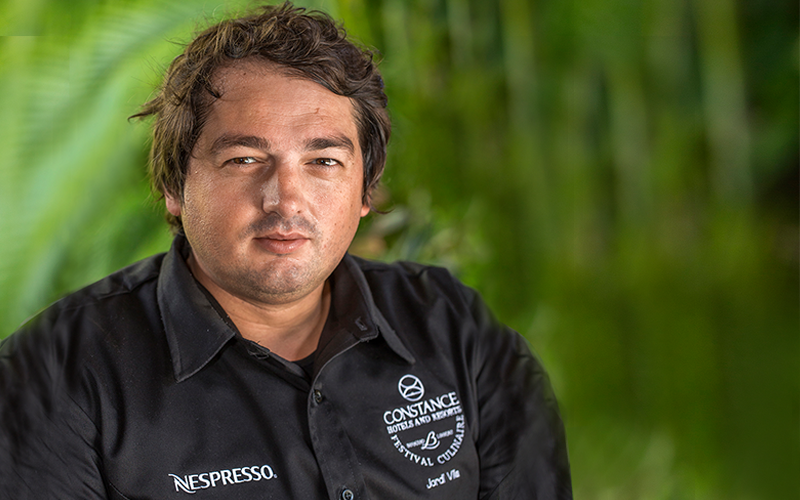 Executive chef Jordi Vila runs all three restaurants on the Maldivian island resort Constance Halavei, he chatted with BBC Good Food Middle East about some of the key aspects life as a chef on the remote island
Talk us through how you hero local Maldivian food on your menu?
Constance Halaveli has been working with the local fishermen since its opening and there is a strong relationship there, for more than 30 years. Captain Abdullah and the local fisherman always deliver the best quality fish. We usually meet with the fishermen once a week to discuss what we might need for days ahead, and three times a week they deliver yellow fin tuna, sea bass, mahi-mahi, wahoo, skipjack tuna, bigeye scad, little tunny, red snapper, rainbow runner, lobster, and crabs.
Aside from seafood, what ingredients are key on a Maldivian menu?
At Constance Halaveli we really focus on local products. At Jahaz restaurant we offer a big variety of Maldivian cuisine using local products such as rice, fish, pineapple, mango, okra, breadfruit, pumpkin, eggplant, cabbage, watermelon, chili, curry leaves and of course coconut.
Which dishes with local Maldivian ingredients would you recommend to guests?
Maldivian Food is mainly consisted of chilli, therefore be prepared for a spicy meal! My favourite local dishes are: mas aluvi roshi (Maldivian fish and potato flatbread), noodles fatha folhi (tuna and coconut noodles), French fries bis boakibaa (a baked tuna and potato dish) and dhandi aluvi boakiba (a sweet coconut and cassava cake).
What's the strangest food request you have ever had from a guest?
Once a guest asked me to cook a bat curry! The bats in Constance Halaveli are protected.
What are the most popular dishes with guests across all the restaurants on the island?
At Meeru restaurant, which is our beach grill the most popular dish is the locally-caught grilled Maldivian lobster.
Where do you source ingredients from? How much of the produce used is free ranged and certified organic?
We use certified organic produce from all around the world. From chicken and eggs, to jams, flour and tomatoes. We also invest in vegan, healthy and super food options on our menus.
Constance hotels are known for their investment in their drinks menu, does this play a role when you are planning your menus?
At Constance group, the chefs and the sommeliers work really hard to deliver the best red, white and bubbly to be paired with food. We have just launched a new concept for food and drink pairing, where our guests will meet me and the head sommelier and together – according to the guests preferences- we will create a personalised menu. Meeting point is our drinks cellar in Jing, of course!
Why did you decide to become a chef?
Well, my parents ran few restaurants in Barcelona and while I was a child I was always very enthusiastic about food, so at the age of 15, I started helping out in my family in the restaurants. This is how I became a chef, by doing the small little things around the kitchen. As time passed, my interest and curiosity increased, and I started training as a Pastry Chef. Again, this was not enough and I wanted to expand my knowledge and get more into the business, so I started working at the Hot Kitchen. At the age of 20, I started travelling around the world, to learn more and to expand my horizon. So after having travelled and worked all over the world, here I am!
If you could only have four ingredients in your cupboard, what would they be and why?
The best quality bread, Manchego cheese, Iberico ham and a bottle of red from Priorat. Why? Because Chef Jordi Vila is from Barcelona! Salut!
For more information about the restaurants and island, visit Constance Halaveli.