Array
(
    [ref_id] => 1103
    [photo_file_name] => Le_Meridien_Chef_Dominic.jpg
    [posted_by] => Advertorial
    [text_display] => <p>
	 <em><span style="background-color: initial;">There are countless exciting culinary happenings set to launch at Le Meridien Dubai Hotel & Conference Centre this month. Executive Chef Dominic takes us behind the scenes to reveal more…</span></em>
</p>
    [cover_photo_file_name] => Le_Meridien_Chef_Dominic_1.jpg
    [slider_images] => 
)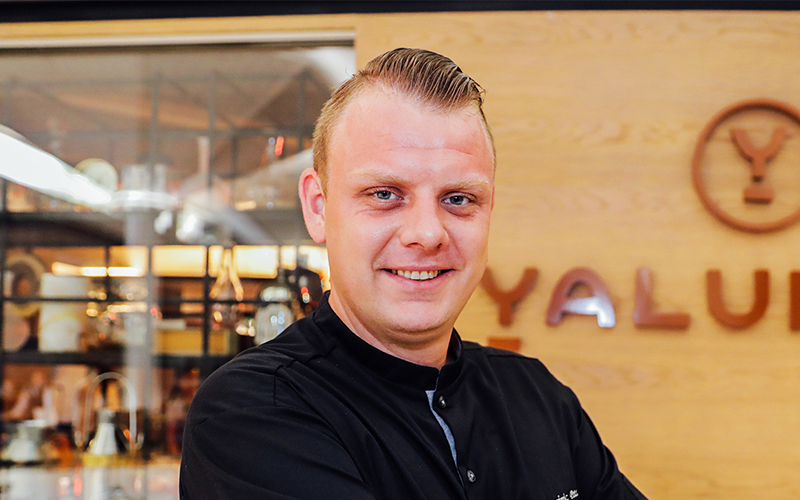 From a brand-new Saturday Family Brunch to Australian inspired Outback Wednesdays, there are countless exciting culinary happenings set to launch at Le Meridien Dubai Hotel & Conference Centre this month. Executive Chef Dominic takes us behind the scenes to reveal more…
How did your journey in the kitchen begin?
My introduction to different ingredients and flavours started early on when I would help my grandmother with small tasks like cutting and mixing different ingredients or kneading doughs. She would encourage me to try things on my own and I believe that helped me become passionate about food. Post my internship at Opera house in Germany, I got to witness the magic that chefs create with ingredients first-hand and that's when I knew that my calling is in a professional kitchen.
Tell us about the culinary offering at Le Meridien Dubai Hotel…
With over 18 distinct F&B outlets, Le Meridien Dubai Hotel and Conference Centre is renowned for its unique culinary offerings. Each outlet showcases cuisines from different cultures, with Kiku serving Traditional Japanese cuisine, Long Yin curating the best of Cantonese and Szechwan cuisine, Casa Mia being one of the first five-star Italian restaurants to serve homecooked, authentic Italian cuisine or Seafood Market where you can purchase seafood from live seawater tanks and watch the chefs cook it. Yalumba serves global cuisine and is famous for serving the most extravagant feasts including Friday Brunchology, popular theme nights and Warehouse is always trending with the younger crowd during Hive brunch, party nights with live entertainment and activities to cater to discerning guest preferences.
For readers looking to dine at the hotel, what exciting food related happenings are coming up at the hotel?
The hotel is gearing up for a culinary carnival mid-October, where guests can enjoy dishes from all the 18 F&B outlets amid live entertainment and music. With schools reopening, we have curated a special launch for families with Saturday Family BLunch (a combination of brunch and lunch) where our main focus will be on the family and kids. The Blunch is priced at only AED 119 and kids up to 12 years dine for free. Our chefs will give the kids a firsthand experience of a professional kitchen by preparing food together by engaging kids to make some drinks, creating their own pastas, pizzas, waffles, ice creams, etc. While our brunches have always been popular, we are re-inventing and relaunching them with greater fanfare. Our beer bike, the first of its kind in this region, is among the many attractions of the Hive Brunch at Warehouse and we are also updating the offerings of Friday Brunchology at Yalumba to include more live stations from Australia. September will also see the launch of two new theme nights at Yalumba, Queen's land – a ladies night offering on Thursdays where ladies get 50% discount of Yalumba's lavish dinner buffet and 4 house wines from Yalumba, Outback Wednesdays will serve authentic Aussie BBQ for only 99 and Fosters hops from AED 25. Tuesdays at Yalumba are particularly popular as its our seafood night, which our guests love. The Meridien Village Terrace will spring back to life for the new season by end of September introducing a new band 'The X Groove', who will play every night to set the mood for moonlight themes at the Terrace. Besides these, Yalumba is also all set for back to school brunch and special ladies night while All You Can Eat Dim Sum at Long Yin restaurant is perfect for diners who want to sample a variety of authentic Chinese dim sum. Hops lovers can swing by Yalumba and enjoy an Australian Themed brunch while those fancying some Tex-Mex specialties can head to Jules Bar and enjoy 21 mouth-watering Mexican dishes for AED 121. Also, watch out for the Australian Sea Scallop with Shell Festival at Seafood Market and the Curry Festival at Sukhothai restaurant that is sure to make September a month-long feast.
Where do you source ingredients from for restaurants at Le Meridien Dubai Hotel?
We source all our ingredients from around the world, for example: our Japanese restaurant Kiku procures its ingredients from Japan, similarly our Thai, Chinese, Italian, Indian restaurants relies on the produce of the native country to deliver an authentic, novel dining experience to guests. Our steakhouses source the finest cuts and varieties of meat from Australia, USA, Argentina, Japan and New Zealand. With the advancement in technology for safe transportation of perishables, it is not difficult to get quality products from the other end of the world in a short period.
What's your favourite, must-try dish available at the hotel and why?
With an extensive number of restaurants serving distinct cuisines it sure is difficult to choose! However, if I have to list out my favourites, then they would be from Long Yin because the cuisine is extremely authentic and classic but at the same time enables you to relish a unique dining experience. The prawn wasabi and homemade dim sums at Long Yin are my top favourites and must-try dishes.
Details: For more information on Le Meridien Dubai Hotel & Conference Centre, or to make a booking, call +971 4 702-2455 or email restaurants.lmd@lemeridien.com.