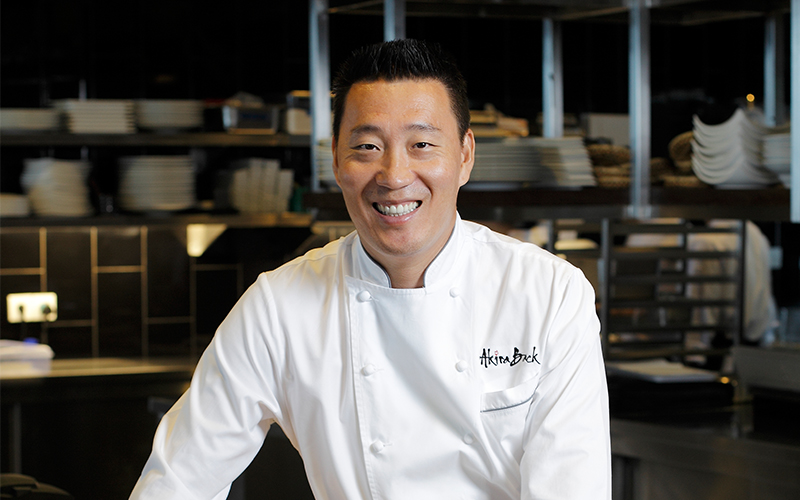 Known for his culinary creativity and bold interpretations of Asian fare with American influence, chef Akira Back has restaurants all over the world, and will soon be opening Akira Back Dubai at W Dubai – The Palm.
Born in Korea and raised in Aspen, Colorado, chef Akira spent his early years as a professional snowboarder in Colorado, appearing in extreme movies and garnering praise from the sport's top trade publications. During this time, Akira began working at local restaurants to supplement his income as an extreme sports athlete. After seven years on the pro-snowboarding circuit, Akira realised that he felt the same thrill in the kitchen as he did on his board, shaping his decision to pursue a full-time culinary career.
Now, years on chef Akira's portfolio is making its Middle East debut with the launch of Akira Back Dubai. Here, the man himself tells us more…
You used to be a professional snowboarder. What took you down the culinary route?
My injuries sidelined my pro snowboarding career – that was a blessing in disguise, as I found my passion in the culinary world.
How would you describe your cooking style?
My cooking style is centered on cultural merging, mixing flavours – tastes of Japanese and Korean along with a variety of other cuisines in an exotic fashion. In summary: an innovative Japanese cuisine prepared with a Korean accent.
What attracted you to open a restaurant in Dubai and why W Dubai – The Palm?
Dubai has become the hottest culinary hub and the flow of investment coming into this part of the world has grown significantly. W Dubai – The Palm as a brand is the perfect choice for my brand's Middle East expansion.
Tell us about the dining experience that can be expected by diners to Akira Back Dubai…
The #AkiraBackExperience is an explosion of flavours that will keep you coming back for more.
How does Akira Back Dubai's offering differ from other Japanese outlets in the city?
Akira Back Dubai offers a perfect orchestra of ambience, service and a progressive menu composed of a dynamic combination of hot and cold 'small plates'. Plus, a myriad of fresh seafood from around the world, organic meats and local and seasonal produce.
What are your thoughts on the Middle East's F&B scene? Do you have any favourite spots to dine out here when you're in town?
The Middle East's F&B scene is growing rapidly with a very high demand from the market. Whenever I travel, I always dine out and explore the local food scene to get a better understanding of the market as well.
Do you have any other expansion plans to come in this region?
Definitely. I believe Dubai would be an excellent location for my other brand – AB Steak by Chef Akira Back (American Steakhouse with a Korean Flair).
What are some of your signature, 'must try' dishes that you'd recommend ordering at Akira Back Dubai?
Tuna Pizza, Yellowtail Jalapeno, AB Tacos, 48 Hours Wagyu Short Ribs.
How many restaurants do you have internationally, and how often do you visit each outlet?
To date I have 11 restaurants in 10 cities all over the world, with 4 more opening this year (Akira Back Dallas, San Francisco, Beverly Hills and Bali). I always make time to visit each outlet at least twice a year, but I do have a solid Corporate Chef and teams of Chefs to keep an eye on all the outlets.
With so much travelling, are you able to get hands on in the kitchen often?
I have to! I am first and foremost a chef and the first thing I do when I'm in my outlet is go into the kitchen and cook with my team. I also have the privilege of having a very strong team, which allows me the time to create new menu items and develop exciting projects.
Japanese cuisine relies heavily on high-quality, fresh fish. Where will you be sourcing your fish from for Akira Back Dubai?
Tsukiji Market, Japan
Which types of fish are bestsellers in your restaurants?
Tuna, Yellowtail, and Black Cod.
When can we expect to see you in Dubai again, and how regularly will you be here?
I will be in Dubai for the pre-opening and opening of Akira Back Dubai, and I will visit at least three times a year.
Details: For more information about chef Akira, visit akiraback.com or follow him on Instagram @chefakiraback