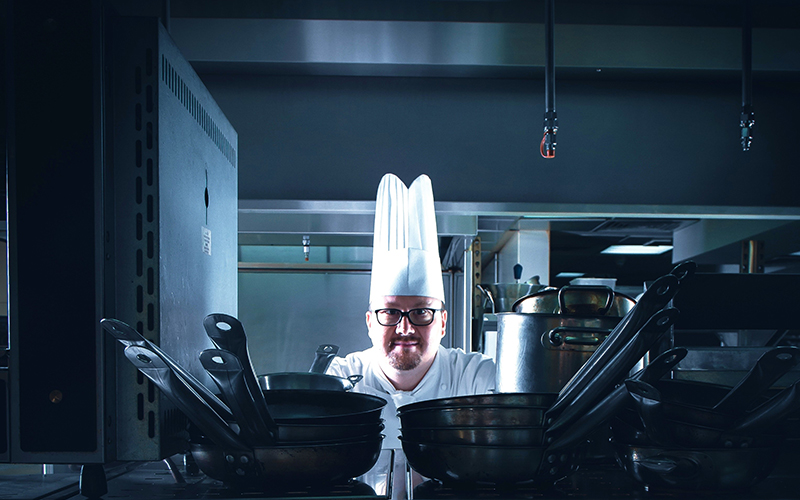 Born into a hotelier's family meant that hospitality has always been a way of life for Rudolf W. Segers. Now, over 20 years into his career after working at multiple restaurants around the world, he is executive chef at the Waldorf Astoria Ras Al Khaimah. Speaking to BBC Good Food Middle East, he tells us the secret to running a successful kitchen, and why potatoes will never fail to spark culinary creativity.
What has been your most memorable moment in your career to date? Explain how this has led to you getting where you are today.
Where I am right now is due to hard work, persistence and the knowledge that every moment is life is an opportunity to learn, no matter if it is a positive or a negative experience. Only through failure you will truly appreciate success.
You've worked in restaurants all over the world. How does running a kitchen here in the UAE differ from other region's you've worked in?
The difference is that here in the UAE you work in a multi-cultural environment, and it is all about diversity. You have to opportunity to learn from different cultures and ethnic backgrounds that have their own cuisines, and it is breath taking how much learning potential we have here versus places where you work with only local team members.
What do you believe is the secret to running a successful restaurant and keeping customers coming back for more?
Stay true to the theme, create experiences that turn into memorable moments and ensure you do all of this with a genuine smile.
Have you had any kitchen nightmares during your career?
I grew up in a kitchen and I've been doing this for over 20 years, so I have seen my fair share of cuts, burns and bruises. I believe it only teaches us to be focused and respectful with each other and the equipment that we work with.
What kind of changes have you noticed in customer expectations over the years?
Guest have educated themselves more and more over the past few years when it comes to food, allergens and dietary ingredients. This, in turn, gave the hospitality environment new opportunities to create new products.
Are you witnessing a growth in any particular food trends in the UAE in 2018?
Due to the new found health awareness, I've seen that healthy food, allergens, super foods and ancient grains are more requested these days.
The Waldorf has, of course, lent its name to a very famous dish – the Waldorf Salad. How important is the tradition of innovation within the hotel's culinary development today?
Ultimately, without the constant search for innovation and push for creativity, we will be left behind. Standing still means you are going backwards in today's hospitality environment.
The Waldorf Astoria RAK has a number of restaurants – do you have a favourite, and why? And why should our readers visit?
The whole F&B operation within the Waldorf Astoria Ras Al Khaimah is worth a visit once a week. There is always something new to experience. It all depends on your mood; today you might feel like Sushi, tomorrow you may prefer a steak. No matter what cravings you have, we are here to satisfy them.
What are your favourite ingredients to cook with and why?
I am from Germany and it sounds cliché, but I love potatoes. There are so many ways to prepare them; you never run out of ideas.
What is the most bizarre request you've ever had from a customer?
Nothing is too bizarre in our profession – whatever the guest likes we will make it happen. We love challenges!
What can guests expect from the Waldorf Astoria RAK and its menus?
A breath taking hotel, great service and flavourful food that will create a yearning to return for more.