We step into the kitchen with world-leading chef Pierre Gagnaire during a recent visit to his restaurant, Reflets par Pierre Gagnaire at InterContinental Dubai Festival City, to learn about his world, while cooking up a mouthwatering recipe for you to try at home. By Sophie Voelzing With three Michelin stars under his belt, over 10 …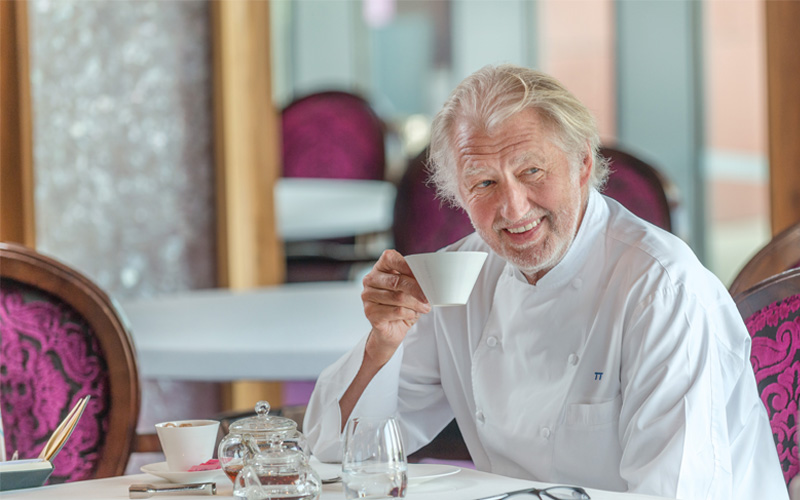 We step into the kitchen with world-leading chef Pierre Gagnaire during a recent visit to his restaurant, Reflets par Pierre Gagnaire at InterContinental Dubai Festival City, to learn about his world, while cooking up a mouthwatering recipe for you to try at home. By Sophie Voelzing
With three Michelin stars under his belt, over 10 successful restaurants worldwide and Le Chef's title of 'best chef in the world' as his own, Pierre Gagnaire is notably one of the most respected chef's in the industry.
It's easy to feel at ease with him. He's charming, humble, charismatic and humorous. And, even with the plethora of accomplishments he's rightfully earnt, he shows no sign of slowing down anytime soon. He oozes class and a real passion for food, hospitality and socialising. Sat down and ready to begin, he playfully kick-starts the interview…
So what dish are you going to be cooking up for our readers to try at home today?
I have absolutely no idea [he laughs]. In my opinion every time you step into the kitchen, it should be an exciting opportunity to create a new idea and a new dish. So that's what we'll do today. Let's see…
You have such a fantastic, creative way of looking at food. Has it always been this way for you?
Not always. My first food memory is from my grandmother. My brother and I were always together as kids, and in the mornings when we were in bed my grandmother would bring us both a biscuit topped with butter and chocolate. When you're a kid, you don't realise the significance – crumbs in the bed and half asleep still – but thinking back, it's a very special, fond memory for me. It was quiet in the countryside, in the village where I was born, and how blissful it was to enjoy just a simple biscuit, with really amazing butter and a thin slice of chocolate. If I'm honest though, cooking wasn't that important to my family. I came from an area of France that wasn't known for its food produce. It was quite a poor area.
So, what made you want to become a chef?
Well, my father had a restaurant, and I'm the oldest of my family so that naturally became my job. However, I didn't like it at first, but after a few years it was my life and my passion for food started. I didn't understand initially how working in this industry could open doors for meeting new people and how creative it'd allow me to be. With maturity and experience my appreciation grew.
Passion is necessary to become a great chef then…
It is. Technique and skill are important, but not 'so' important in the beginning. To be a great chef you need to love people in a way that you desire to cook for them and please them, you must have passion and you must have technique. Technique is something you can learn, but work ethic is not. This comes through pure passion, dedication and wanting to truly learn about something If you don't love what you do in the kitchen, your job will feel harder and your working hours will feel longer, because you're constantly having to push. Whereas when you have natural passion, you want to be there and work becomes so much easier.
ou've travelled a lot throughout your career, where have you had your most memorable dining experience?
I have had many, but I believe great experiences come in all forms. You can have a great experience with a cup of tea and a biscuit because you are quiet, comfortable and relaxed, you feel great – and for someone that could be all they want. Of course, the quality of the food is important, but what really matters in the way you feel – that's what makes an experience.
Despite your outstanding success, you've always shied away from the whole TV/celebrity chef scene. Why is that?
The reason is because when you do that, you spend a lot of time doing that. When you have the opportunity to be in the spotlight, it's incredible the way that people see you, but if you become famous this doesn't go away once the TV is switched off. You can be in a supermarket with people pointing at you, and I hate that! People become totally inquisitive and lose their minds around you. I don't want to be treated like that.
Taking a look at Reflets' menu, how often is the menu changed to reflect seasonality?
I think chef Francois who heads up the kitchen here would best answer this… Francois steps in: Every season we change our menu, so at least four times per year. Then in between seasons we always add in a dish or perhaps remove or change a few items. Sometimes we won't change an entire dish – especially if it's a favourite – but we'll change certain elements of the dish, perhaps the sauce or a side ingredient.
Over the years since Reflets opened, you must have noticed a change in the accessibility to ingredients here in Dubai…
Absolutely. Back then we'd get maybe one delivery a week, where now it's a minimum of five if necessary, plus the suppliers have stock so things are more readily available. There's a lot more of the newer products coming onto the market here now too.
Pierre steps back in: Yes, they come to us now with a variety of new products to try. Suppliers are anticipating the market and I think 2020 will help a lot, bringing in more chefs, which will increase the accessibility again.
Looking locally, are they any ingredients in particular that you're fond of from the Middle East, which you buy to take home with you? Yes! The dates, camel milk, honey, lamb, and spices.
At home, what five ingredients are always in your kitchen? Olive oil, vinegar, butter, salt – salt is very important, and honey.
What is your home comfort food, or guilty pleasure ingredient? An orange.
Wow, I wasn't expecting something so healthy!
Well you see, when I was a child an orange was special. It was not something that was very accessible to me growing up. It was something very special to have an orange, in my time. And, if I had to pick something else I'd choose bread – a piece of nice bread with a little piece of chocolate on it. Another comfort food would be oysters. I love oysters.
When you're at home, do you cook often?
In the summer, yes. In August when I'm at home, I enjoy getting into the kitchen. It's my pleasure to cook for my family as I don't see them very often so I enjoy spending this time with them over dinner at home.
Family and food, nothing beats it…
Absolutely! Family is so important. And, I have to be honest. It's not always easy to have a relationship with someone who works in the food industry, if the other half doesn't have an understanding of what the job entails, because of the long hours, passion and dedication it takes. If your partner doesn't understand that, it will be impossible, and most nights you'll return home to an argument because of how late it is. Many people leave the industry because of this – or their relationship ends.
If you could go back and give your younger self some advice, what would you say?
Don't forget about your family and don't forget your private life. It's important to find balance.
How did you find that balance?
It's something I have to work at every day. You must pay attention to the details all the time – put a cross on your agenda and stick to it. You must be conscious every day about this. Especially when children come, otherwise the time will fly. Every detail is important and you must actively pay attention to the daily needs of your loved ones. Things change, but family is always most important. Life is precious. Live in the now and appreciate what today is, for one day you might look back and realise how happy that time was. It's easy to get caught up on in work. Don't take things too seriously.