RADA-trained actor Stephen Mangan is best known for his television roles in Green Wing and the BBC series Episodes, and last year received rave reviews for his performance in Rules for Living at the National Theatre. He lives in London with his wife and three young children. For more about Stephen, visit stephenmangan.co.uk The recipe …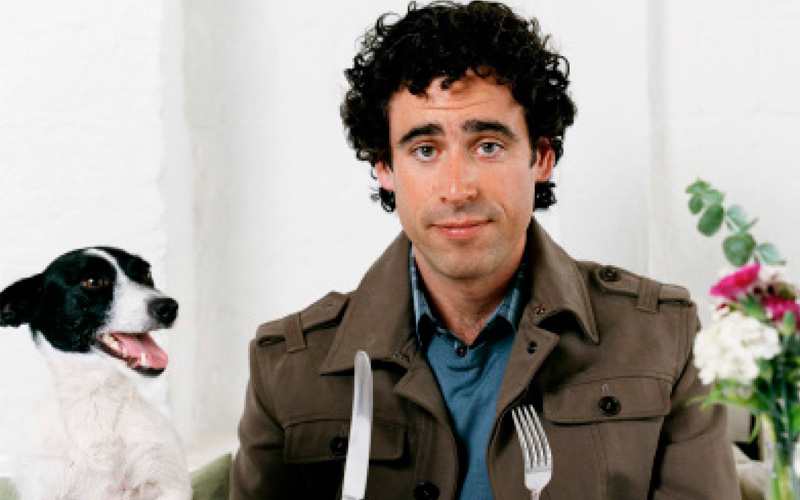 RADA-trained actor Stephen Mangan is best known for his television roles in Green Wing and the BBC series Episodes, and last year received rave reviews for his performance in Rules for Living at the National Theatre. He lives in London with his wife and three young children. For more about Stephen, visit stephenmangan.co.uk
The recipe I grew up with
'We had this weird dish called Victorian diable, which was made from leftover roast beef with a gravy sauce made with capers. I didn't particularly like it, but it featured largely in my childhood. It felt like we had it every week; we must have had roast beef most weekends. We were very traditional that way. 'My mum was the cook and, as the only boy, I wasn't really expected to help around the house, only in the garden. It was all very sexist. I was never involved with preparing food, but I'm not making the same mistake with my children.
Victorian diable sandwich
We've taken the classic flavour pairings of a Victorian diable – roast beef, capers, Dijon mustard, parsley and gravy – and served it in a warm baguette.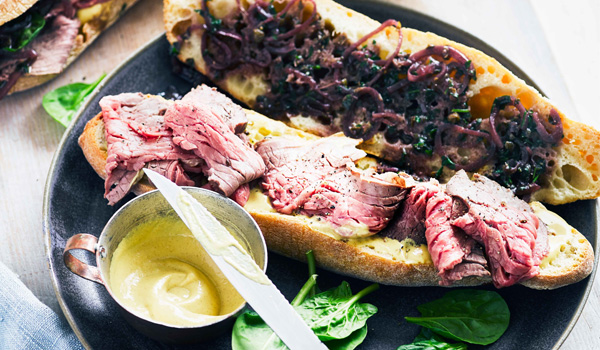 SERVES 2 PREP 5 mins COOK 30 mins EASY
PER SERVING 511 kcals • fat 18g • saturates 6g • carbs 45g • sugars 6g • fibre 4g • protein 26g • salt 3.4g
1 tbsp olive oil
1 banana shallot, finely chopped
100 g cold roast beef
150 ml red grape
1/2 small pack parsley, finely chopped
300 ml beef stock (we used bouillon)
1 tbsp capers, finely chopped
1 large baguette
1 tbsp butter handful spinach, to serve
1/2-1 tbsp Dijon mustard
1 Heat oven to 180C/160C fan/ gas 4. Pour the oil into a small saucepan over a medium heat, add the shallot with a pinch of salt and cook, stirring frequently, for 5 mins until softened and beginning to caramelise.
2 Tip in the red grape, cook for a couple of mins until reduced by half, then pour in the stock. Leave to bubble for 15-20 mins until you have a thick gravy.
3 Put the baguette in the oven for 5 mins to warm up and crisp, then cut in half lengthways. Spread one half with mustard and top with the roast beef.
4 Add the parsley, capers and butter to the gravy, stirring until the butter has melted. Season to taste, then spoon the gravy over the other half of the baguette, scattering over some spinach leaves. Halve, divide between two plates, then eat straight away, with more gravy on the side.
Photographs SAM STOWELL | Food styling JENNIFER JOYCE | Styling SARAH BIRKS