We step into the theatre with chef Gary Rhodes, to learn of his new and exciting gourmet venture with VOX Cinemas. By Sophie Voelzing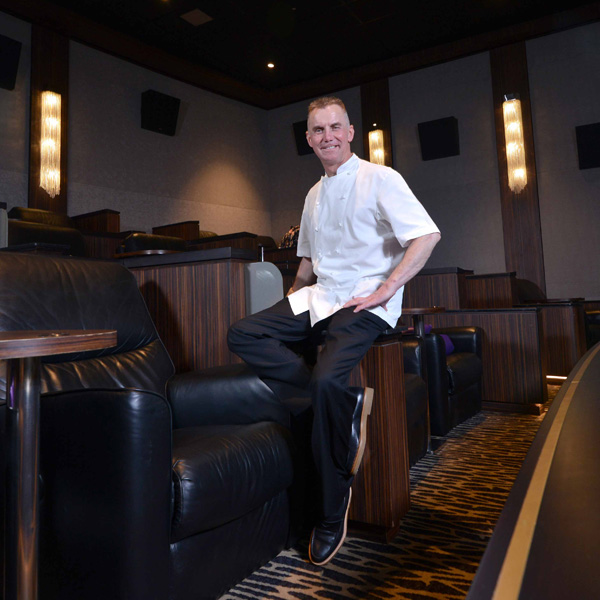 It's see you later to stale popcorn and flat colas at the cinema, as one of the UK's most celebrated chefs and restaurateur, Gary Rhodes, steps in with an indulgent, new culinary concept at selected VOX Cinemas in Dubai and Abu Dhabi. For the first time in the Middle East, the British chef has launched a lavish experience that perfectly marries high-quality, homemade food with luxury at the cinema. The gastronomic cinema concept known as ThEATre by Rhodes, allows moviegoers to enjoy a three-course, made from scratch gourmet meal while watching a film, curled up on a reclining chair and tucked in with a silk blanket and pillow to match – all complete with a personal waiter. In a one-to-one interview, chef Rhodes explains exactly what makes ThEATre so different, and why we should be upgrading the next time we visit the cinema:
Tell us about the thought process behind this concept… One of my fondest memories as a child was being taken to the theatre for my birthday, it was such a special occasion. However, in recent years, I feel the cinema experience has become so casualised that it's almost lost that exciting, special feeling. As a kid when I went, you'd go into the cinema's little bar for a refreshment before the show and waited to be called for the start with anticipation. It really was such an exciting experience. So, that's what we're trying to recreate with ThEATre by Rhodes. We want to recreate that magical cinematic experience again.
What's the experience like? I like to look at it as the different classes work with an airline. You have First, Business and Economy – each offering their own individual benefits. We want to create that with ThEATre, where you have the normal option, Gold, and then the ThEATre option.
What's the difference between Gold and ThEATre? It's just an extra level of luxury. We're being very careful with the menu compilation, and it's not that we do any lesser quality food in Gold, it's just a different style. It's like comparing a Brasserie to a fine dining outlet. In both, everything you eat is homemade, even down to the breads we use for the burgers. The meat we use for the burgers is brought in as whole chuck steak and butchered down, diced and minced. Everything is made with care and attention to detail. Nothing comes frozen here, it's all fresh and handmade. Even down to the relish, chutney, and other sauces.
Is it not difficult to eat fine dining food in a cinema environment? Well, it's not a knife and fork affair, we are in the cinema after all and it still has to be finger food, or easy to eat from a bowl with a spoon – however the standard of food is high. None of our dishes require cutting, so it's not an inconvenience. We have options like a delicious foie gras panini with a lovely truffle butter, which you can eat with your hands.
What's the main selling point of this concept? You can lay back in comfort to watch the film of your choice and indulge in some tasty, good food, which has been made from quality ingredients in a proper way – what more could you want? It's nice for people to be able to treat themselves every once in a while, and this is something that is lovely for people to do for birthdays, special occasions, or even the odd Friday night with your partner or friends when you fancy spoiling yourself and doing something a bit different, and it becomes memorable a memorable experience.
How does someone book tickets? You can buy tickets at the cinema or online, however, we encourage for people to purchase online prior to arrival, so that when they arrive, all that's left to do is enjoy and know that everything from arrival is included within the price. We also encourage guests to arrive that little bit earlier, so that they can relax in the ThEATre lounge with a beverage or even enjoy a starter, before being called for the film to begin. The bar features playful mocktails all created around the movie theme, like the 'Shirley Temple' and other fun drinks full of flavour that you can also bring into the theatre room. It all adds to the experience.
Do guests need to pre-book their menu? No, everything is made to order, fresh. In the cinema, they'll be given a menu and they can push a button and someone will come and take their order directly from their seat, or alternatively they can order everything in the lounge beforehand, and let the waiter know when they'd like each course. It allows the customer to be fully in control of what they want and when they want it. You can have a 3-course meal here, it's all included in the price. Or alternatively, opt for just the entry ticket option, and purchase snacks or individual plates when you're here.
What options are available for children? There's a menu developed just for them. Here, we've got a situation where children want simple food, which we want to give them, however, we'll not be giving them anything frozen. We're giving them healthy eating. And healthy eating actually means that everything is handmade and doesn't include any form of additive, because what you can't do is put children on diets because that's not healthy. It's about giving them fresh produce. So yes, there are burgers, but just like I explained before, it'll be made using freshly cut chuck steak. We have chicken goujons, but these are not chicken nuggets out of a freezer bag. Ours are made with fresh chicken, where we cut all of the breast down and make sure there's only a little element of seasoning so we're not overdoing it with salt content, a little squeeze of lemon and fresh crumbs, quickly cooked to order, and not deep fried, however they are shallow fried, so there's still a little crispness, but it's not over-emerged in the fat. It all comes down to how the food is made that makes it healthy. So, it's still the food they want to eat, but done in a very healthy manner.
Are there any further development plans for the future with ThEATre? We are looking at redesigning the lounges to add another texture to them. At the moment, they're all on one level, where I'd like to see them offering two decks, offering quite a snazzy bar vibe, with a good bit of music in the background. I want this to become a place that people can also pop in for lunch or dinner if they'd like, without the need of going to the cinema. The lounge and the food in itself is an attraction. I'd also like to target the events market more. I'd like people to be aware of is how great this space is for events and celebrations, we've had people rent the space out for a birthday party in the past, it's also perfect for corporate events for presenting on the screen while enjoying some delicious food and socialising in the lounge.
How about further expansion into the Middle East? Certainly in the Middle East, we had a meeting with VOX recently to talk about projects moving into 2017, and one of them is in Doha, and one in the shopping complex coming onto The Palm, where there will be a VOX outlet, so we'll be there too eventually. Without a doubt there will be more to come from us in the future. The great thing about VOX is that they really want to grow, however, they want to make sure that they've really got a stamp on their company and offer a fantastic, quality product, which is consistent and reliable.
How do you feel the concept has been received so far? Really well, we've had great feedback. However, I still don't think people realise how much care is put into the food preparation, and the quality behind it all. We're in quite a small kitchen, but we make it work, and it all comes down to having the right team. It's about understanding textures and blends, depths of flavours and what is going to complement the other flavour, nothing to mask the main ingredient. If you're main ingredient happens to be beef or a piece of fish, or a vegetable, anything else that surrounds it is there to enhance and complement rather than overtake, and for me that is what balance of food is all about -and I feel all of our chefs at ThEATre have been tutored fantastically on all of that, which shows in the food.
Your passion really shines through! How does it feel to be the face behind all of this? It's been an exciting journey to suddenly add another adventure to my culinary repertoire, and that's something I've always loved about this industry, that you never stop learning and developing. I love my job, I love food and being in the kitchen, it gives me a buzz and it's my passion. My wife Jennie, always says to me: "I know when you've been in the kitchen at work because you come home with a great big smile, but when you've had office days, you're always moody." There's just something about this industry. I've never ever been bored in this job, there's always something new to discover!
NOW AVAILABLE AT:
ThEATre by Rhodes:
·Mall of the Emirates

·Nation Towers – Abu Dhabi

·Yas Mall – Abu Dhabi
Gold, with Rhodes menu options:
·Burjuman

·City Centre Deira

·City Centre Mirdif