Masterchef Australia judge George Calombaris tells us that even though the show has catapulted his career to unimaginable heights, he still sees himself as just a boy who cooks. You probably know his face from the globally popular MasterChef Australia series, arguably the most watched version of the international show. He is the bad cop …

Continue reading "Gary, Matt and I are more influential than the prime minister!"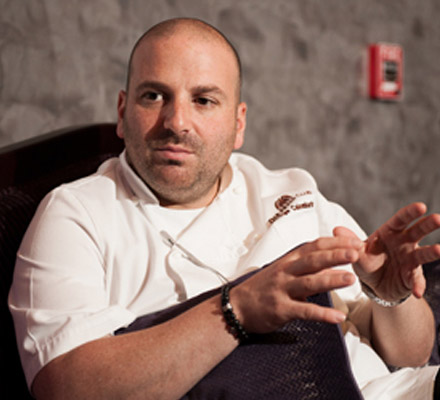 Masterchef Australia judge George Calombaris tells us that even though the show has catapulted his career to unimaginable heights, he still sees himself as just a boy who cooks.
You probably know his face from the globally popular MasterChef Australia series, arguably the most watched version of the international show. He is the bad cop to host Gary Mehigan's good cop, the co-host and judge who will throw sharp criticisms to the hopeful participants as easily as he will give them an encouraging hug when they are almost giving in to the pressure. He is one-third of a triumvirate of culinary celebrities which has managed to showcase the thriving food scene in Australia to the world like nothing else, all the while nurturing the new talent that they hope will take up their mantles.
While it has enjoyed international success, nowhere else is the show's popularity more significant than of course, its home ground. And in Australia, it is huge. Big enough to merit moving the only televised Australian election debate between current Prime Minister Julia Gillard and opposition leader Tony Abbot from its original airing time, to an hour earlier, in order to avoid a clash with the MasterChef season finale in 2010. "We are more influential than the Prime Minister!" says George, sounding more surprised with his own scope of influence than anyone else. "I'm still trying to work out the reason for the show's success. I mean, you've got three not-so-attractive pudgy guys on the screen the whole time!"
Self-deprecating as he might be, prod him a bit on the real reasons for the show's success, and he credits it to having soul and integrity. "It's about delivering something to the wider audience that everyone can connect to. We've got no scripts [Gary Mehigan, who is the main anchor of the show, does use a script however], it's very authentic. It's all the little things done well, and integrity and honesty is paramount – after all, we've got our reputations on the line."
A walk in the clouds
Even before he became a household name, the young chef – he is only 34 years old – had a formidable reputation already, with several awards, and recognition in the form of chefs' hats in The Age Good Food Guide under his belt. Having started his career as an apprentice at the Sofitel in Melbourne, George's star rose quickly, winning accolades for his co-judge and former boss Gary Mehigan's Fenix restaurant during his time there, and thereafter moving on to success with his restaurant Reserve, which he masterminded the opening of in 2003. Meanwhile, he acquired national and international recognition with several awards and success at the Bocuse d'Or culinary grand prix in Lyon, France.
He went on to open his flagship restaurant, The Press Club, in 2006 when he was just 27. TV appearances – including on the ever-popular Ready Steady Cook – and cookbooks followed soon after, as did international expansion, with the opening of his modern Greek restaurant The Belvedere Club in Mykonos in 2007. In 2009, he was selected as one of the judges on MasterChef, and the rest is history.
So much success at a young age could easily go to anyone's head, but George remains remarkably down to earth. "The show has dramatically changed my life. I've gone from being the boy that cooked in the kitchen, to someone who is known. The bar has been raised, as a result, for my restaurants too. But my father helps keep me grounded," he says, succinctly explaining his philosophy thus: "You've got to keep your mind in the clouds, but feet on the ground." Masterchef Australia seems to echo this philosophy with its mix of the homely with the fine dining. "You can learn how to make a scone or a pavlova, as well as something aspirational," says George.
Food with soul
George's personal cooking style is far from homely, however, with his experimental haute cuisine style having become a talking point for gourmands. "I use a modern approach and techniques, but with nostalgic dishes. I like to take classic flavours and turn them on their head. It's about challenging people – I want people to be thrilled when they come into my restaurant," he says. Take his 'Oops, I dropped my ice cream' dish on the menu of one of his Melbourne restaurants for example, which is his take on fish and chips – a tartar-flavoured ice cream cone is smashed on a plate with deep fried fish scattered around it.
George describes his cuisine as modern Hellenic, in which he draws upon his Greek ancestry and combines it with molecular gastronomy techniques and a focus on quality produce, to create dishes that are as unexpected as they are classically-rooted. His Greek roots are very important to his cooking, with his mother and grandmother being credited for developing his passion for food. "They were amazing cooks. They would grow things in the backyard, and source the best produce," reminisces George. "I try and draw on my heritage as much as possible, that's what makes me Australian – the multi-cultural backgrounds that have created a food bowl in this country."
While his mother has been an important influence in his cooking, George gets inspired by anything, from places, to certain times in his life. "I like to take moments that have made an impact on me and translate that into a dish." A perfect example of this would be a cured fish dish he serves with lavender scented pebbles freighted in from Mykonos – to recreate the memory of sitting on an island beachfront eating freshly caught seafood in a balmy sea breeze. Or, to evoke the sensation of being in an Italian orange orchard eating roasted chestnuts, he serves a dish in which a barbecue comes to the table, with chestnuts, and dry ice creating an orange scented cloud.
Out there as his food may be, George makes it a point to remain firmly grounded. "I still do the pass three, four times a week in my restaurant," he says. The other thing that hasn't changed is his focus on fresh, seasonal and ethical. "My latest project, the Press Club Garden, is about celebrating the ingredient. We will be growing specialty vegetables there, as I want to get as close to the land and sea as possible."
Among other things in the pipeline, George plans to open a new restaurant in Melbourne called Jimmy Grants – "which will be a souvlaki bar and bottle shop" – release a sixth book, a bible of modern, classic Greek food, and focus on development. All this alongside filming MasterChef Australia, of course. With so much going on – he currently has seven restaurants: The Press Club, The Little Press and Cellar, Hellenic Republic, Maha Bar & Grill, Mama Baba and St Katherine's in Melbourne, and The Belvedere Club in Mykonos – will he have time to think about expanding his brand further internationally? In the UAE, home to many an international celebrity name restaurant, in particular? "If it feels right in my heart and soul, I will do it. If I do something here, it will be cheap and grungy," he answers.