Array
(
    [ref_id] => 71
    [photo_file_name] => _CRS9519.jpg
    [posted_by] => Nicola Monteath
    [text_display] => <p>
	 <em style="background-color: initial;">Holder of multiple Michelin stars, French chef Pierre Gagnaire firmly believes that if you know your path and work hard, you can rise from the shadows of failure. He talks to us about his rocky road to success.</em>
</p>
    [cover_photo_file_name] => a-star-studded-journey.jpg
    [slider_images] => 
)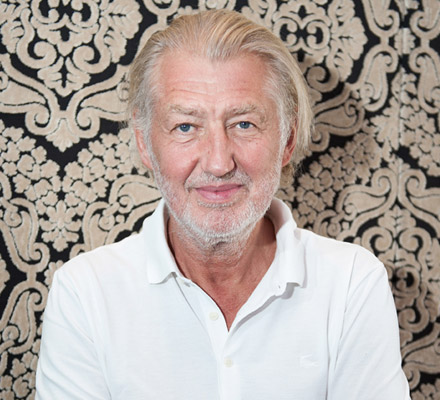 Holder of multiple Michelin stars, French chef Pierre Gagnaire firmly believes that if you know your path and work hard, you can rise from the shadows of failure. He talks to us about his rocky road to success.
Pierre Gagnaire arrives at his interview in his Dubai establishment, Reflets par Pierre Gagnaire at InterContinental Dubai Festival City, and makes it a point to greet his team before sitting down for our chat over a cup of coffee. I will learn later on in the interview that it is this attitude towards his team that has stood him in good stead through his career ups and downs. With his striking blue eyes, French charm and energetic persona and you wouldn't think he's a day older than 40, but Pierre continues to work hard and succeed, even at the age of 62! The talented chef has been working in the culinary field for a number of years, having started at the age of just 15, but Pierre isn't one of those chefs who always knew this is what he wanted to do. However, with his parents in the restaurant business, it was something of an inevitability for the young man. Pierre grew up in Loire Valley in France and after many apprenticeships in different restaurants around France, he finally followed his parent's footsteps by taking over the family restaurant – Le Clos Fleuri, a one-Michelin star restaurant in Saint-Étienne (a city in eastern central France) in 1976, going on to open his own restaurant in Paris in 1981, which earned him two more Michelin stars over the course of the next decade.
It wasn't always a bed of roses for Pierre, however. Having lost his three Michelin stars in 1996, which was reportedly because he had spread himself too thin and therefore the quality of the restaurants had suffered, he went bankrupt and as a result, had to close down both his restaurants. The eager and hardworking chef took this fall as a new beginning however, and in the same year, he opened an eponymous new restaurant in Paris, and won back the Michelin stars he had lost in just two years. He later co-founded the highly commended Sketch in London, before venturing out to other countries, and taking over the management of a second restaurant in Paris, Gaya Rive Gauche par Pierre Gagnaire. He is now a highly respected name in the gastronomical world, widely known for his acquisition of three-Michelin stars, and multitude of restaurants across the globe, from England and Paris to Tokyo, Moscow and Hong Kong, to name just a few cities. His restaurant in Paris has also secured a position in the World's 50 best restaurants list for years, holding in at number 17 in 2012.
Here, we try and translate his broken English peppered with French phrases, to get to know the person behind the brand name.
What would you credit your long-lasting success to?
It is all the consequence of my hard work and effort, but I would also credit my success to my team. I always say you're nothing when you're by yourself. A team helps you create beautiful dishes, and you learn how to work together and share knowledge.
You've had an up and down relationship with Michelin stars – how important do you think this sort of recognition is?
It is very important to have Michelin stars as it's a benchmark that judges a chef's work. The system is great, and increases a chef's recognition, as people then want to dine at the restaurant and indulge in fine gastronomy. I'm sure when the Michelin star rating arrives in Dubai, Reflets par Pierre Gagnaire will win two-stars because of the quality of produce and food we serve.
Your cooking style seems to have a modern, fusion flair. Do you agree?
Yes, my cooking has a very contemporary twist to it, but it is also relative to the produce available to me. I like to focus on locally available produce, and it used to be quite hard, especially when we first opened up in Dubai as the produce was limited. However Dubai is growing and now offers much more produce to work with. I like to offer dishes that give guests an emotional feeling; when you go dining, you should be excited to see what is on
the menu. It's all an experience, from the quality of service offered to the aroma, and
the taste of the dishes.
Molecular gastronomy seems to be a fascinating concept for you. How has this influenced your cooking style?
French chemist Hervé This (the founding father of molecular gastronomy, who has influenced chefs such as Heston Blumenthal) is a great guy, and we work together a lot. He gives me information about any new concept that he comes across – related to molecular gastronomy – and has taught me everything I needed to know about this food science. He keeps me knowledgeable and I have infused a lot of these concepts into my cooking.
How do you bring the Pierre Gagnaire signature to all the varied markets worldwide, that you have a presence in?
It's simple! We try to make sure we are consistent in the overall standard and quality of food offered. The teams are obviously different all over the world, but the food served is according to my signature style. For example, a few months ago we were revisiting the menus in several of my restaurants, and one of the chefs had created a Foie gras croquet which I thought matched my style perfectly. We like to experiment with different ingredients to offer creative and innovative dishes in all our restaurants around the globe. The menus are a reflection of the chefs' personalities; they all have something significant that they bring to the table.
What is your top tip for young chefs who want to reach your stature?
Hard work pays off! It takes a lot of hard work, time and effort, and you can successfully achieve this sort of stature if you work closely with a team and can rely on them.
With so many restaurants around the world, you're constantly on the move and naturally, quite busy. How and when do you relax?
My family was in the business, and I remember not wanting to have the same career my parents chose as they were always busy. But I do make it a point to take two weeks off every year in August, I like and just relax, go grocery shopping and cook meals for my family. The dishes I make depend on the city I'm in. For example, if I were in Dubai, I would make a simple hummous, lamb or veal with dates and ice cream made with camel milk.
What can we expect from you next?
For now I'm just concentrating on my book, Pierre Gagnaire: 175 home recipes with a twist (Flammarion), that has just hit stores in Europe.