Array
(
    [ref_id] => 72
    [photo_file_name] => NEW-CALUCCIO'S--(222).jpg
    [posted_by] => Sudeshna Ghosh
    [text_display] => <p>
	 <em style="background-color: initial;">Antonio Carluccio may be one of the best known Italian chefs in the world, but it wasn't at all planned, he tells us.</em>
</p>
    [cover_photo_file_name] => the-accidental-cook.jpg
    [slider_images] => 
)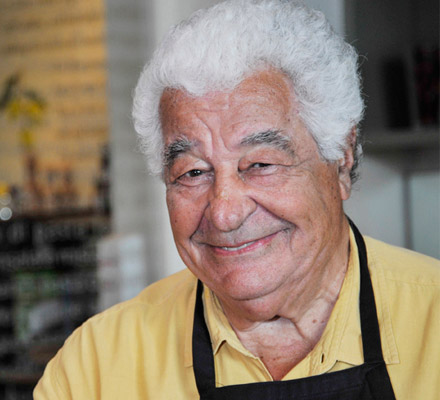 He is known worldwide as the Godfather of Italian cuisine, but it isn't necessarily a moniker he is particularly fond of, himself. "I prefer to be known as an ambassador of Italian cuisine instead," says Antonio. If you ask me, I'd nickname him the Grandfather of Italian cuisine – with his lined, kindly face, gentle manner, wild crop of white hair, and fondness for feeding others, it seems to suit him perfectly (even if it may not seem as prestigious!). The well-loved and respected chef has done his bit for spreading awareness about authentic Italian food around the world for over 50 years now. But this colourful culinary career wasn't something he had intended for.
"My mother was a fantastic cook, and I missed her cooking when I was studying in Vienna, so that is how I started cooking in the first place," Antonio tells me, looking back to his days of cooking pasta suppers on a two-ring stove. "Then, when I was working as a wine merchant in London, I won a competition by pure chance – and became a cook." The rest, as they say, is history. I noted his interesting use of the word 'cook' to describe himself, and not chef, and pat came the answer, "I'm not a chef, I am a cook. I believe my food is something that can be recreated in any home kitchen."
A 'MUSHROOMING' CAREER
He may have turned pro purely by chance, but his connection with food goes back to his childhood, spent growing up in Northern Italy (he was born on the Amalfi coast in the south). "In Italy, as a child, you learn to collect mushrooms – it's a national sport. My earliest food memory is carving sticks to take to the woods for mushroom picking," he reminisces. "Mushrooms can be elusive. You have to hunt for it, and when you come home with a basket of freshly picked mushrooms, you get a wonderful dish," says Antonio, while sharing with me a perfect example of how delicious a fresh mushroom salad can be, as we chat. Asking for a plate of fresh mushrooms from the restaurant team, he casually slices them while talking away, then drizzles some lemon juice over and hands it to me – the taste was enough to transport me from the sunny outdoor terrace of his Dubai restaurant to the mountains of Piedmont in autumn.
When he moved to London, he discovered that this tradition of mushroom-picking didn't really exist in the English culture – even though there were plenty of good mushrooms to be had, just outside the city limits apparently. Doing what came naturally to him, he went mushroom picking in England too, which then turned into a signature of sorts for him, something of a culinary trend. While the passion for picking wild mushrooms – an outdoor adventure that requires an intimate knowledge of the territory as well as the different types of mushrooms -may exist throughout Italy by no means is the cuisine homogenous. "We have 20 different regions, and each has its own cuisine," explains Antonio. "The differences are enormous – southern Italy has a great deal of Arabic influence, for example. They use pine kernels and raisins in a lot of food, and work with fish a lot. Taralli, a dessert of fried sugar balls, is very similar to an Arabic dessert I've had here. Up north, the cuisine is influenced by Germany and Austria, with things like dumplings featuring heavily in their food. Milan and Venice, on the other hand, focus on rice and risottos."
The fierce loyalty Italians feel for their regional uniqueness – particularly when it comes to food – is well documented. "It is no different when it comes to wine," says Antonio. "You will seldom find a bottle of Barollo in Sicily, for example." Which is not to say that over the years, the different regions haven't influenced each other. "Pizza and pannetone travelled from south to north," Antonio says. But there are some things that are, of course, common to all Italians – such as pasta (See Perfect Pasta to get Antonio's advice on making the perfect pasta). And herbs like basil, rosemary, oregano and garlic. In fact, this sort of a classic combination of flavours, which no one can go wrong with when cooking, is probably what makes Italian cuisine universally popular, in restaurants and home kitchens alike. "Italian is pleasurable, simple to prepare and doesn't have to be too expensive. It also lends itself to spontaneity, and creating new recipes," Antonio explains. "I like to create new dishes which are Italian in root, and often surprise myself with my food."
Keeping it simple
Describing himself as a "purist of Italian food", Antonio sums up Italian cuisine as "simple dishes cooked perfectly". If you get it right, then just a bit of perfectly cooked pasta with some cheese is enough to make a sublime dish. Or, take Antonio's ultimate comfort food for instance – Pasta fagiolli, or bean soup with pasta. "It's a peasant dish, but it is now coming back into restaurant menus. If it's cooked perfectly, it is delicious," he says.
Simplicity seems to be a recurring theme for Antonio when it comes to food, something he has succinctly summed up in his self-coined motto MOF MOF – Minimum of Fuss and Maximum of Flavour. This philosophy is explained in rich detail in his latest book, the autobiographical A recipe for Life (Hardie Grant books). "I don't hide anything, I just tell," he says.Not one to rest on his laurels however, when asked when he plans to stop working, he doesn't have an answer. With another new book – the prolific cookbook author has written over thirteen already – TV shows and global appearances in the pipeline for this year, it doesn't look like it will be anytime soon.
Perfect pasta
Follow Antonio's tips on getting it right when it comes to cooking pasta:
Don't overcook the pasta. The right measurements for cooking pasta is 1 litre of water for every 100g of pasta, and 10g salt. You don't need to put olive oil when cooking pasta, that is a myth – all you need to do is just stir it to prevent clumping. You only need to use olive oil when making pasta sheets – use it when putting the sheets into water.