Rachel Allen speaks to us about how she balances life as a celebrity chef, author, and mother. Rachel Allen is in equal measures bubbly, humble, calm and motherly, and filled with vitality. The Irish TV chef and author of over nine cookbooks, grew up in Dublin, Ireland, and left home at the age of 18 …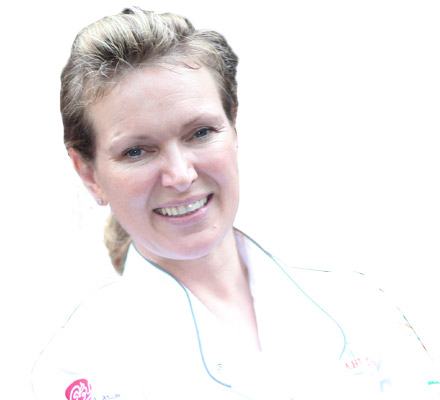 Rachel Allen speaks to us about how she balances life as a celebrity chef, author, and mother.
Rachel Allen is in equal measures bubbly, humble, calm and motherly, and filled with vitality. The Irish TV chef and author of over nine cookbooks, grew up in Dublin, Ireland, and left home at the age of 18 to head to the Ballymaloe cookery school. "I was always passionate about cooking. There were no blogs or websites, back then, to make me realise my chosen path. So I thought, why not just go and try out a cooking course. I initially wanted to travel and then do shoe designing – I love shoes!" she says, and I, a fellow shoe-lover, immediately warm up to her. As soon as Rachel set foot in that cookery school in 1990, she found a mentor, in the founder of the cooking schools Myrtle Allen. "She is now my mother-in-law, and it's hilarious, because she herself came to the cooking school years ago, and ended up marrying the son of the first founder," reveals Rachel. She got married eight years later; she has three children, 13-year old Josh, ten-year old Lucca, and four-year old Scarlett.
Rachel, the celebrity chef
Rachel started her career as a chef at the same cookery school, before going to Canada where she worked in catering for a while. She returned to her home-ground Ballymaloe in just a few months, to teach there. "Canada was a great experience. It made me appreciate the food I ate, as it was all about the produce. I would go out and pick vegetables and cook with it, which I loved doing," she says. "But Ireland is home." Rachel never envisioned a career as a TV chef. That is, until one day, she was approached by a producer who happened to attend one of her cooking classes to do a pilot for her own cookery show – Rachel's Favourite Food. "At that time, I was pregnant with my second child, so didn't really think about it that much, but I did the pilot anyway. After I delivered and a few months had passed by, I was approached again, saying they would like to go ahead with the TV show – which was great!" she says. "I was at the right place, at the right time."
Rachel's cooking is influenced by her Irish heritage in many ways. Her cooking philosophy is focused on quick, nutritious dishes with fresh ingredients, that mothers and even children can recreate at home. Irish cuisine, as Rachel tells us, is not heavy on condiments or sauces, for flavouring and seasoning, but relies on freshness of produce for flavour."We have fertile lands, abundant rainfall and lots of dairy and fresh produce. Irish food is very rustic, and we use a lot of seafood – fished from the nearby seas in the region," she explains. As most busy mothers would know, it can sometimes be exhausting to come home from work and cook for the family, or even just get inspiration for nutritious and delicious meals at the end of the day. "I always suggest sitting down over the weekend to plan ahead. Involve the family as well – to know what dishes they prefer – and then draw up a grocery list and menus," she says.
Rachel's other time-saving tips include making big batches of sauces, like Bolognese, which can be used in different ways such as with pasta, lasagna and mashed potatoes. She also suggests working with good quality produce and mixing up the weekly menus with different cuisines with dishes such as Asian stir-fries, as they are packed with flavours and nutrition from different vegetables and herbs.
Rachel, the mother
As we chat about children and cooking, Rachel conveys how important it is for adults to encourage kids and get them to help out in the kitchen at a young age, even if it is just to add chocolate chips to cupcakes or make buns. "It is a fun activity, and also a great way of spending quality time with your children," she says. Rachel believes the best way to going about it is by asking them what they want to cook, taking them to the market for grocery shopping, and letting them do tasks such as chopping and peeling – with child-friendly kitchen tools. Rachel has been practicing this in her household for years, "My daughter Scarlett loves playing with dough and slicing cucumbers. She even loves washing up! Josh, on the other hand, only wants to cook with chocolate, while Lucca loves cooking steak and pasta," she says. It's not just Rachel's children that love to cook her recipes though. A majority of Rachel's viewers and readers are children, as they love her cupcake and dessert recipes, "I get fan mail and photos of the dishes kids make – it's just adorable," she says. When asked if her kids watch her TV show, Rachel admits that her youngest child Scarlett is the only one that does.
With such a hectic schedule, including TV show filming, teaching at the cookery school and writing cookbooks, it may seem as though Rachel has no time to cook at home, but she enjoys nothing more than coming home and cooking for her family. "They love my roast chicken and gravy recipe and other comfort food such as the Irish potato soup and Asian broths," she says. It isn't just cooking that Rachel loves though; the talented chef loves all aspects of food, especially experimenting with flavours and eating and tasting new cuisines. Some of her favourites are Arabian mezze, and Rachel loves making moutabel, hummous and saj bread. On her recent trip to Dubai, Rachel tried a manakeesh, pomegranate with chicken liver and fattoush, which she absolutely loved. "I'm a big fan of sumac, and I make fattoush at home too," she says. When asked what she's taking back from here, she says "Lots of fresh dates and date syrup," an ingredient she is keen on working with, back home.
Other than cooking with dates, Rachel is currently working on her new cookbook. "I like to take life as it comes, and believe that work and life balance is key, as it is always intertwined," she says, as her parting message.
Rachel recommends
Here are Rachel's favourites from her bestselling cookbooks:
Easy meals (Collins) Great for quick, fuss-free dishes.
Home cooking (Collins) For the chocolate fudge recipe – a family favourite.
Rachel's food (Gill & Macmillan Ltd) For the Roast chicken with honey and lemon recipe.