His height may have been a disadvantage earlier on in life – he is a rather short man at 5'4" – but Vineet Bhatia, the renowned Indian celebrity chef, restaurateur and holder of multiple Michelin stars definitely hasn't pulled the short straw when it comes to finding success. London-based Vineet comes from a middle class …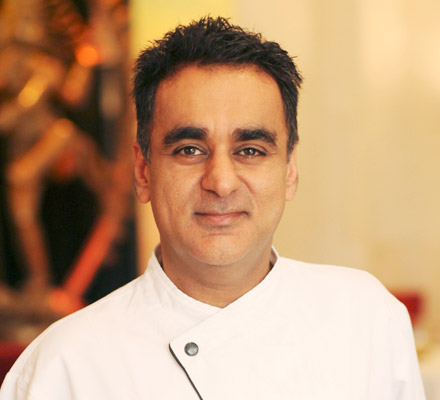 His height may have been a disadvantage earlier on in life – he is a rather short man at 5'4" – but Vineet Bhatia, the renowned Indian celebrity chef, restaurateur and holder of multiple Michelin stars definitely hasn't pulled the short straw when it comes to finding success. London-based Vineet comes from a middle class family, was born and bred in Mumbai and interestingly, has always had a strong appetency for aviation. "I lived near the airport in Juhu, Mumbai, and had an affair with aircrafts. The sound of planes taking off would wake me up every morning and ever since I was a child, I knew I wanted to somehow get into the field," he says. "I passed all the air force tests, but my height was a major problem. I was offered navy but didn't want to get into it."
Due to his height dilemma, Vineet was redirected towards another industry. Little did he know it would one day work out in his favour. "I decided to get into hotel management as I wanted to make cocktails at the bar, but again my height proved to be a problem," he says.
Vineet isn't ashamed to admit that back then, he thought of the kitchen as a place for people who weren't sure what they wanted to do with their life. But once he got into it, he was amazed. He enrolled in a hospitality management university in Mumbai, and was one of 14 students recruited from campus by The Oberoi Delhi at the end of his course. "I was one of the lucky ones," he says.
Celebrating Indian cuisine
Throughout his time at the hotel, Vineet stuck to his roots and focused on traditional Indian cuisine as he wanted to perfect it, even though most of his colleagues were fascinated by French cuisine. This focus landed him the position of Chef de cuisine at specialty Indian restaurants, Mewar and Kandahar at The Oberoi Mumbai. However, in spite of doing well, he felt a lack of growth opportunities, and in 1993, Vineet moved to England to join Star of India, an Indian restaurant in South Kensington – where most of the chefs were Bangladeshi! "I left with just seven pounds in my pocket, a few books and clothes. I was the only Indian at the restaurant and it took me over six months to revamp the menu," he says.
His involvement in the restaurant wasn't welcomed by diners at first. They were used to eating curries with oil floating on top, while sipping beer. "I recall an incident when an old English gentleman approached me and told me that the carrot halwa I made was not how it's supposed to be cooked – it was hot and sweet. They didn't like the Rogan josh (lamb curry) either and wondered why the meat was still on the bone," he says. "I soon realised I needed to reinvent the classics in some way and so gave them a modern name instead. So, Rogan josh was now called slow cooked lamb shank with Kashmiri spices, while carrot halwa was warm carrot fudge – people loved it!"
Vineet was eager to position Indian food on the culinary map, rather than it being perceived as just a third world country's spicy cuisine, and this ambition paid off. After pushing the boundaries and getting the Brits to taste authentic Indian food – 'the real stuff' as Vineet describes it – word spread and the restaurant slowly became popular with the media too.
After five years, he decided to launch his own venture, Cinnamon Club, with a partner – but it didn't work out as planned and it shut down in just a few months. Not to be deterred, the same year, Vineet opened Zaika in Chelsea with a different partner. The restaurant was awarded a Michelin star in 2001, only a year and a half after opening, making Vineet one of the first Indian chefs to receive the accolade. "Receiving a star was amazing. It's like getting an Oscar!" he says.
The restaurant, although successful, didn't work out for Vineet and soon he realised that partnerships and him weren't a recipe for success – he found himself being cheated repeatedly. Keeping in mind his misfortunes from the past, Vineet decided to enter a partnership with his partner in the true sense of the word – his wife Rashima. Together, they opened Rasoi in 2004. "We took over a dainty Chelsea townhouse with funds raised from mortgaging our house. The place is quite unique – like a real house, and has bedrooms, staff quarters on-site and a private dining restaurant," he explains. Once the venue was chosen, it all came down to the brand name and we see Vineet's sense of humour come into play as he describes his thought process behind it. "We first wanted to name it Vinass – pronounced Vin-yaa's, to indicate it belongs to Vineet – but knew it would be pronounced Vin-ass, so we chose Rasoi instead, a Hindi word which can mean cooking or also kitchen."
At Rasoi, Vineet got to experiment and serve the food he wanted to. "We did a modern and contemporary menu and it was a win-win situation, as we served some dishes with a modern twist and names, as well as some of the good old classics people loved. We eventually realised this was our style," he says. Rasoi is still running and now serves as a training school for all the head chefs at Vineet's restaurants.
Spreading his wings
The fast pace of life in the kitchen undoubtedly kept him busy, but it wasn't long before destiny intervened to give him an opportunity to combine his two loves – aviation and food – when he was approached by British Airways in 2003 to overlook the in-flight catering on first and business class. "One of the dishes we served was coconut prawn chilli masala, a signature dish still served at all my restaurants," he tells me. This relationship lasted until he became associated with Qatar Airways as part of their Culinary World Menu world menu programme which launched in 2012.
By then, a lot of travellers were familiar with him and his restaurants, and Vineet found out one person even flew from Ahmedabad to Mumbai to dine at his restaurant. "Knowing that was amazing!" he smiles.
Not only was Vineet's food travelling around the world on airplanes, so were his restaurant concepts. Vineet's first venture outside London was in Mauritius in 2007, where he opened Rasoi by Vineet at One and Only Le Saint Geran, but it didn't stop there. Vineet soon expanded and opened a many as 11 restaurants in diverse locations around the world, from closer-home Leeds and Notting Hill to Moscow, Saudi Arabia, Doha, Mumbai and Geneva – which outlet received the second Michelin star he is credited with. Not only has he taken his Rasoi restaurant international, but has opened other concepts including Indego by Vineet, his popular restaurant at Grosvenor House Dubai. The menus vary across the restaurants and are more tailored to the local tastes, but Vineet retains his contemporary culinary style throughout. His mission has always been to keep the tradition of Indian food intact, while making it suitable for an international palate.
Apart from the high-profile collaborations, it was his TV show for Fox History & Traveller, 'Twist of Taste with Vineet Bhatia', which brought him recognition in India, "It was hilarious! My wife and I weren't aware it was already aired in India and so when we travelled back, we noticed everyone recognised me – from the guys in the customs at the airport to people on the streets," he says.
When Vineet decided to do the TV show, he made sure India was showcased right – no stereotyped poverty, slums and pictures of the Taj Mahal. "I had no interest in acting, so the show wasn't scripted. We developed a food-focused concept and it did extremely well," he says. On the show, Vineet and his wife travelled around India to different foodie cities such as Lucknow and Calicut, to name just a few. "We would stop at street stalls, try different foods and then take elements from each city and cook a meal at the end of the episode – on location. The idea was to allow viewers to recreate these low-effort dishes which now had a modern touch, so that they could try foods from other states, right at home," he says. Along the way he had a few unique experience too and speaks fondly of the states he explored. "The Pondicherry area is beautiful and so are the coffee, green pepper and vanilla plantations in Coorg. We used this produce in our dishes when we filmed there," he says.
Vineet's expansion into books and television wasn't a choice of his own though, the real mastermind is his wife. "I was bullied into it by Rashima," he jokes. "She made me realise it was important to write a cookbook and leave behind a legacy, that's how Rasoi New Indian Kitchen (Absolute Press) came about in 2010. The cookbook is my baby and I love all the recipes," he says.
Vineet may be well travelled and loves eating and trying cuisines all over the world, but claims Dubai's culinary scenes to be one of his favourites. "I love it! When I came in 2004 to check out the restaurant space at Grosvenor House, everyone told me not to go ahead with it. I actually wasn't too fond of this place back in 1992 when I first came here but it has changed a lot," he says. It's not just the fine dining scene he enjoys here. When Vineet isn't at his restaurant, he can be found at Indian eateries tucked away in Karama such as Calicut Paragon or Saravana Bhavan. A regular in the city, Vineet visits often, but residents might see him staying here for longer soon. "We might be filming a TV show in Dubai next year, but nothing is confirmed as yet. It will be either here or London," he says. Apart from this, Vineet also has a few restaurant openings lined up, one of which he tells us is in Riyadh.