Maverick TV chef Bobby Chinn talks through his colourful journey from Wall Street to Vietnam – with a detour as a stand-up comic in between – on which, a positive, unflappable attitude was his only constant companion. "I never ate baby food", says Bobby Chinn. "My family couldn't get me to eat, but when I …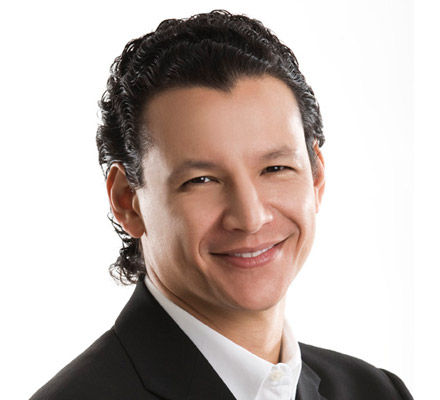 Maverick TV chef Bobby Chinn talks through his colourful journey from Wall Street to Vietnam – with a detour as a stand-up comic in between – on which, a positive, unflappable attitude was his only constant companion.
"I never ate baby food", says Bobby Chinn. "My family couldn't get me to eat, but when I tried moulakhiyeh for the first time, you couldn't stop me from eating! My appreciation of food started when I went to Egypt when I was six."
With a nomadic childhood and unusual heritage – he was born in New Zealand to to Egyptian-Chinese/American parents, schooled in England and did most of his growing up in the US – Bobby's life wasn't ever likely to be an average one. But that it would be centred around food, he hadn't planned. "It was a karmic cycle of events that led me here. I walked into food not a hundred per cent qualified, but I had passion and a vision," he explains.
Karma it certainly sounds like, as he recounts how he stumbled into food after a stint in finance. "I was good at it," he says in a matter-of-fact way. "But I hated it. I wanted to go see the world on my own. It is a journey that can be lonely, humiliating and painful, but very rewarding if you can get through it."
Hungry to learn
I have no doubt in my mind that he was good at finance. His apparently random ramblings reveal an evolved intelligence and acute perceptiveness, both of which undoubtedly helped him make the world his oyster, literally. But not before he got himself fired from his Wall Street job, and started looking for a profession in the yellow pages. Their family doctor, "who was like a life coach", helped steer him towards food in the first place, by giving him the opportunity to join his brother's seafood supply business. "I got to meet a lot of cool chefs then, and that's when I started thinking – I could do this," says Bobby.
He nearly went to a French culinary institute afterwards, but dropped out. Instead, he decided to go to comedy school, and performed as a stand-up comic in LA for a while in between. He didn't entirely sever his connection with food though, as he continued to put himself through the paces by working in a restaurant in San Francisco – where he joined as head waiter, but promptly got himself demoted.
Soon after, he found himself in Vietnam – where he went in a corporate role at his father's behest – and that's when his love affair with the fresh, flavourful cuisine began. "Vietnamese food is an awakening. It's not fussy, each bite is unique," he says. "It's food made for people by people."
Returning back to the US, he immersed himself in food again, this time as an unpaid apprentice at leading French chef Hubert Keller's Fleur de Lys restaurant in San Francisco. Eager to learn, he worked there for a year, and continued developing relationships with top chefs. As destiny would have it, a chance encounter with award-winning California chef Gary Danko led him to the book Burgundy Stars (Little Brown & Co.), which, combined with the fact that his then girlfriend's father owned restaurants in France, saw him soon packing his bags for a European sojourn. Bobby describes his time working for the Troisgros family restaurants as "brief, but educational". He had to return to the US for back surgery, from an injury he had got when working in San Fransisco, and this rendered him unable to work as a professional chef. Determined not to let that stop him, Bobby followed his heart back to Vietnam, where he tapped into a gap in the market to run several acclaimed restaurants. "America had sort of ingrained a type of racist bias towards Vietnam, around the world," he says. "Vietnamese cuisine sells itself for those who go there. I kind of brought it to the world, put it on the map."
Not least with his award-winning restaurant, Restaurant Bobby Chinn, which he opened in 2001. The restaurant fuses Western and Asian cuisine to great effect, in the intimate setting of the lower floor at his home in Hanoi. It is here that he has played host to various celebrities, including Bill Clinton, for whom he cooked vegan Indian food.
Last year, he opened a second outpost of the restaurant in Ho Chi Minh city, which reflects the multiculturalism of Bobby's personality, with its market-driven, seasonal menu, and relaxed environment complete with Egyptian shisha.
Screen (hot)shot
But, popular as his restaurants are, it was the
TV series 'World Café: Asia' that made him a household name. Like almost everything else in his life, this is also something that "just happened, and I wasn't overly excited about it," he says.
"I was offered this opportunity when TV cooking shows were just taking off," he says, modestly attributing its success to his ethnicity. "I brought to the table a person who wasn't uncomfortable anywhere, and wasn't intimidated by anything or anyone. My ethnicity helps, as I don't fit in anywhere but I'm accepted – that's how my life has always been." While some might see that laid-back unflappability and curiosity as cocky, it hasn't stopped him from earning the loyalty of fans around the world, a clutch of awards, and two succeeding series (another one on Asia, and one on the Middle East), plus another spin-off show, Bobby Chinn Cooks Asia. He has also published an award-winning book, Wild Wild East – recipes and stories from Vietnam (Conran Octopus), in which he weaves stories of his personal experience of setting up a business in Vietnam, with recipes.
The World Café series sees him travelling around different cities of Asia and the Middle East, sampling different foods, and also sharing recipes based on what he has learnt about the cuisine. "I think food is the fast track to truly understanding the history and culture of a people. They feel so much more patriotic about their food than they do for a football team, for example!" Bobby says.
"I really enjoy discovering new flavours. When I put something in my mouth, I go 'what is that," he adds. That openness to new experiences, combined with his encyclopaedic knowledge of Asian food, and self-confessed ability to "describe food very well, I can make it sound sexy," is probably responsible for the programme's popularity.
One of the highlights of the show, and in fact, Bobby's personal preference, is its focus on street food. "I love street food because it's just about the food, there is no bulls*** . It's honest, pure, it's what the people eat, so it reflects the real culture," he says.
So, what are the most important lessons he has learnt from his travels? "Travel has given me history of food, made me question things a lot, and made me feel greater humility," he says. "It's also taught me what can be done with food – making a dish your own isn't cranial, it's simple. You just take familiar flavours and add something to it."
Whatever twist he is adding to a dish, his food always remains uncomplicated and easy. "I'm like an experimental housewife who has a certain amount of confidence and faith, and has been able to travel the world," he says. He would like to take that 'housewife' sensibility to Indian food, one of his favourite cuisines, next, for a TV show which will focus on low-fat and healthy cooking. "My focus going forward will be on detox and health, it becomes more important the older you get," he explains. He also plans to take modern technology head on and launch a series of Google Hangout shows, an innovative concept in the world of food media. I'm sure it will make for entertaining content. As, without taking anything away from his undeniable passion and insatiable curiosity about food, his greatest strength is that, as he himself says, "I talk a good game."