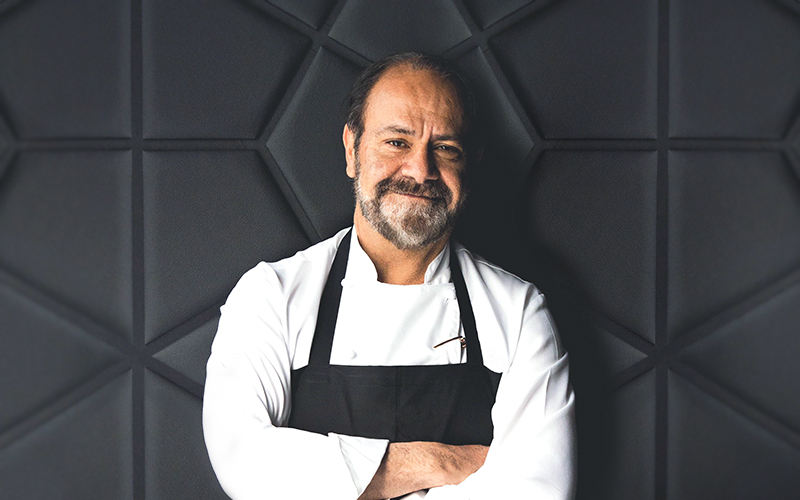 The renowned Lebanese-Australian chef spoke to BBC Good Food Middle East about current Arab food trends, and how to get the most out of aubergine when cooking it Lebanese-style.
In your opinion what are the most exciting up and coming trends with Arabic cuisine?
Current trends for me are anything with Aleppo chilli [a medium heat spice, with a salty, slightly oily taste and a hint of cumin].
What do you think home cooks get wrong when cooking Arabic food?
Over salting is often an issue. However, the biggest problem I think is when cooks add za'atar or sumac to a dish and call it 'Arabic cuisine'.
What is your favourite Lebanese food to cook, and what advice would you give to home cooks attempting to cook it?
My favourite Lebanese food is aubergine. My tip would be that if you're frying them, lightly sprinkle them with salt to draw out moisture so the aubergine doesn't behave like a sponge to the oil.
Which ingredient do you hate to work with?
Any ingredients that arrives in the kitchen lifeless! I dislike it when growers and suppliers have little regard for their products.
What is your idea of happiness?
My idea of happiness is a bowl of freshly made labneh, some piping hot Arabic bread, Lebanese cucumbers, tomatoes, mint and extra virgin olive oil.
What's your most memorable meal?
My mothers Kibbeh nayeh [a mezze with minced raw lamb or beef mixed with bulgur and spices] and my father's lamb's tongue salad.
Which chef do you admire?
There are many chefs I truly admire, but in particular, I do look up to Claudia Roden. She has inspired so many generations, and her knowledge of Middle Eastern cooking is legendary, she's a true historian.
Has there ever been an ingredient that you weren't able to master and have given up on?
Giving up on an ingredient is a trait chefs can overcome. Achievements are made by not ever giving up.
For more information visit gregmalouf.com