Chef Nathan Outlaw achieved two Michelin-stars at his self-titled restaurant in the UK. Recently, he opened his first venture in Dubai, Nathan Outlaw at Al Mahara in the Burj al Arab. The restaurant is situated in a unique aquarium at the hotel and specialises in seafood. He spoke to Sophie Voelzing about what diners can …

Continue reading "Under the sea: Nathan Outlaw discusses his new restaurant at the Burj Al Arab"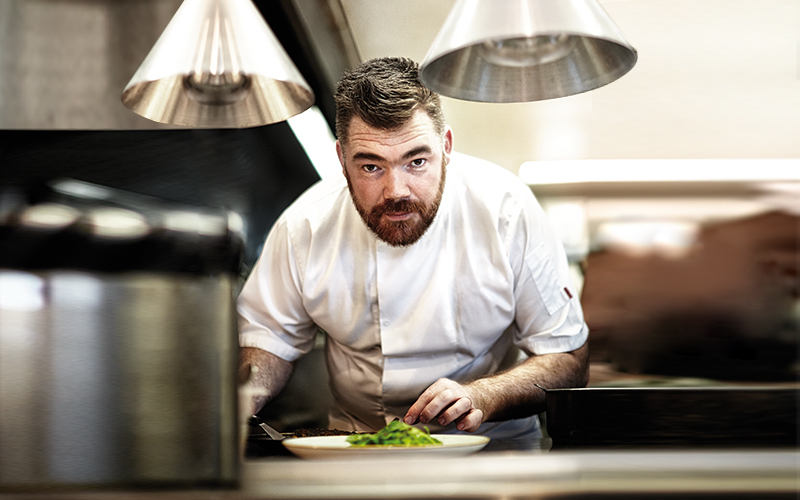 Chef Nathan Outlaw achieved two Michelin-stars at his self-titled restaurant in the UK. Recently, he opened his first venture in Dubai, Nathan Outlaw at Al Mahara in the Burj al Arab. The restaurant is situated in a unique aquarium at the hotel and specialises in seafood. He spoke to Sophie Voelzing about what diners can expect at the restaurant and what inspired his new menu.
How does the experience offered at the restaurant now, differ from before?
Al Mahara was a French restaurant, and with the re-launch, it will now have British influences. We didn't want to lose any of the charm of Al Mahara though, we just wanted to add the 'Outlaw' touch. Nathan Outlaw at Al Mahara will deliver classic good cooking and will provide great hospitality, something that will never go out of fashion. Interior wise, the restaurant will still retain its iconic aquarium centerpiece, but the new look will heighten the senses even further.
What kind of dining experience can guests expect?
My aim for Al Mahara is to deliver simple, yet superb seafood, where the ingredients do the talking. Imagine delicious, no-fuss, flavoursome food with high quality service served in a hospitable and buzzing atmosphere. What I like to do with my dishes is let the seafood shine and allow the impact to come through in the taste. I don't like to play with the fish too much – I like to hook it and then cook it, simple and uncomplicated.
Additionally, the stunning floor-to-ceiling aquarium really contributes to the atmosphere and gives customers the impression of dining in an underwater heaven, creating a totally unforgettable dining experience.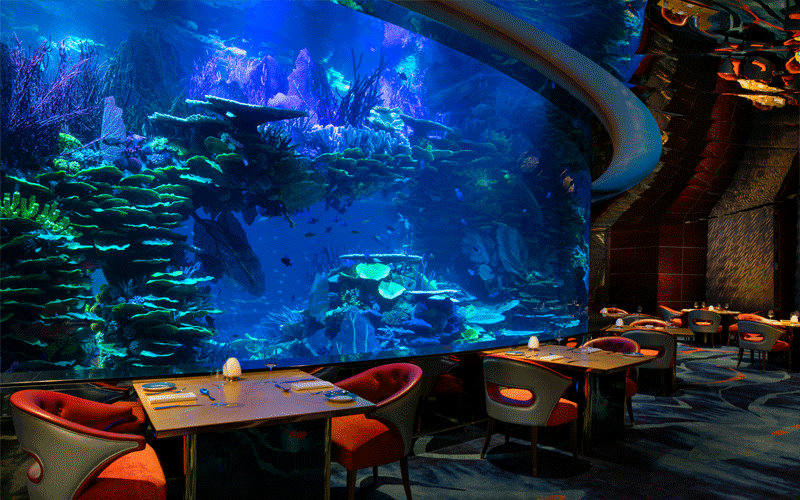 How would you describe your cooking style and approach in the kitchen?
My style of cooking is one of simplicity but with complex flavour combinations, using seasonal and sustainably sourced ingredients. This is what people can expect from the menu. I work predominantly with seafood, so the collaboration with Al Mahara is perfect. I like to let the seafood shine and let the taste make the impact. I am a very hands-on chef too, I like to always be by the grill and be in constant communication with my team.
Where did your inspiration for building the menu at Al Mahara come from?
Although the menu takes initial inspiration from my UK restaurant menus, every dish is completely unique and has been designed specifically for Burj Al Arab and Al Mahara. I have created the menu for Middle Eastern tastes and the Dubai audience, incorporating British influences.
British style food has a lot of global influences and includes lots of spices, so introducing Middle Eastern touches came naturally. The more I get to know the Middle East, the more I'm falling in love with it, the culture and people are so unique and welcoming so I'm looking forward to adding more and more local ingredients in the future.
Where are the ingredients used in the restaurant mainly sourced from?
They come from all over the world, we are using the best ingredients the world has to offer on this menu. The Burj Al Arab has been importing some of the best fish and ingredients from across the globe for 17 years now. When I first visited the hotel I found the oysters were from Ireland, which is the same kind I use at my London restaurant and they had fish from Cornwall. I am really lucky to enter into such an established network but I am looking to use local ingredients in the menu over time, as I am a big fan of supporting local businesses.
Have you been able to team up with any local fisherman here in the Middle East that supply sustainable produce of high quality?
I'm looking forward to collaborating with local fishermen in the future and seeing what produce is available to use in the kitchen. Using local ingredients is something I love to do. Supporting local businesses and using sustainable products is also a big passion of mine… watch this space.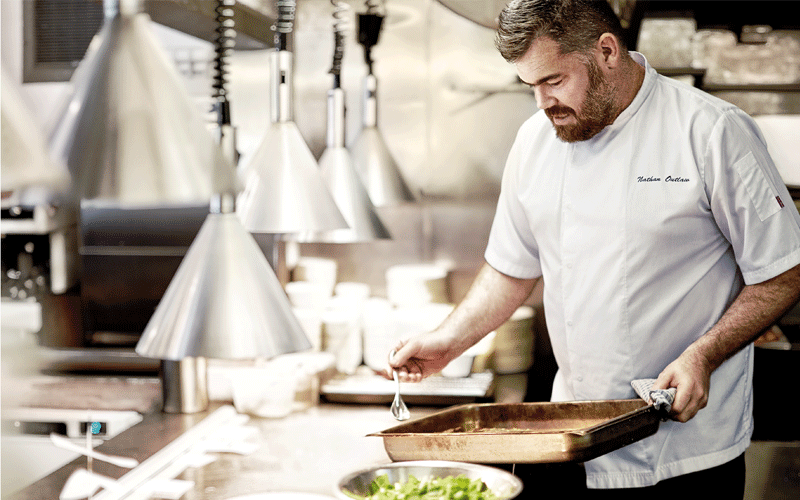 What are the most unique dishes available at al Mahara? Any unexpected species of fish?
The cooked crispy oysters and caviar will surprise Middle Eastern palates – a lot of people are put off eating oysters and never try them because they are raw so this dish is designed to open people up to trying them. Using fresh Cornish oysters, served with a topping of caviar and sides of cucumber and oyster sauce, these beauties are cooked with a deliciously crisp outside and tasty inside to truly delight the taste buds.
There will be some dishes on the menu that are typically 'Outlaw' too, including the lobster risotto. This has been with me since I introduced it to my first restaurant in 2003. I couldn't afford the premium lobsters back then, so had to buy the cheaper odd sized ones, and that is how this dish came about. The experience with this dish taught me a lot about cooking, especially about reducing waste and keeping the cooking process sustainable. This dish is prepared with zesty oranges, fresh basil and spring onions to let the flavours really develop and deliver that Outlaw impact.
I will also be introducing some typically British puddings, such as sticky toffee pudding, Eaton mess and a treacle tart – all with the 'Outlaw' touch of course!
How often can guests expect to see you here in the restaurant?
I will be in Dubai least six or seven times a year, but Pete (Briggs) and Sharon (MacArthur) will be my eyes and ears on the ground to ensure everything is running smoothly. I am a 'hands-on' chef and I like to keep in constant contact with my team, that's very important.
Pete Biggs, my head chef, has been working for me for the last 15 years and I honestly couldn't think of anyone better to be running the kitchen. He's extremely talented and is very hands on. He started with me as an apprentice, straight out of college and I've seen him grow and flourish. He opened Outlaw's at The Capital in Knightsbridge in London and took it from nothing to holding a Michelin star, so he has a proven track record for producing extraordinary dishes.
What are your top three menu recommendations?
The cooked crispy oysters and caviar for definite. These oysters are sourced from Cornwall, where I'm from and are really superb. I am really looking forward to serving up some freshly harvested raw scallops too. These come with a delicious herb mayonnaise and tartare dressing and I'm expecting them to be a popular dish.
For dessert (I'm a big dessert fan!) it has to be the sticky toffee pudding. It's my daughter's recipe. She's 11 years old and won Sticky Toffee Pudding Championships with it. It was a blind tasting and she was the youngest entrant by far so I'm very proud to have it on the menu. This mouthwatering dessert is served with Jersey cream and dates stuffed with apple jam, and I have no doubt it will be a big success here.
Nathan Outlaw at Al Mahara, Burj Al Arab, Dubai, UAE. Prices: AED650 for a four-course meal, or AED850 for the six-course tasting menu. Pairing is available. Tel: +971 4 3017600