Bijendra Yadav, the chef behind BBC Good Food Middle East's " Best French Restaurant 2016" , The Brasserie Quartier at The St Regis Dubai, spoke to BBC Good Food Middle East about how homecooks can improve their Bouillabaisse and his plans for the restaurant in 2017. If you could only have 4 ingredients in your …

Continue reading "The man behind Dubai's "Best French Restaurant""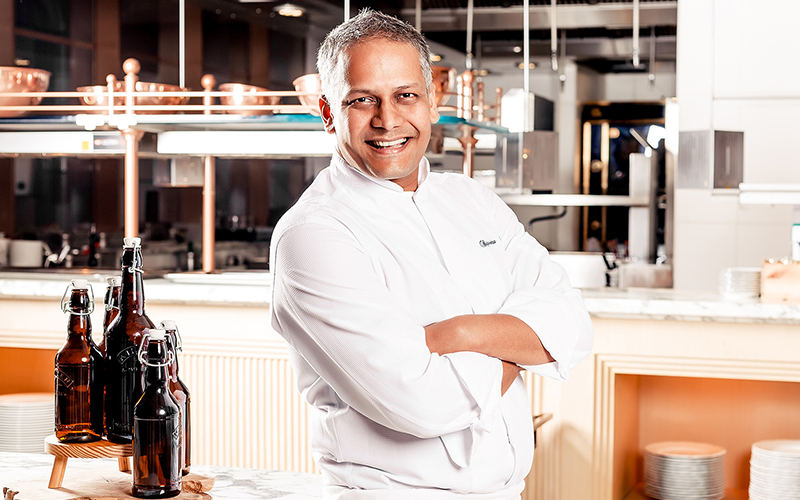 Bijendra Yadav, the chef behind BBC Good Food Middle East's " Best French Restaurant 2016" , The Brasserie Quartier at The St Regis Dubai, spoke to BBC Good Food Middle East about how homecooks can improve their Bouillabaisse and his plans for the restaurant in 2017.
If you could only have 4 ingredients in your cupboard what would they be and why?
Fish, Fennel, Spinach and Brie. These ingredients are my favourite because they are very dynamic. There are plenty of dishes you can create from these ingredients, creating an astounding sensation for every palate and bring your five senses together.
What inspired you to become a chef?
I grew up with organic food and spent considerable amount time in gardens and fields with my grandparents and my parents. My brother and I used to explore and experiment different flavours – the science of cooking has always fascinated me – we used to come up with some extraordinary combinations. It was at this point that I first thought that 'I want to become a successful chef'. Now, many years later, here I am in Dubai sharing my knowledge, passion and skills along-with my talented culinary team in this city.
What's your favourite French recipe and what advice do you have for BBC Good Food readers trying to attempt it at home?
My favourite French Recipe is "Classic Bouillabaisse". It's not just a dish, it's a lifestyle that people of Provence –the Alps – the Cote d'Azur and who have been celebrating it for centuries. The advice I have for readers trying at home is to focus on the fact that it's a very simple dish with comprehensive flavours. Choosing the best produce available is key. Prepare well in advance before cooking. I would suggest poaching the fishes in a good quality fish stock before adding it to the base and ensure that the saffron in the dish is not over powering as its for flavour not necessarily for the colour.
What do you like particularly about French cuisine?
It's very diverse and has a lot to offer. I like the consistency of the cuisine itself as the expectations are extremely high at all times. You've got to be very selective when it comes to choosing ingredients. The cooking techniques used to deliver the cuisine in general is very impressive. My team and I always adhere to the recipe regardless whether or not you have perfected a dish. Consistency is the key to success and we tend keep it that way. Auguste George Escoffier has inspired me all my life. I worked at The Savoy London with Executive Chef Patrice Martineau 3*Michelin for 2 years and we embraced everyday and understood what Escoffier had set as "the standard' to call it "The First Luxurious Hotel in Britain" and "The most famous hotel in London". The equipment that are centuries old are still in use. Example – the steam operated heating metal cabinet which is still in use for Lancaster Ballroom event at The Savoy.
What ingredient do you hate to work with?
There is no ingredient that I would say I hate. Every ingredient is crucial in one way or the other in execution of a dish that I would call "complete".
Which is your favourite ingredient and why?
Salt. Its very important for life in general, as its one of the basic human taste. Salt is one of the ancient and most omnipresent food seasonings. It's always been used for food preservation. It provides the essential nutrient by playing its role as an electrolyte and osmotic solute.
What plans do you have for the Brasserie Quartier over the next few months? What are you most excited about?
The first quarter has been very successful. The team over all has been brilliant. Each and every member has contributed a lot to achieve the best every day. We did bag the award as "The Best French Restaurant 2016" by BBC Good Food Middle East. As mentioned earlier, we focus on consistency in everything we do. I am very excited about the launch of new menu in the Brasserie Quartier in mid April. Currently I am finalizing the selection of ingredients as we intend to keep the dishes seasonal. I am working with the team on it and experiments are at its best.
How would you describe the Brasserie Quartier to someone who has never dined there before?
The offerings through the Brasserie Quartier's menu, that changes every season, the brigade of chefs and service in the restaurant, commit to creating classic French cuisine with the finest quality ingredients, along with intense focus on bespoke guest service. Execution of each and every dish is in the chef's hands and represents way too many elements related such as skills, training, knowledge, experience, equipment, tools and resources, etc. and that accord in the cuisine that we serve at the Brasserie Quartier. The whole brigade of chefs and service are orchestrated to achieve and execute nothing but the best as they are indistinguishable when it comes to the success of the restaurant.
How do you source your ingredients?
When ingredients arrive at the receiving bay every morning, I personally double check the quality and consistency before entering the kitchen. We as chefs, behind the cooking range have no control over the origin of fruits and vegetables, the way they've been harvested, the way the animals been reared, their diets, etc. but I carefully choose my suppliers as each and every ingredient in my kitchen has a purpose. Therefore, I buy my ingredients through certified suppliers, whose produces are sustainable. I work extremely hard on developing relationships as it's a foundational part of my work and all the achievements that we have accomplished for past 18 months have been possible through support and partnership with exceptional purveyors. Therefore, Brasserie Quartier is not just a restaurant that serves fine French cuisine, but it's a remarkable journey that I would like each and every guests to discover.
Tell us a bit about what has inspired and influenced you with the current menu?
The current menu consists of very classical French dishes with a slight modern twists. The dishes have been created delicately from different regions of France. They are very simple, elegantly presented with very subtle flavours. Once again its all about picking the right ingredients and executing to perfection. The cooking techniques are sophisticated where the whole team comes together and love bringing each and every dishes alive. We take pride in serving our guests and ensure that they leave with unique experience overall, food and service. The feedback that we receive from our guests inspire me and the team to take the whole culinary affair to next level.
For more information, visit Brasserie Quartier The St Regis Dubai.