Fairmont Dubai's Executive chef Tuomas Heikkinen talks to BBC Good Food Middle East, about how to make the perfect bread, and how he turned around a run-down restaurant into an award winning venue What inspired you to become a chef? From a young age I used to spend time experimenting in the kitchen and cooking …

Continue reading "The man behind award-winning restaurant Noire"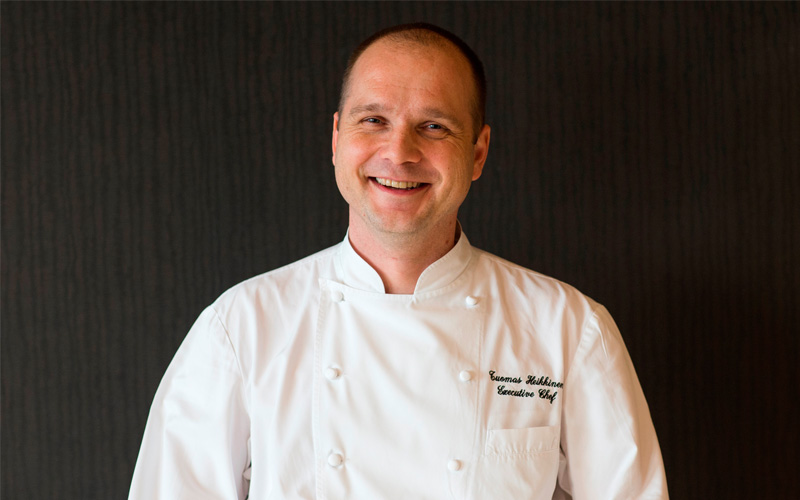 Fairmont Dubai's Executive chef Tuomas Heikkinen talks to BBC Good Food Middle East, about how to make the perfect bread, and how he turned around a run-down restaurant into an award winning venue
What inspired you to become a chef?
From a young age I used to spend time experimenting in the kitchen and cooking for my family, however I never really thought about cheffing as a possible profession. At 18 years old I wanted to be a lawyer and thought that my ability to speak four languages would even be an advantage. Eventually I had a silly idea that it might be great to own a restaurant one day. I ended up pursuing this dream by getting a job in a restaurant in London. I have been on this road since then and never looked back.
What has been your proudest moment in your career so far?
This would be the time when I took my first job as head chef. It was a restaurant which was experiencing a few challenges and was not doing quite well due to poor management. I took this as a self-challenge and saw opportunities instead. After a year of hard work we managed to turn it around completely and it became very successful and an award winning food and drink destination. To stand in the middle of that restaurant with that buzz and great atmosphere, full of people enjoying the food and having great time was for me what this career is all about.
What's an average daily routine for you, as executive chef across Fairmont's restaurants?
To be honest in this position there is very little routine. There is always something that needs to be addressed on immediate basis. The daily kitchen operation changes often and at a very quick pace. For me this is the best part of the job, it's never boring.
You manage lots of different restaurants now, which is your favourite cuisine to cook?
I have many 'favourite' cuisines and I love to explore and discover new ones. However, lately, I've grown a fond interest with BBQ. I'm just in love with all things BBQ at the moment. From the smell of fire wood and burning coal to the aroma of fresh meat on the grill. As a concept it is really a satisfying way to cook.
Funny enough, my specialty is Italian and I spent most of my career educating myself on this very diverse cuisine (I am now married to an Italian as well!). It's still a passion for me and I really enjoy making fresh pasta by hand. It is very relaxing and puts your mind at ease.
What's your favourite dish to make, and what advice would you give to BBC Good Food Middle East readers trying to recreate it at home?
I really enjoy baking bread and it is not as difficult as many people think. It's about bringing down the quantity of yeast and starting dough the day before and then keeping it on the fridge overnight. You get so much more flavour and it stays fresh much longer as well. The taste of freshly baked bread is something that most expats in Dubai are familiar with back home. I'm sure we all have our favorite local bakery too. To be able to create this brings a piece of home to Dubai.
If you could only have 4 ingredients in your cupboard what would they be and why?
1. Whole organic chicken – just as it is so versatile and so many dishes can be made out it. Even the skin can be rendered down to make fat, which can be used to create the most amazing roast potatoes.
2. Flour – I can't live without pasta or freshly baked bread.
3. Nice comte cheese – I can't imagine life without cheese!
4.Garlic – A real kitchen essential.
What's your favourite food memory?
This would be foraging for wild mushrooms and berries with my father in the deep forests of Finland.
What's your favourite piece of kitchen equipment and why?
My current favourite is my barrel smoker. It's great for barbecuing either whole fillets of salmon or slow cooked beef briskets.
What can diners look forward to at the Fairmont over the next couple months?
We are in the process of finalizing the strategy of taking Noire – our dining in the dark concept- to the next level. This restaurant has been received by the market very well since it opened. Its story is just one success after the other. It's very humbling and satisfying to see Noire winning accolades from BBC Good Food Middle East for 'Best experiential dining restaurant', two years in a row. On another note, we are also working on improving the offerings in our pop-up chocolate room. The Chocolate Room is not your typical pastry shop. It's actually a retail space offering all things chocolate with various chocolate show pieces and with walls painted in chocolate. We also serve afternoon tea and offer homemade specialty cakes. There's always a lot going on at Fairmont Dubai, not to mention Easter family activities and the most awaited Iftar dinners during Ramadan.
If you weren't a chef, what would you be doing?
I tried so many different jobs in my life and this is definitely what I'm most passionate about. It's fun and very satisfying. To see the smiles on the faces of happy guests after a really good meal is a daily achievement. I can't see myself doing anything else.
What do you like to eat when you're not working?
I eat fairly simply at home. Having the company of my family is the most important thing for me at the dinner table. When my wife makes me one of her signature pasta dishes nothing makes me happier.
For more information, visit Fairmont Dubai.