Pack your bags and head to The St. Regis Saadiyat Island Resort for an exquisite experience. Located just minutes away from Abu Dhabi's downtown district, and a comfortable hour's drive from Dubai, the luxurious beachfront property on the stunning Saadiyat Island is perfect for your next serene seaside getaway.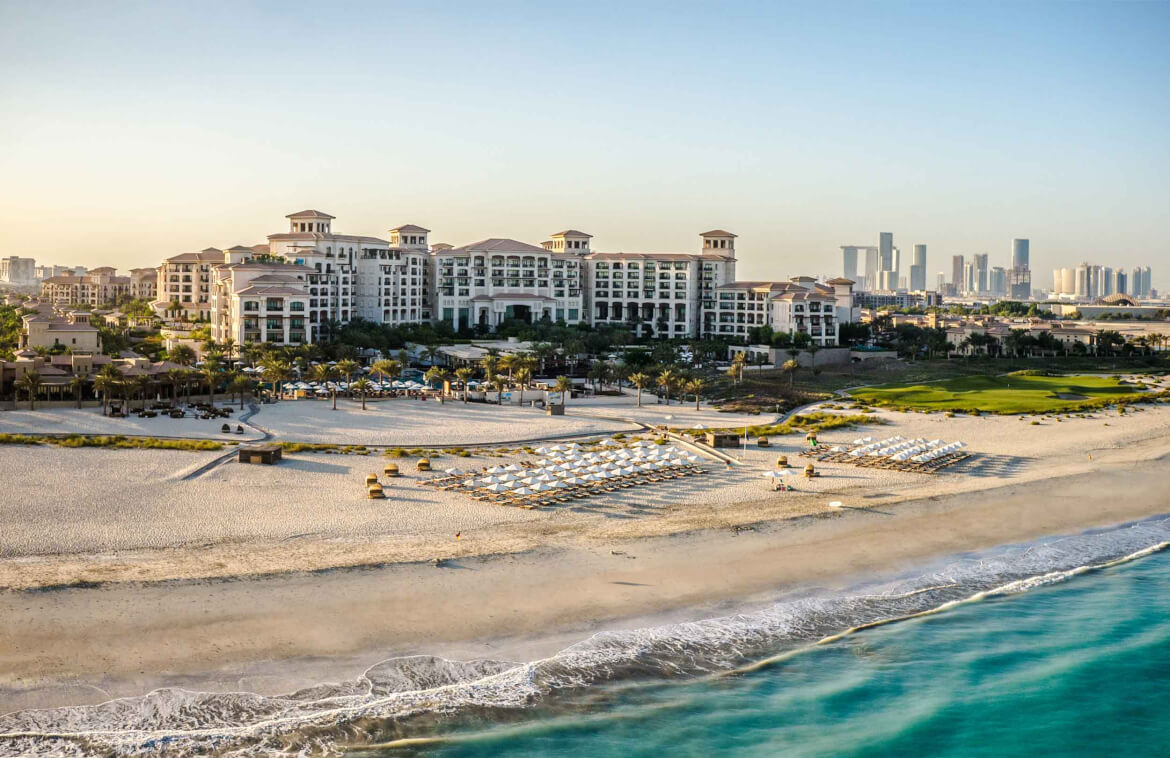 A drive down the charming winding road, surrounded by gorgeous greenery leads you to The St. Regis Saadiyat Island Resort sited on the pristine natural and scenic Saadiyat Island. Unassuming of just how majestic the property is as you first chance upon it, this resort in the capital offers an exquisite and relaxing beachfront escape amidst luxury and sustainable surroundings.
You will feel like you have entered a quaint town, with a 9km eco-protected, glorious stretch of golden sands beach with azure Arabian Gulf waters for as far as the eye can see. A sight strikingly evident as soon as you walk into the resort's majestic lobby.
Enormous floor-to-ceiling windows spanning over three floors offers a promise of an unobstructed, picturesque paradise outdoors, in stunning shades of green and blue; while the indoors boasts a natural, welcoming ambience with chic interiors of white marble, lush rugs and striking chandeliers.
We knew right then an exploratory walk around the property was due as soon as we completed our swift check-in. Delighted at the news that we had been upgraded to a Junior Ocean Suite from the myriad of options available, to put into perspective just how grand the resort is, it features 312 Guestrooms, 63 Suites and 1 lavish Royal Suite, all with private terraces and panoramic views of the sea, the resort and the golf course. Look forward to distinctive restaurants and bars, from delectable pastries at The Drawing Room, Mediterranean cuisine at Olea and Pacific Rim bites at Buddha-Bar Beach, to innovative dishes at The Signature 3 and creative beverages at The Manhattan Lounge, you're not only spoilt for choice, but in for a real treat.
Accommodation:
The suite features a spacious living area with a dining table, a desk for those who need to get a bit of work in, a comfortable sitting arrangement with a television and guest bathroom, and a beautiful balcony overlooking the greenery that ran the length of our suite. And that's just one side of the suite!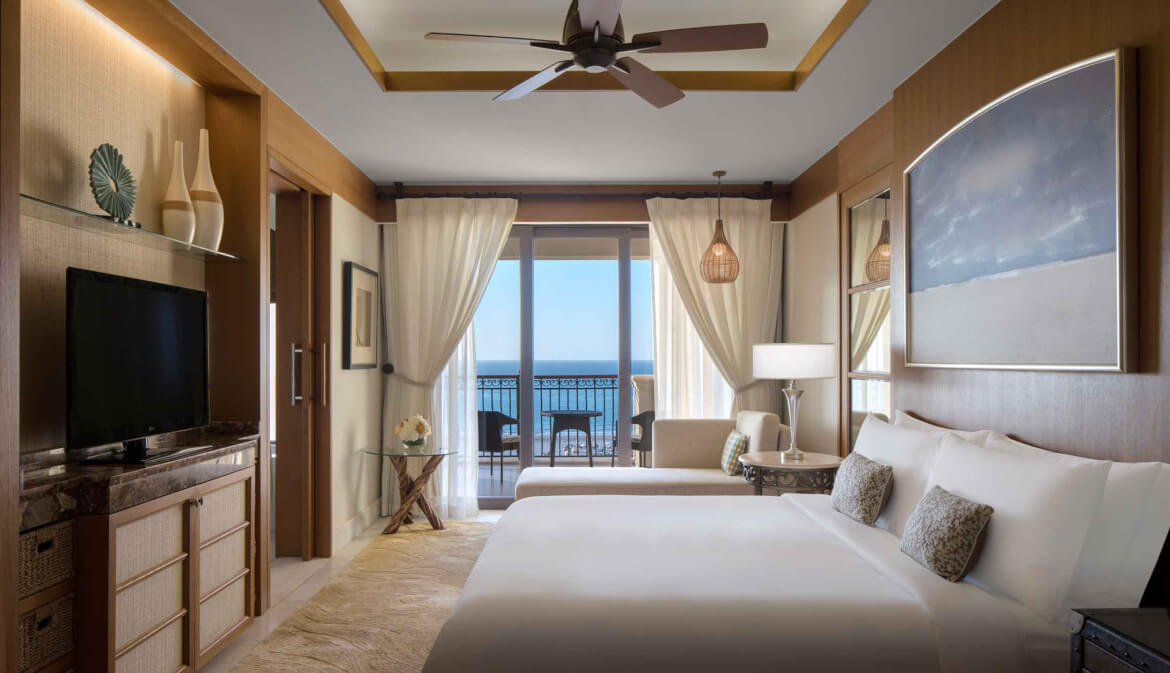 A door leads you into an adjacent bedroom with a dresser, closets and a bathroom with a spacious bathtub, standing shower and lavish amenities. Natural, earthy hues with the occasional vivid bursts of burnt orange and warm lighting make up the Junior Ocean Suite.
Waiting to greet us was a St. Regis Butler, in keeping with the brand's notable history of providing bespoke personalised experiences, who informed us of the series of signature services provided including packing and unpacking assistance, garment pressing, tea or coffee preparation and more.
Culinary Offerings: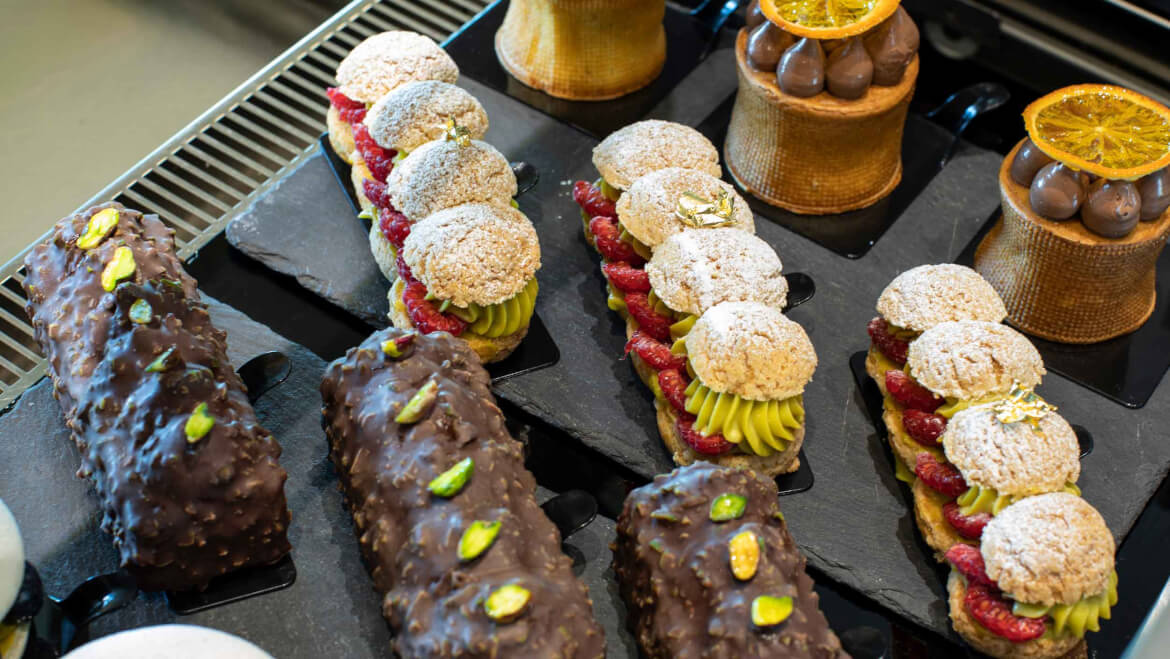 After freshening up, we visited the delightful Drawing Room for a peek into the signature St. Regis Tea Ritual. Open all day and serving homemade desserts and weekly-themed cakes, the sumptuous Afternoon Tea experience begins with your choice of the loose-leaf aromatic beverage that ranges from an antioxidant-rich white or green tea to a light, fruity or minty sip. Displaying a selection of weekly-themed pistachio-flavoured sweets, among others, we chose the Pistachio chocolate crunchy cake, a Pistachio orange choco choux, a Salted-caramel banana cheesecake and the hard-to-resist Burnt Basque cheesecake. With each bite, we noticed the thought and craft that went into each decadent treat. If you walk past The Drawing Room and spot a homemade cake you'd like to indulge in, we'd absolutely recommend you give into the temptation. And if you're not a tea enthusiast, the space offers an array of coffees as well.
The Signature 3, a concept that presents the elegant ambience of a steakhouse with three of the world's finest steak cuts, alongside creative, exceptional dishes, was our venue for dinner. Our epicurean journey began with Lobster tail in truffle maple with a smoked cauliflower purée, mushroom foam and crispy kale that added a fantastic texture to the dish; followed by Seared foie gras with a hazelnut crust, caramelised plums, pain perdu and sunflower honey; and a Caramelised octopus with black pepper jam, pomelo, onion confit and tarragon. Each generously portioned dish was a work of art, with each plate a canvas for the talented culinary team. The Octopus, especially, had a bit of spice to it which came as a pleasant surprise as it usually almost always involves a bland preparation. It seemed as though the chefs had fun crafting each dish, which in turn made it a pleasure to eat.
Mains called for Mediterranean tiger prawns and perfectly seared diver scallops with Datterino tomatoes, black garlic, chilli flakes and olives – a flavour-packed dish in a rich stock. My dining partner opted for a 220g Wagyu beef rib eye which undeniably set the bar high for any steak to follow.
The Manhattan Lounge beckoned and we stepped into the timeless space offering an array of beverages and boasting timber floors, lavish rugs and leather couches, with a traditional wall-hanging mural narrating the origins of Abu Dhabi's settlers.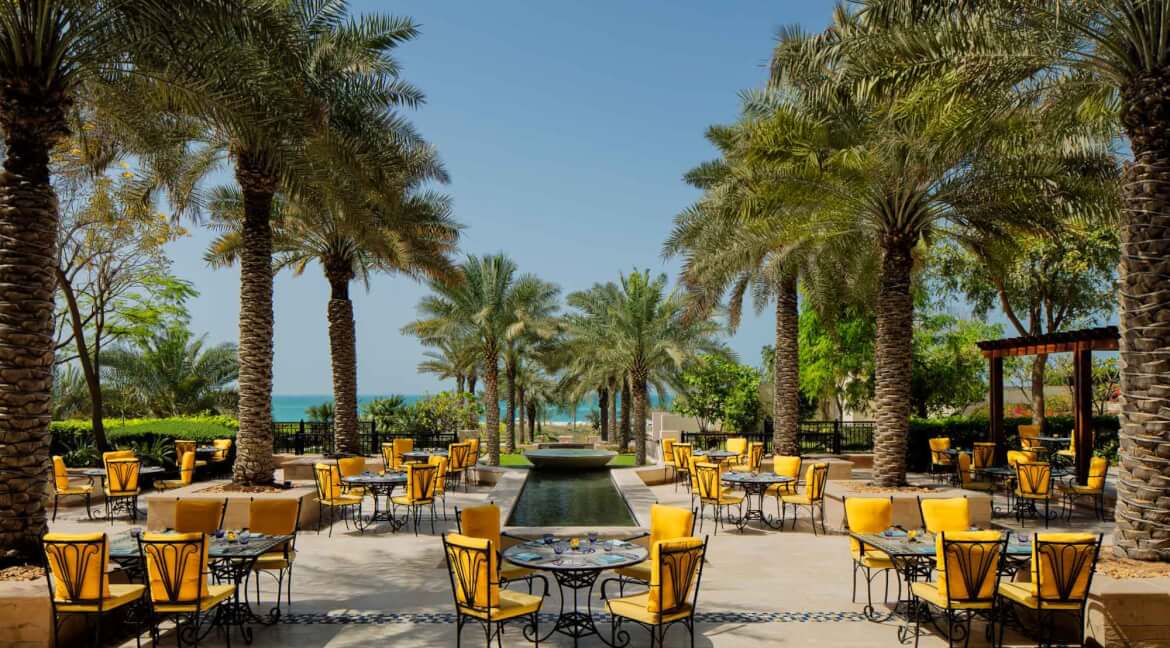 Breakfast kicked off the next morning at Oléa, a Mediterranean-influenced restaurant with indoor and al fresco dining options. Something you don't see often, it continues until 1pm and this allowed for a much-needed sleep in. Tuck into varied options including twists on what you'd usually see on a breakfast menu. Served to the table, a tray of freshly-baked savoury and sweet carbs made its way along with a platter of nutritious Muesli with goji berries, Wild açaí berry yogurt and Mango-chia parfait. Take your pick from the fresh fruit juices including green-powered and detoxifying ones. You can then place your order for a sweet or savoury breakfast (or both). Over the course of our two-day stay, we tried the Croque panini; a modern take on eggs Florentine with black English muffins; Truffle scrambled on avocado toast; and Shakshuka with feta crumbled over and grilled halloumi. Each dish offered a hearty start to the day. Those with a sweet tooth can tuck into a tempting order of chocolatey Nutella s'mores or Cinnamon rolls with pecan nuts. It's rare that breakfasts are remembered during a stay at a resort, however at The St. Regis Saadiyat Island Resort, your breakfasts will be as memorable as your stay.
The renowned Buddha-Bar Beach, with open beachfront views, sensational gastronomy from a concise menu and specialty sips warrants a visit for the adults. The first recommended dish was the Pacha maki with an explosion of flavour from prawn tempura, avocado, white fish and a Pacha sauce; a Mango-Maguro maki with tuna, cucumber and spicy sauce; and an interesting Softshell crab tempura. I say interesting because accompanying it was an aromatic tom yum foam. We indulged in a Porterhouse Ishigaki with togarashi and black garlic butter sauce. Enough for two or three to share, the substantial dish offered a rich succulent bite. Those treating themselves to beverages take their pick from green banana, yuzu, cucumber, kumquat, lime, pineapple and hibiscus infused ones.
Facilities:
Guests can enjoy a host of lifestyle activities including the property's designated pools for adults and children, and a lap pool if you wish to get a quick spot of exercise in. When the sun is shining, try beach volleyball and non-motorised water sports or a game of squash and tennis at the courts.
If you're looking for a rejuvenating treatment, don't leave without a visit to the Iridium Spa. The award-winning hub includes 12 tranquil treatment suites, including couples' treatment rooms, some with private terraces and impressive water features.
We were guided to a spacious treatment room with dim lighting that immediately put us in a state of relaxation. After settling into the cosy spa-provided robes and slippers, we customised our personal spa experience with tailored oils, therapies and massages. The meticulous attention to detail by the dedicated staff offers overall blissfulness, making you feel like you're on cloud nine as you enjoy the rest of your stay.
Book a stay:
Room rates from AED833 per night. Call +9712 498 8888. Visit the website or Instagram.