Sponsored: If you're looking to step away from the hustle and bustle of a busy work life for the weekend or take a staycation to enjoy some peace and quiet, The St. Regis Dubai, The Palm, part of the Marriot International, Inc., offers the proverbial paradisiacal retreat to relax and rejuvenate before heading back to the rat race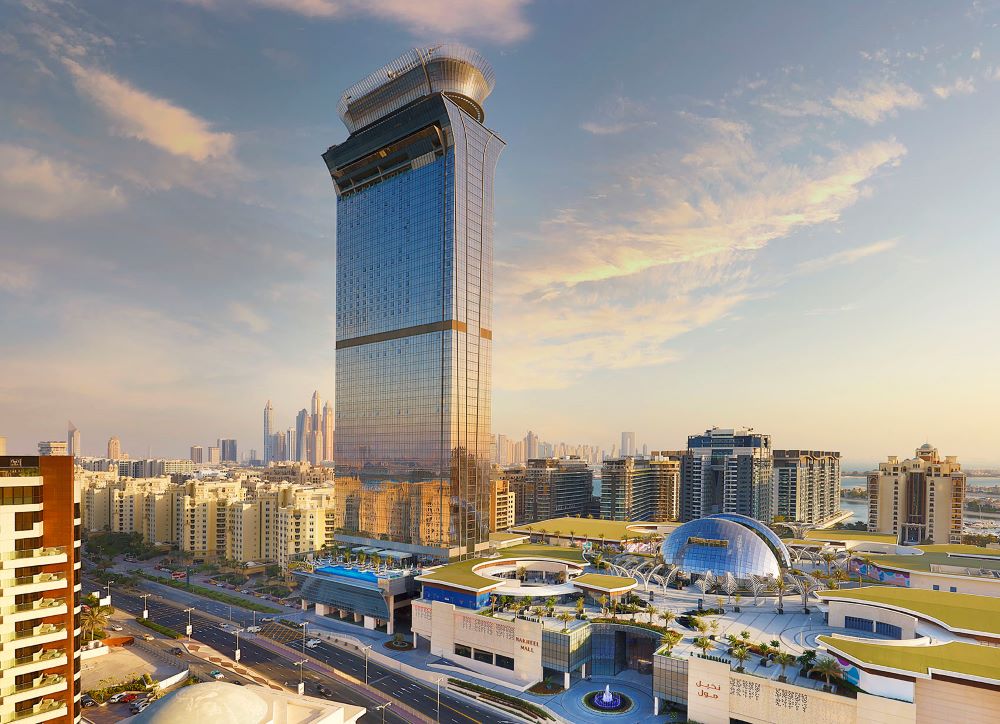 The hotel, which occupies the first 18 floors of The Palm Tower, a stunning 52-story landmark development connected to Nakheel Mall at Palm Jumeirah, is the finest example of understated luxury and warmth with its plush and elegant interiors, gold finish and décor that blends local influences, contemporary art and St. Regis hallmarks.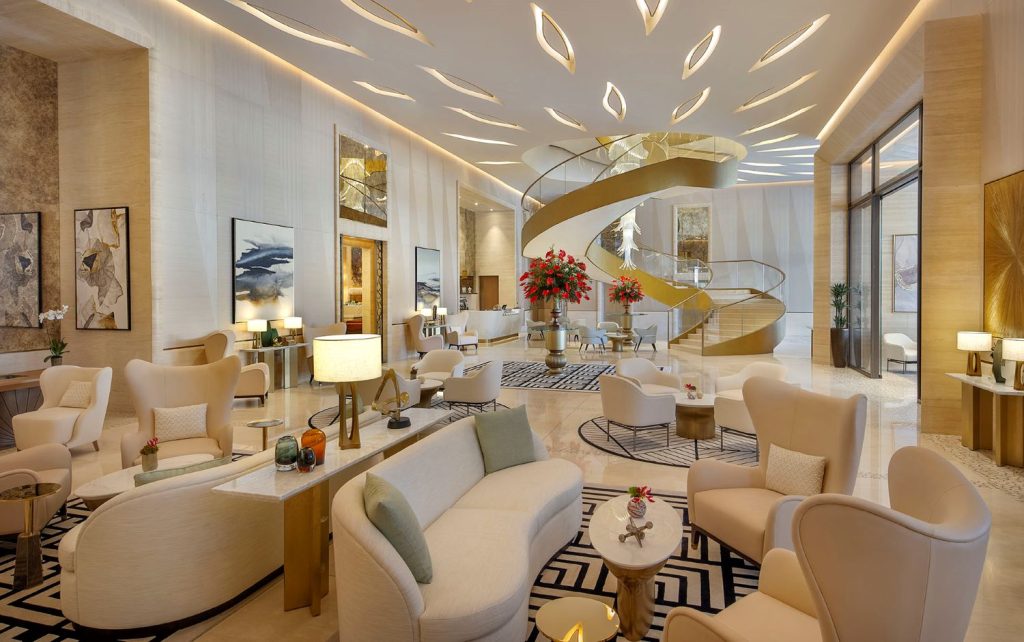 The St. Regis brand is steeped in celebratory rituals and signature services and its Dubai address is no exception. The Palm property's lobby features the signature St. Regis grand staircase, which encircles a long and exquisite chandelier, inspired by the Arabian palm tree, and gilded with shimmering crystals, marrying local tradition with its signature designs.
Our check-in was quick, following which a butler took us up to our room. The signature St. Regis Butler Service, available to all hotel guests, is especially worthy of mention. At the touch of a button on the room phone or a QR code that connects us through WhatsApp to the Butler service, guests may call for unlimited complimentary tea, coffee and hot chocolate, and have four pieces of clothing pressed free-of-charge for a room with two occupants.
ACCOMMODATION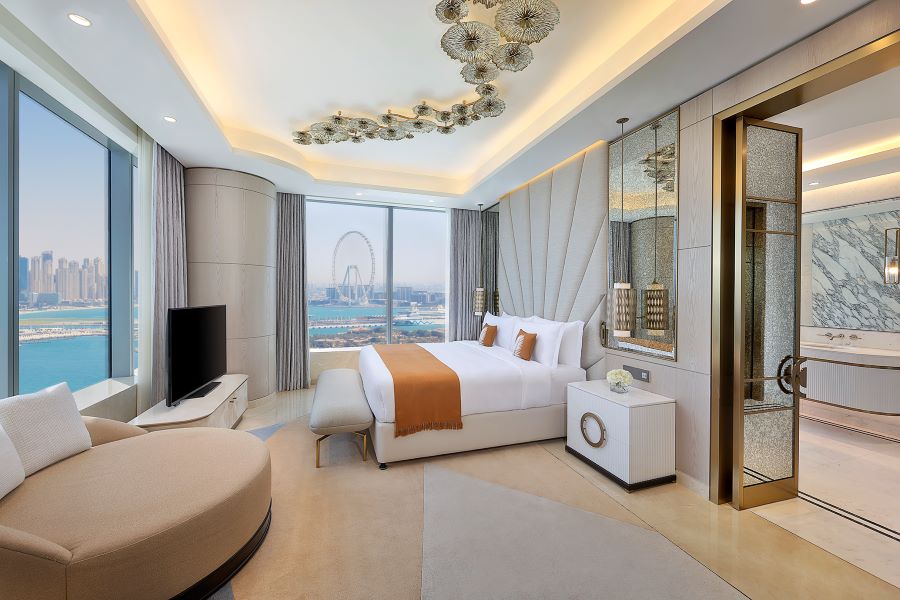 The highlight of our stay was the Family room, which connects to a second room for additional members should you require them. The big plus is that the doors close very gently. The rooms boast ceiling-to-floor windows and ours included a mall view, although there are others that come with full and partial sea views if you fancy that. Marble shone everywhere within the room and the bathroom, which could easily serve as a mini spa on its own, reflecting subtle opulence.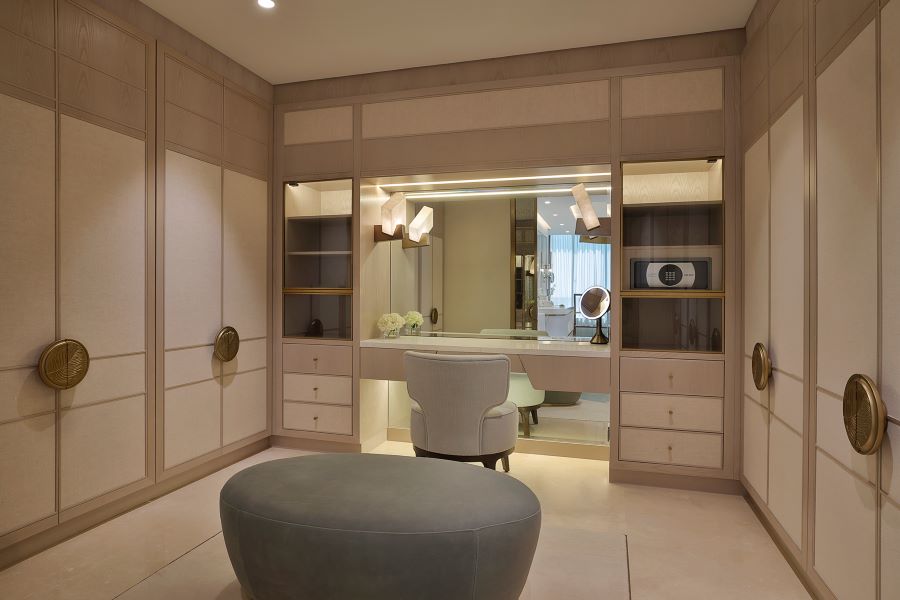 With a well-stocked mini bar, a generous number of tea bags and coffee pods, a platter of fruits and delicious Arabic sweets on the dining table and a big TV screen, we were in our comfort zone and sunk into our king size bed for a short nap after a tiring holiday that involved visiting friends and family. The room has a generous layout with enough cupboards to tuck away your suitcases and clothes, and several amenities in the bath to ensure a comfortable stay.
Did I forget to add that the room and the corridors were incredibly quiet, making it an excellent hideaway for business folk and adults looking to get away from the madding crowd? And yet, Nakheel Mall is literally ten steps away from the lobby with easy access to the monorail, empowering families who want the best of both worlds to have their quietude and take the kids for some fun and games if they so desire.
GRAPE AND TRADITION
At 6.45pm, we paid a visit to the St. Regis Bar just in time to see them sabering bubbly to mark the transition from a celebratory day to a glorious evening – a signature tradition at St. Regis properties around the world.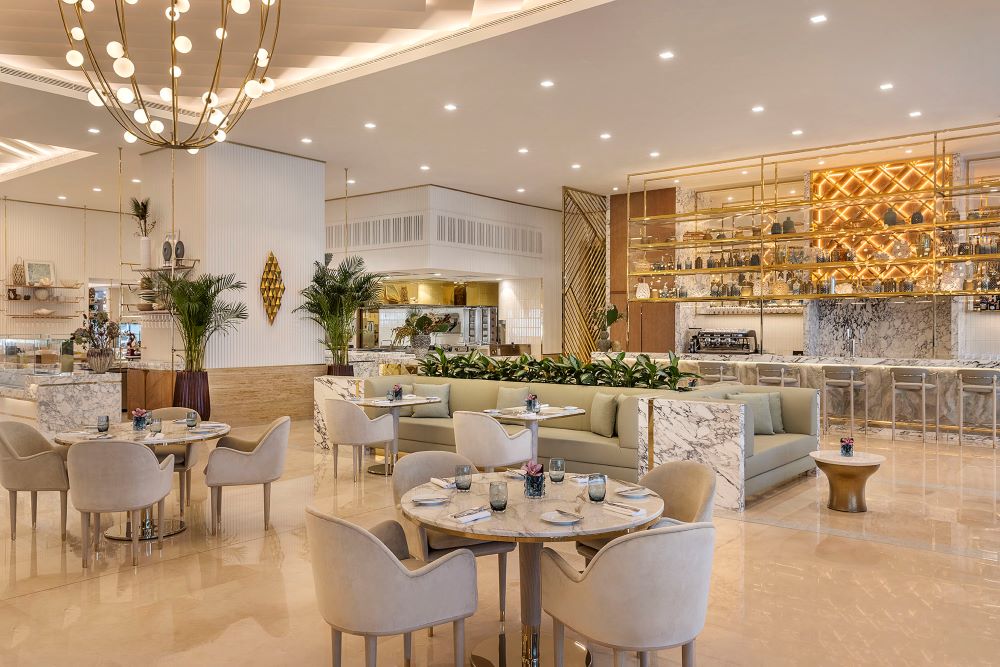 The iconic St. Regis Bar extends the legacy of the King Cole Bar at the brand's flagship property at 55th and Fifth Ave. in New York City, where the Bloody Mary concoction was born in 1934. Guests at the St. Regis Bar in Dubai can relish The Glitzy Mary instead, a locally inspired take on the brand's signature beverage, which features traditional Emirati flavours including date syrup, an aromatic spice blend, sun-dried lime and earthy saffron.
While you are there, step into the grape vault – designed to stimulate all your senses.
CULINARY OFFERINGS
We headed to the hotel's flagship restaurant Cordelia for Sapori D'Italia – a specially themed Italian experience created just for the summer.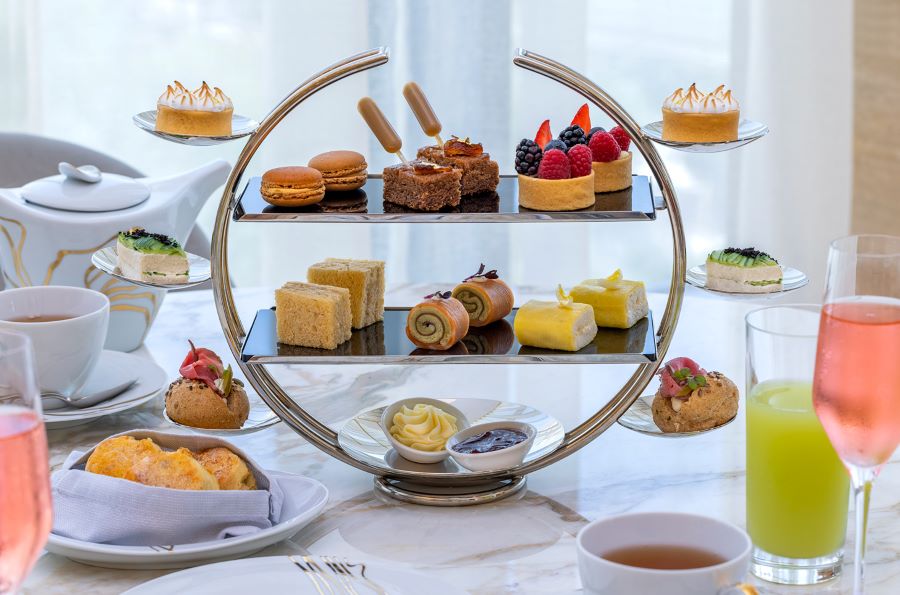 A four-course menu awaited us with a steady stream of freshly baked breads arriving at the table followed by a cheese board with a variety of cheeses such as caciato, taleggio, pecorino and scarmorze to be paired with an assortment of truffle honey, fresh figs, apricots, a mix of jams and cheese crackers on the side. Veggie antipasti in olive oil and cold cuts helped whet our appetite.
We particularly liked how the team at the restaurant paced the food giving us ample time to relax and chat as we dined, leaving sufficient gaps before bringing in the mains and the dessert. The Cavatelli with prawns, asparagus, lemon zest and chives was flavourful, and we indulged in a Porchini and Pizza al Peperone, ordering half portions to avoid food wastage. Dinner concluded with a dessert platter that included a selection of ice creams, panna cotta and ricotta cheesecake. A fine selection of grape is also available.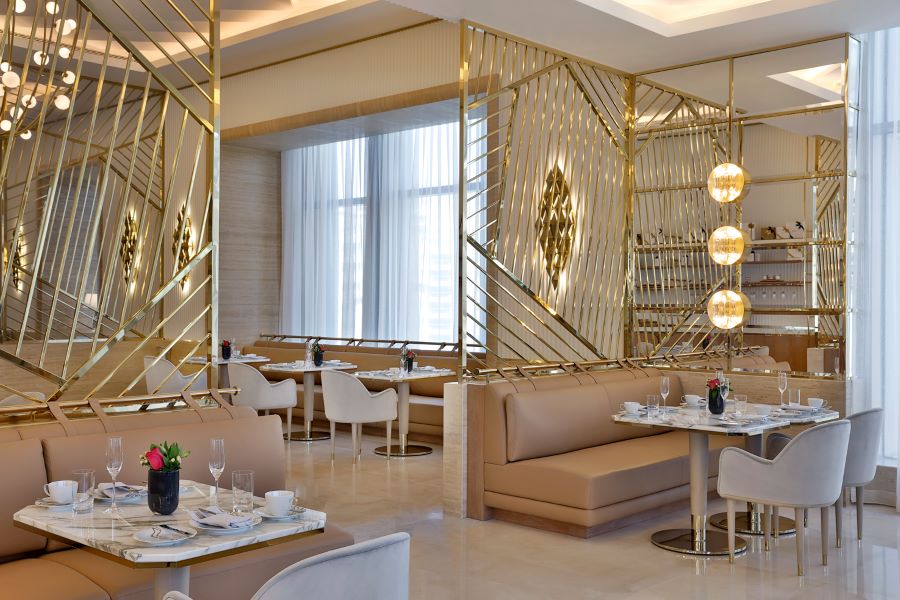 The restaurant is transformed in the morning to offer an extensive, more delectable breakfast spread with specific counters offering a select number of dishes from various cuisines including Arabic, Western, European and Indian as well as healthy options and a live egg station. Fresh juices, tea and coffee are served both at the table and at the counters.
We relished the eggs benedict paired with salmon and cheese, some fresh fruit, freshly squeezed orange juice as well as a mix of cheese and zaatar manakish. With the weekend being a cheat day, we did not resist the temptation to tuck into some crepes with Nutella, some waffles and other sweet delights.
ACTIVITIES
Combining the culinary delights with light activities would be just the right way to complete your experience. We decided to go for a stroll in Nakheel Mall and booked to go to the 52nd floor to enjoy The View at The Palm, a must-see if you are staying at the hotel. The tale of how the Palm Jumeirah was brought to fruition and each of its milestones is truly inspirational.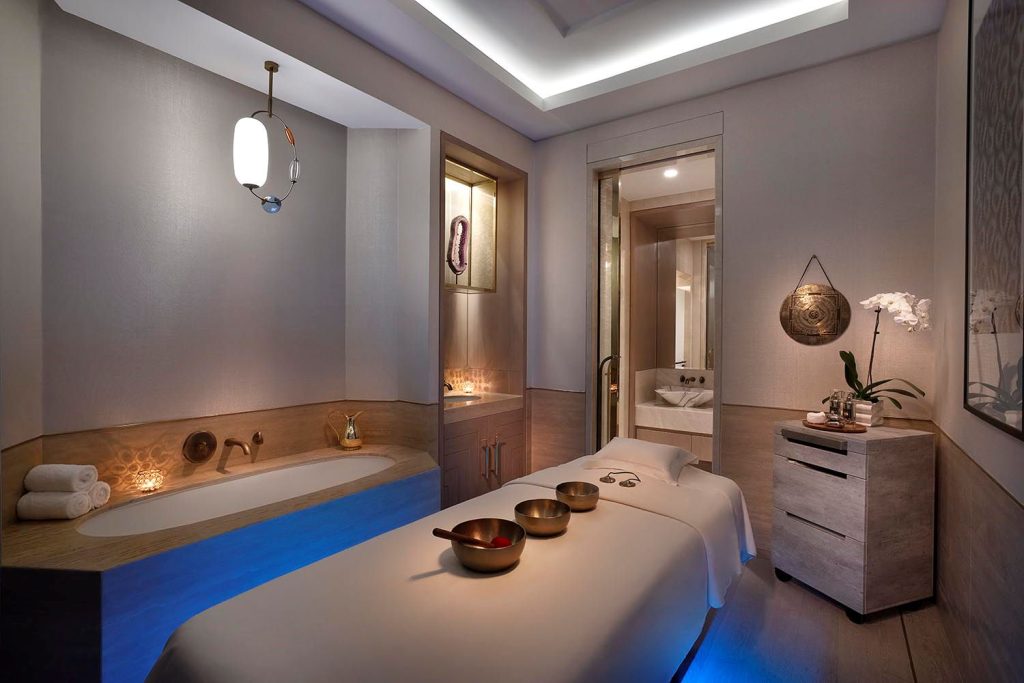 Following that, one may choose between the Exercise room, the two fabulous infinity pools or the spa, or decide to try them all. We opted for the infinity pool and felt refreshed and ready to take on the world after our staycation. What makes this hotel alluring is the fact that it is just a stone's throw away from the buzz in the city and yet, once you walk in, it envelopes you in its warmth and comfort, and you feel like you have stepped into paradise for a brief period.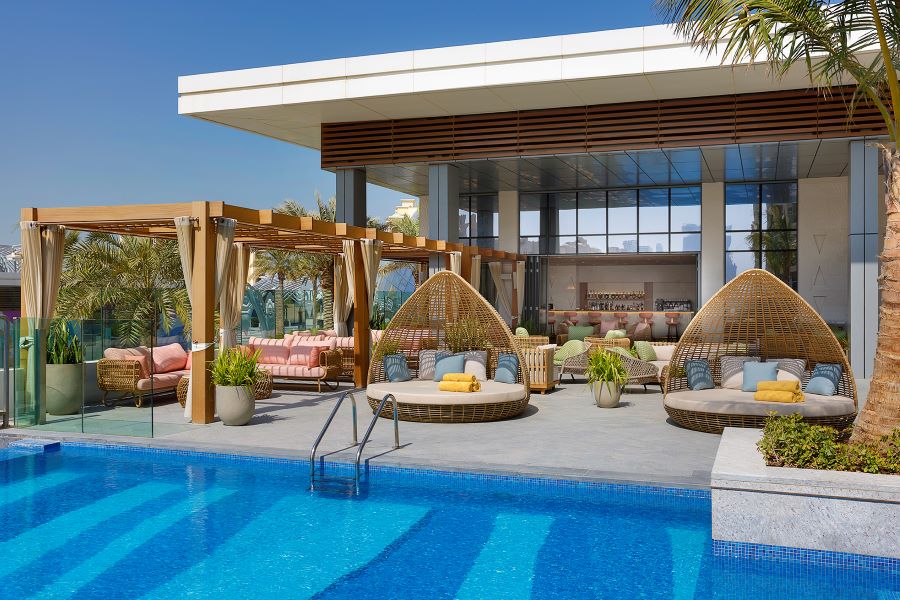 BOOK NOW
The family room is available from AED1,735 per night. Visit the website or Instagram