Sponsored: Are you longing for an exotic escape, brimming with glistening white sands, turquoise waters and breath-taking views? Pack your bags and make your way to Palm Jumeirah's newest beach resort, the Taj Exotica Resort & Spa, The Palm, Dubai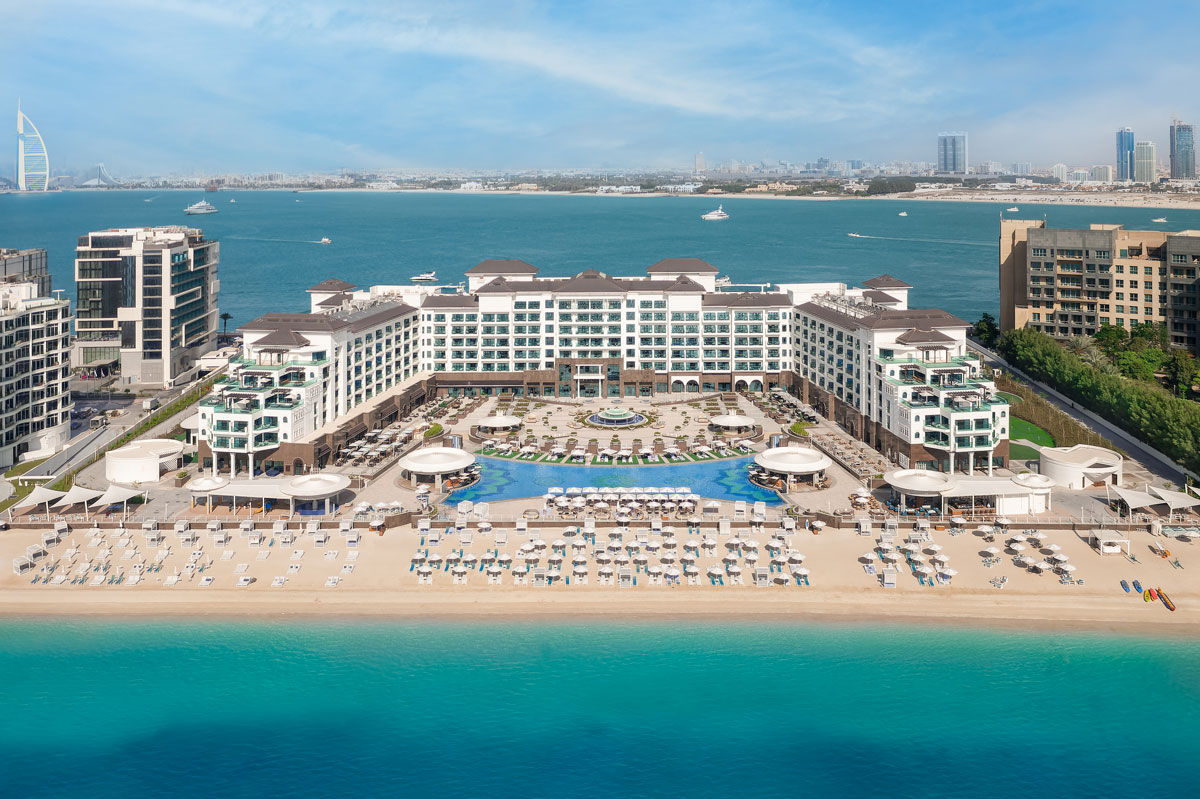 Searching for the perfect summer staycation, where you're spoiled with a slice of paradise on the iconic Palm Jumeirah, in Dubai? Look no further than the brand-new Taj Exotica Resort & Spa, The Palm, Dubai, perched on the East Crescent, away from the hustle and bustle of the city. The exquisite property has also released a sensational 'Summer Discovery Staycation' offer. Read on for all the details.
Immediately transporting you to an island-like destination, picture yourself frolicking on a white sandy beach surrounded by dazzling blue waters, or within a gorgeous expansive patio setting that extends down to a massive pool, all amidst sublime luxury and picturesque views.
Book online.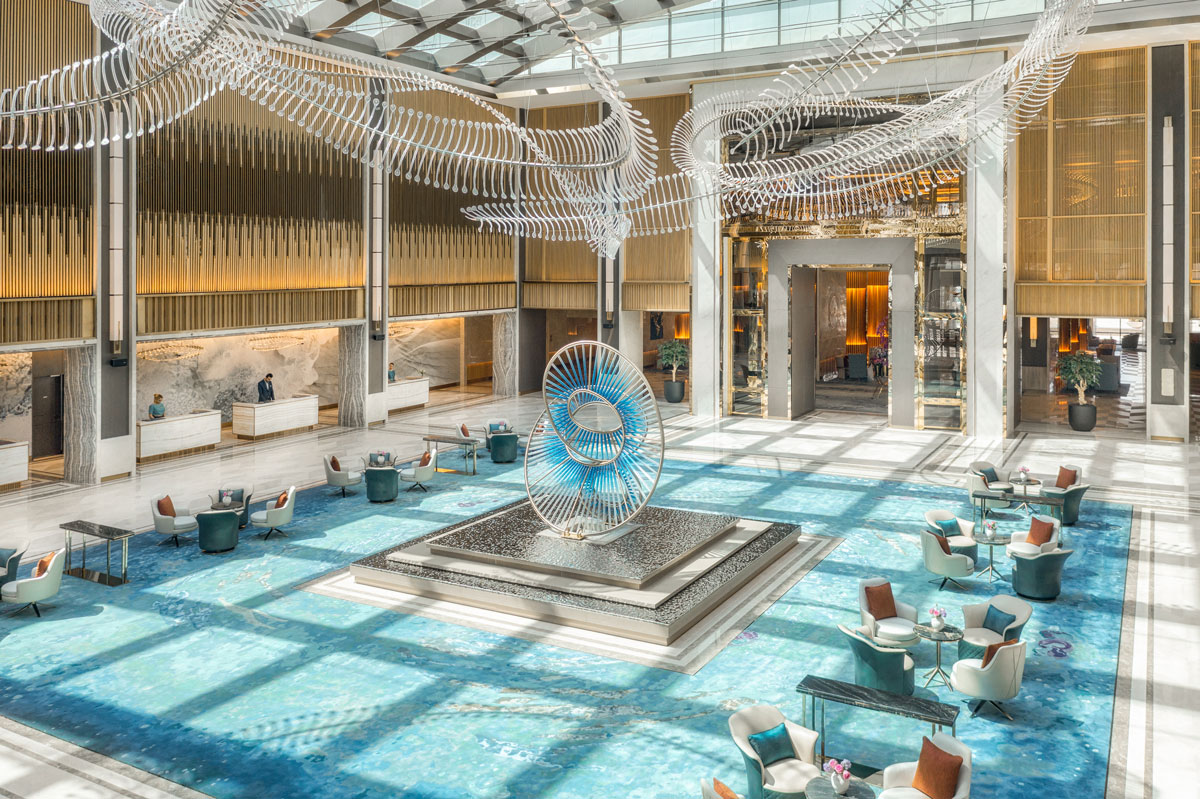 Prepare to be awestruck from the moment you enter the resort's lobby, where you're promptly ushered into plush seats and offered a cool towel to refresh yourself. A beautiful shell necklace is then offered to you, perfectly melding with the tranquillity of the seaside setting. Natural light streams in through a corner-to-corner glass ceiling, with the lobby starring chic and contemporary interiors by Hirsch Bedner Associates, weaving in traditional craftsmanship influenced by the resort's surroundings.
Following a quick and easy check-in process, which we were pleasantly surprised to discover takes place whilst you're seated comfortably in the lobby and not whilst standing in front of a check-in desk, we were led to our accommodation.
Accommodation:
A short elevator ride up takes you to your chosen room or suite, one of 325 elegantly-styled spaces. Look for the sea-themed pieces of décor adorning the walls and side tables, as you walk along a seashore-like blue and beige carpet. The thought that went into planning even the tiniest of details left us awe-struck.
From Luxury Resort View Rooms, to Luxury Sea View Rooms; and Luxury Suite Sea Views to Presidential Suite Four Bedroom Sea Views, guests are spoilt for choice.
Book online.
Oceanic tones, a neutral palette, wood panelling, warm lighting and sophisticated décor greeted us in our Grand Luxury Suite Sea View with an Open Jacuzzi. Yes, a jacuzzi outdoors in the balcony. And before you dismiss it as not being apt for Dubai's summer, believe us when we say it was perfect for those breezy summer evenings (more on this below). A walk around the 120 sq. metre accommodation revealed a discreet kitchenette, a guest powder room, a large dining table and a spacious living area complete with a sofa-bed; followed by an airy room with a huge closet, a stylish bathroom decked out in plush amenities from Hermès, a well-appointed tub and shower, a comfortable bed, a lounge spot and even a work desk. Yes, the suite is as gigantic as we're describing it to be. And we haven't even got to one of the best parts yet.
Located on a higher floor, our suite featured two private outdoor terraces. One was decked out with two individual sunbeds for a private lounging or tanning session; and the other included a larger sunbed and a jacuzzi which overlooked the resort and offered all-round vistas of the iconic Palm Jumeirah, Dubai Marina and the Ain Dubai. We almost didn't want to leave our suite. If you do book a suite, try to catch at least one sun set from your private outdoor terrace. It really is a sight to behold!
Culinary Offerings:
A sensorial culinary journey awaits, sure to satisfy every discerning diner with impressive food, beverages and design, across the resort's many dining options. Whether it's Indian fine dining at Varq, a jaw-dropping gastropub experience at the Roaring Rabbit, an Arabesque atmosphere at Raia, international flavours at Palm Kitchen, sundowners at Lime Pool Bar or coastal and international fare at The Coast beachside bistro; there is indeed something for every child and adult alike. Guests are also encouraged to make the most of the summer season with the range of fabulous offers across all venues.
With the fabulous 'Summer Discovery Staycation' offer, you're entitled to buffet breakfast, one round of a sunset concoction at The Coast once during your stay and a cool 20 per cent off on all food & beverage, so you can have all your favourites at a discounted rate; and this is exclusive of the excellent existing deals at the resort.
On our first evening, we visited Varq that exudes elegance and starring coastal-themed ornamentation throughout. We took our seats outdoors, being a lovely cheery night, opting for an al fresco experience. The menu offers vegetarian and non-vegetarian appetisers, hearty soups, vegetarian and non-vegetarian entrées, a bread selection, an array of raitas and a selection of decadent desserts. Not just this, for those food enthusiasts who prefer trying a myriad of distinct dishes, the restaurant has crafted exclusive sampler platters, alongside a creative collection of comforting classics. Think Kadhai lobster, Murgh makhani and Mutton rogan josh. Since every dish looked mouth-watering, we decided to trust the restaurant's culinary team with our dinner options. An amuse bouche comprising an activated charcoal wafer with avocado puree and onion bits was a one-bite delight; and offered a flawless beginning to an exceptional meal. This was followed by a Seafood trio starring a juicy and smoky tandoori prawn, a piece of perfectly-cooked narangi black cod and delicately-spiced achari haldi fish tikka; and a Chicken three-ways appetiser, featuring ganderi kebab, aromatic angethi ka murg and murgh methi malai. We relished every bite, wishing it wouldn't end. A warm, cosy and innovative soup in the form of a Kale chane ki cappuccino (black chickpeas velouté with milk foam and coriander dust) arrived next and it was so good, that I polished it off in one go, leaving my dining partner with just one sip. Our first course was followed by a palate pleasing cleanser of a vibrant mango sorbet. A bottle of grape from the Sula Vineyards in the Nashik region of western India accompanied our meal, teeming with medium-bodied peppery notes. In no time, our table was covered with mains, including portions of Pepper prawn in an Alleppey curry with black rice and Chicken tikka morsels with pickled onion in a velvety tomato sauce, accompanied by cracking creations such as, camembert stuffed naans and caramelised onion and goat cheese naans. Suffice to say, the second course was glorious. Lastly, a Crispy coated kalakand sweet atop a rich and creamy milk base, bursting with cardamom notes and comprising a blueberry compote offered a sinful end to our epicurean experience.
We slept in the next morning, choosing to skip breakfast and grab a cooling midday dip in the pool.
After a few hours of play, we felt the hunger pangs strike and headed over to the Roaring Rabbit for lunch. From the moment you step foot into the eatery, you will be mesmerised by Alice in Wonderland themed surroundings. Picture cards on the wall depicting various clues from the fantastical adventure, tipping teacups and teapots, rabbit ears and hats and more. Again, the attention to detail is mind-blowing. We devoured a Pub sampler platter featuring BBQ Chicken Wings with cilantro lime dip, Butter garlic prawns spiced with a homemade rub atop a bed of silken avocado and a Salt and pepper crispy calamari with dried lemon tartar. Each appetiser was scrumptious as ever and offered the perfect gateway into our gastropub experience. A breather was needed at this time and we indulged in a creative concoction, emphasis on the creative here. Rustled up to serve two people, the fermented cereal grain distilled brew offered a tribute to Animal Farm, a satirical allegorical novella by George Orwell and included infusions of elderflower, berry, gunpowder tea, honey water and rhubarb. Poured from a teapot, into a teacup, the glittery blend tasted as good as it looked. Mains arrived shortly thereafter, where my dining partner tucked into a 350gm Wagyu ribeye straight off the flame, that he described as magnificent; and my adventurous side called for a sumptuous serving of fall-off-the-bone, three-hour braised 220gm Rabbit thigh. We discovered two more concoctions before dessert, namely the Flopsie opsie with a gold-distilled beverage and dark cacao, fresh camel milk and coconut purée, served in a swaying glass and metal holder; and The nursery, served in a miniature bathtub starring kiwi leaf tea, a dash of sparkling verbena tea and more. If you're a fan of creative concoctions, the Roaring Rabbit is a must-visit. To round off our lunch, a tempting sharing serving of Sticky chocolate and date pudding with toffee sauce and vanilla bean ice cream showed up; and it was one of bests I've ever had.
After a short siesta, we went back down to the pool for a sundowner and a refreshing lime-based blend offered delightful sips as the sun set in the distance.
Still full from lunch, we opted to skip dinner and instead go check out Raia, the glamourous rooftop bar and lounge offering Andalusian aesthetics and panoramic views of the Palm's horizon on one side and remarkable views of iconic Dubai architectural wonders on the other. Here, my partner opted to try an infused-blend brimming with Earl grey and lemongrass syrup, lemon-ginger beer and cinnamon and clove smoke; while I sipped on a rose and hibiscus syrup steeped pick-me-up, with lemon and sparkling grape. For those who wish to grab a bite, you can look forward to wholesome flavours from Mumbai to Marrakesh.
We slept early that night, waking up bright for breakfast the next day. Hosted at the bright and airy Palm Kitchen, boasting endless counters and live stations, breakfast at Taj Exotica Resort & Spa, The Palm, Dubai is a feast. The cool morning called for outdoor dining, where we enjoyed fresh juice. Take your pick from carrot, orange, pineapple or watermelon juice, or detox water. Thereafter, pile up your plates high with what your heart desires, as your bound to find most of our favourite morning foods at the breakfast buffet. Picture over 8 counters, each teeming with delights ranging from freshly-cut fruit and a selection of cold cuts, cheese, salads and smoked salmon; to hot foods such as porridge, foul medames, sautéed pumpkin with feta, baked beans, eggs four ways (Benedict, scrambled, boiled and shakshuka), chicken sausages and turkey bacon and even fish stew and vegetable fried rice and soup. But wait, that's not all. A live counter exists, one for eggs any style you want them, one for Indian delicacies such as Masala dosa and even a kid's section with hot-from-the-griddle pancakes and waffles with delicious toppings. There is also an Indian food counter featuring heartier bites, including options such as carrot halwa, spiced potato curry, kachori, rice kichidi, poha, upma, medu vadas, aloo parathas, idli and sambar and exotic chutneys. Cold dips, alongside cereals, nuts and an impressive gluten-free section exists; together with a section for probiotic drinks, salted lassi, yogurt and whole fruit. Numerous small counters comprising freshly-baked and artisan bread, pastries, cookies, muffins, cake and donuts, accompanied by stands serving traditional masala chai, iced tea and coffee and filtered coffee. Alternatively, one can choose to order coffee their preferred way. Rest assured, you will be completely satisfied and leave a happy diner.
Facilities:
Make your way down to the resort's 230 metres of private beach, or their pool which boasts the title of being the longest on the Palm Jumeirah; and lounge about, reading your favourite book, listening to catchy tunes or just laying back and soaking up the sun, ending with cool dip in the water. Families can also enjoy tailored entertainment within exclusive zones, including video games, soft play areas, sporting activities at purpose-built facilities, such as tennis and the Popsicle Kids Club, with a dedicated shallow water pool and a playground.
Book online.
Should you decide to pamper yourself with a rejuvenating treatment, Jiva, the all-natural spa inspired by traditional Indian healing techniques, beckons with treatments including Ayurveda, Indian therapies, yoga, meditation and more. Post a stressful week at work, I entered Jiva Spa tightly-wound up; and without overstating, I left in a state of sheer bliss, tense muscles released and utterly invigorated. A warm cup of herbal tea offered calming sips, before I met with an informed treatment doctor to discuss what I was looking to achieve from my 60-minute Indian Aromatherapy massage. Here, I encourage you to openly discuss if you're looking for relaxation, energisation or even detoxification. I was then shown to one of the nine treatment rooms, stopping on the way to peek into the yoga studio which is open to all.
The indulgent therapy begins with the washing of one's feet, followed by the generous application of signature oils through a relaxing massage. It was a wonderful experience, with the aroma of the herbal oils, the soothing background tunes, the peaceful setting and the work from an expertly-trained masseuse, that I'm quite certain I dosed off a time or two. The treatment was absolutely delightful, easily showcasing why Jiva is a top, award-winning spa.
Insider Tip:
Don't miss out on the chance to book your staycation at this island oasis. Grab their spectacular 'Summer Discovery Staycation' offer and treat yourself and your loved ones to a blissful beachside break.
Book a Stay:
Book the Summer Discovery Staycation offer online. Email Reservations.exoticadubai@tajhotels.com. 
Roaring Rabbit – Gentlemen's Night on Thursday from 12-9pm at 30 per cent off grills and taps and Happy Hour from Saturday to Thursday from 5-8pm and on Friday from 12-9pm at AED35 onwards (50 per cent off selected house beverages).
Lime Pool Bar – Pitcher Perfect, daily from 10am-7pm at AED269 per pitcher and Cool by The Pool, daily from 1-4pm at AED199 for 6 lime and flavoured concoctions.
Raia Rooftop Bar and Lounge – Social Night to meet and mingle on Thursdays from 8pm-1am at AED145 for ladies (unlimited house beverages for 3 hours and 30 per cent off food) and AED245 for gents (unlimited select house beverages); and Panorama Brunch on Saturdays from 1-4:30pm at AED300 per person (inclusive of soft beverages), AED450 per person (inclusive of house beverages), AED600 per person (inclusive of bubbly) and After Party package from 5-7pm at AED150.
JIVA Spa – Birthday Spa offer for UAE residents, daily (50 per cent off on facial or Indian aromatherapy massage; and accompanying guests receive 25 per cent discount); and Ayurveda Wellbeing day out, daily at AED950 per person and AED1,750 per couple (inclusive of lifestyle consultation with wellness coach, Ayurvedic rejuvenation treatment for 90minutes, morning yoga session for 60minutes, 30-minute meditation session, access to the resort's swimming pool and beach and access to the spa's wet area facilities).