Sponsored: Looking for a fabulous staycation offer for the upcoming long weekend and the Eid al-Fitr holiday? Or even perhaps a short escape with your family, friends or partner? Four Seasons Hotel Abu Dhabi at Al Maryah Island has launched an 'Abu Dhabi Getaway – 20%' offer brimming with exceptional experiences. Read on for all the details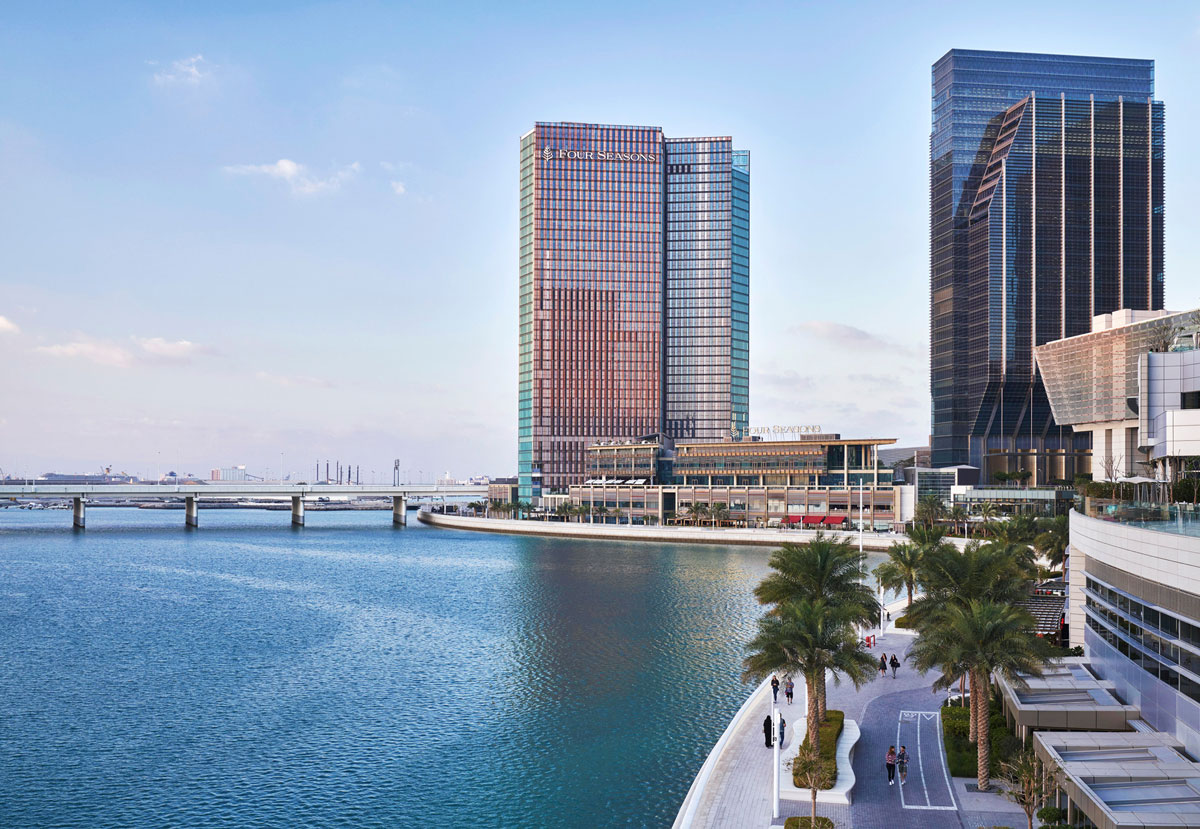 Perched on the glittering water's edge of the Al Maryah Island, the 34-storey tower Four Seasons Hotel Abu Dhabi at Al Maryah Island stands tall and majestic radiating distinctive vertical coloured lines inspired by the vibrant textiles of the souks. Just over an hour's drive from Dubai, we were able to spot the grand property from a distance away; with it getting grander the closer to it we reached.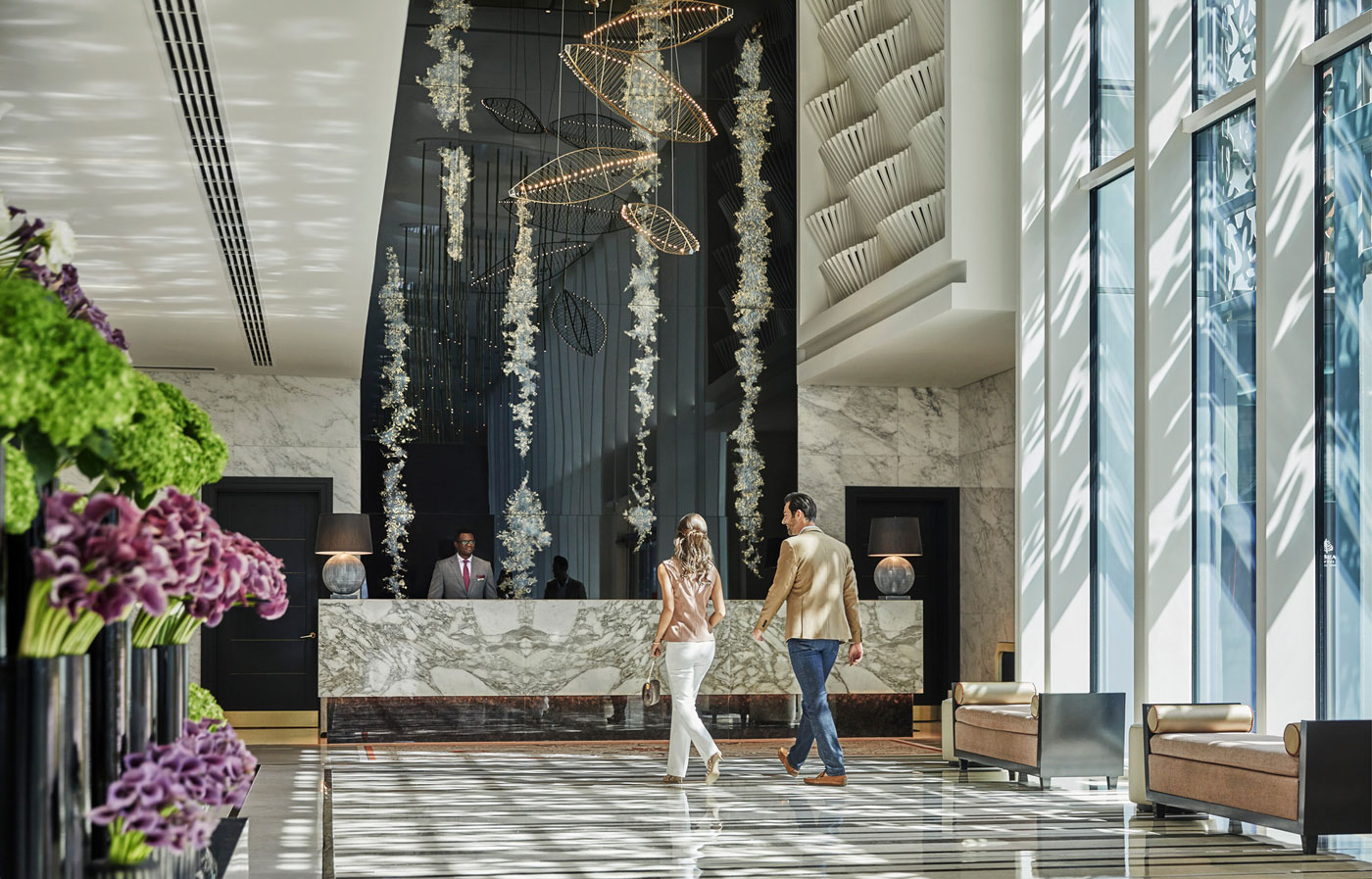 A bright, spacious lobby adorned with sleek furnishings, impressive detailing, golden highlights and neutral tones greeted us, as we went to complete our swift check-in. In no time, we were shown up to our Deluxe Four Seasons Executive Suite; and what's interesting to note is that, every guest room and suite offers water views – tranquil by day and shimmering by night.
If you have no plans for the upcoming long weekend and the Eid al-Fitr holiday, we encourage you to check out Four Seasons Hotel Abu Dhabi at Al Maryah Island's 'Abu Dhabi Getaway – 20%' offer. Think luxuriously comfortable living spaces, lavish spa treatments for you to treat yourself to, top-notch amenities and last but not the least, a remarkable array of dining options across Al Meylas, Butcher & Still, Cafe Milano, Crust, Zsa Zsa, Eclipse Terrace Lounge and even in-room dining for a more intimate option. 
Book online.
Accommodation:
Understated modern extravagance spanning an enormous living space, a quaint work area, a spacious dining table, a wet bar, a guest restroom, a plush bedroom and walk-in closet and finally, a lush bathroom complete with a tub, luxurious amenities and a shower awaited us. A common thread throughout the hotel was the gorgeous fresh flower arrangements, that elevated every space.
Our 85+m2 Deluxe Four Seasons Executive Suite boasted plenty of natural light that streamed in through floor-to-ceiling windows; and upon drawing the curtains open, we were greeted by waterfront views and vistas of the turquoise-hued pool below. This generously-sized setting is suitable for three adults or two adults and one child; but you can also opt for the other options, according to your needs. These range from four distinct Guest Rooms to three types of Suites and two extravagant Speciality Suites. No matter your choice, you can be assured of the finest facilities – thick, terry bathrobes and plush slippers, deluxe bath products, cosy bedding and more. Rest assured, you will have one of the most comfortable sleeps and even stays of your life.
Culinary Offerings:
An English Afternoon Tea awaited us at Al Meylas, which translates to "a place of gathering" and symbolises a prominent place to be seen. Embracing the social tradition of the majlis, the sophisticated yet unpretentious setting pays homage to Abu Dhabi's Arabic culture of warm and generous hospitality. We took our seats amidst the charming and picturesque place, where a delightful home-brewed sparkling white tea offered a fabulous start to our epicurean experience. The afternoon tea menu offers sweet and savoury delicacies; and in no time, two elegant stands showed up starring innovative petite pastries and sumptuous snacks. We reached for éclairs with salmon mousse, chocolate-coated crisps with foie gras mousse, macarons with spiced avocado and goat cheese and truffle egg mayo brioche rolls; alongside classic mini sandwiches, including cucumber and cream cheese, chicken tikka on curry raisin bread and egg with caviar. And this was just the savoury offering. From the tempting treats stand, take your pick from Guanaja chocolate tarts, Amalfi cakes, tiramisu, rose raspberry religieuse, a summery Eton mess with fresh strawberries, opera cakes and the not-to-be-missed scones with jam, clotted cream and lemon curd. Sips of warm Roobois orange tea and Fujian oolong tea served to accompany our experience. Decadent, delightful and indulgent, the English Afternoon Tea at Al Meylas is perfect for your next tête-à-tête.
Dinner called for a visit to the 1920s Chicago steakhouse-inspired Butcher & Still, where we had the pleasure of meeting the celebrated Chef Marshall Röth. He so kindly gave us a tour of the restaurant and its secret, private dining space, The Hideaway; while enlightening us on the inspiration, thought and level of detailing that went into creating the concept. Expect to find leather banquettes, rich wood floors, bullet casing replicas in the bathrooms, a discreet speakeasy-style side entrance, advertisements from back in the day, secret closets, pillars featuring vertical tiles reminiscent of the 1920s architecture and so much more. We were awestruck with the meticulous attention to detail. On the dining front, a portion of cloud-like bread and butter offered a gateway into our meal; served to our table with a joke, by one of the many friendly staff. A common thread across every restaurant in the hotel. Next, we tucked into an array of three starters – the 99 per cent lump crab cake that starred a surprising ingredient, scallops, used to bind the cake together ensuring a wholehearted seafood flavour; a sinful serving of bone marrow with an tantalising oxtail marmalade; and a prime angus steak tartare prepared tableside, comprising a hint of mustard, capers and egg. We'd only just begun and were already off to a glorious start! A short breather ensued, and we wandered out onto the terrace, soaking in the breath-taking views around. Do grab a table outdoors if the weather permits, it will not disappoint. Mains showed up shortly thereafter, where we tucked into generous portions of sinfully succulent USDA prime meat (from 100-day grain-fed cattle, where only 2.9 per cent of cattle are raised in the USA to produce this grace of beef). Cooked to perfection, the 400gr ribeye was one of the best steaks we've ever eaten; while the 300gr Kansas city strip loin was magnificent. Portions of potato gratin, sautéed heirloom mushrooms and spinach served as sides to our meal. Stuffed by now, we shared a light-as-a-feather Carrot cake, teeming with nuts and topped with vanilla ice-cream and caramel sauce. Butcher & Still is a must-experience for every meat enthusiast in the country.
We slept in the next morning, choosing to try out the in-room dining option for breakfast. Barely 20 minutes after we placed our order, did our breakfast selection show up, complete with a hot compartment to ensure a warm meal and the required crockery and cutlery. I enjoyed an egg white frittata with brown toast; while my partner relished his eggs benedict with smoked salmon. Freshly made carrot and watermelon juice was served to satisfy our thirst. The in-room dining option is perfect for those who wish to lounge in their room and grab an intimate meal before heading about their day.
Being a Sunday, Cafe Milano was hosting its Viaggio In Italia Sunday brunch. If you're a lover of all food Italian, do give this lunch affair at this Washington, DC born concept a try. Look forward to a charming setting starring handmade pastas and fresh seafood, inspired by the southern coast of Italy. The feast began with an array of antipasti including zupa di ceci (chickpea soup and sautéed veggies); frittata rustica with taleggio cheese cream; focaccia with beef prosciutto, arugula and parmesan shavings that brought back memories of our trip to Italy; fried cod and crispy artichoke that we could not get enough of; a vibrant marinated mixed beetroot salad with goat cheese and pine nuts; and grilled baby eggplants salad with roasted cherry tomatoes and buffalo mozzarella. Bring your appetites with you, as the brunch boasts substantial portions of each dish. We were off to a great start. My dining partner sipped on orange-hued concoctions, while I nursed a lovely passion fruit mocktail. Soon after, the le paste course brought to our table hearty portions of roasted butter nut squash ravioli in a sage sauce, with almonds; and a silken house-made rigatoni pasta "alla Norma-style". Diners have a choice of two mains – a pan-seared sea bass fillet with topinambour purée and caponata stuffed grilled zucchini; and a wagyu beef braciola (thinly rolled beef with filling) with creamy polenta and sautéed broccolini. Each dish was well-presented and utterly delectable. A fine way to spend your Sunday afternoon, our meal ended with a classic cloud-like tiramisu; or you can alternatively enjoy a strudel alle melle or a panna cotta.
Facilities:
Bask in the sunshine, with panoramic views of the skyline and Arabian Gulf from the sprawling third-floor pool terrace; catch some exercise at the fully separate men's and women's fitness centres; or pamper yourself with a blissful 90-minute Gold Quartz Healing Therapy in The Pearl Spa and Wellness.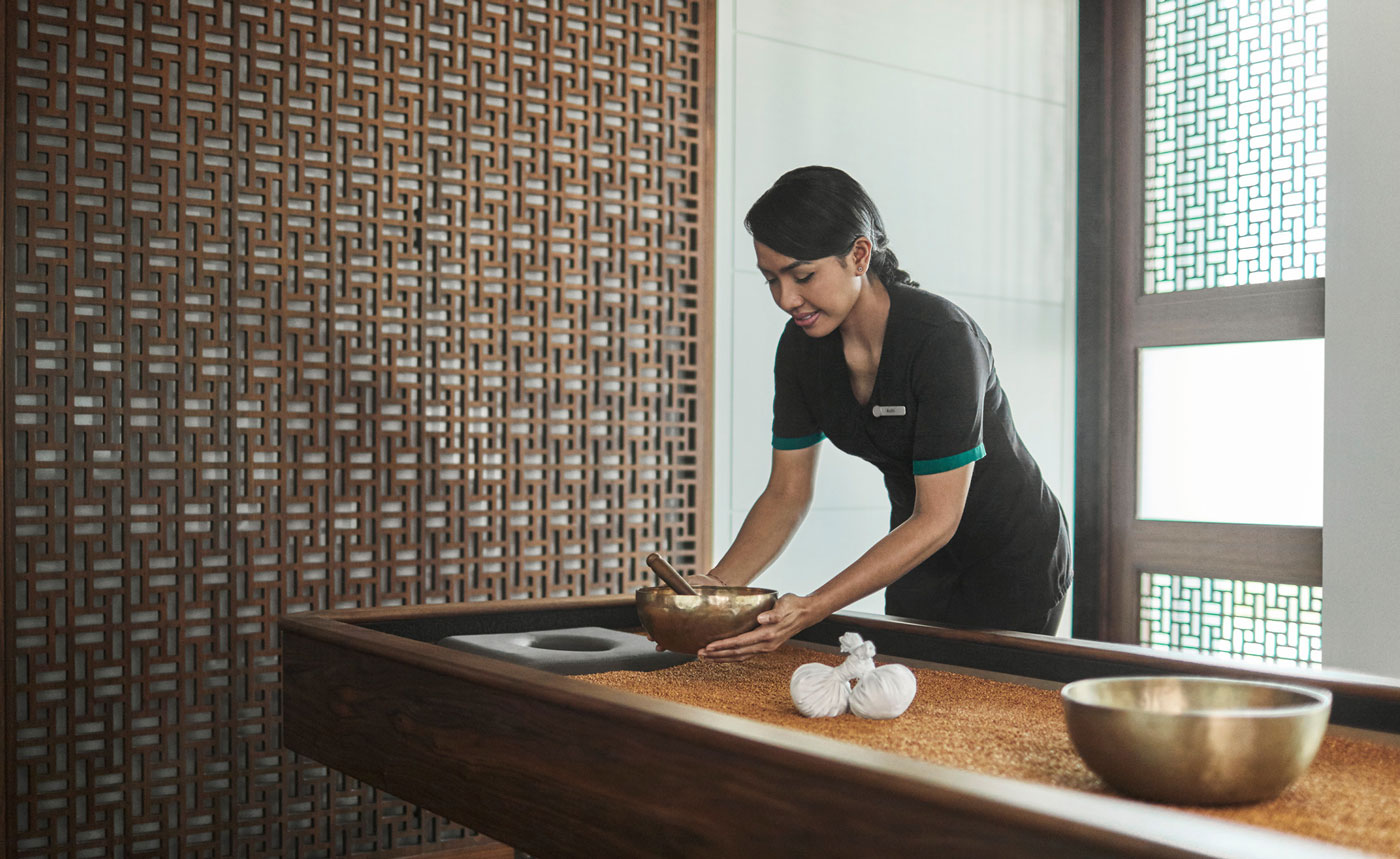 After a stressful week at work, I entered The Pearl Spa tightly-wound and knotted. I left, without exaggerating, tensions released, harmonious and completely rejuvenated. Since the spa has just one room to accommodate the treatment, I recommend booking your spot in advance. The transformative journey begins with you choosing your preferred option from three aromatic oil infusions – za'atar with white tea and fig to energise; lavender with frangipani to relax; and black tea and myrrh to de-stress. I choose the energising option. Following this, three selections for under eye patches appeared – rose quartz to de-stress; charcoal to brighten; and gold with anti-aging properties, wherein I opted for the gold eye mask. And only now, were we to begin the bespoke spa experience.
I laid down on a bed of heated gold quartz sand, before being introduced to the resounding vibrations of singing bowls, that are used for deep relaxation, to promote good energy, to improve circulation, to balance and restore a melodious flow of vigour and vitality. I immediately felt at ease, immersing further into a state of sheer paradise. An invigorating aromatherapy herbal poultices massage, comprising more than 15 herbs and pure oils serves to ease muscle pain, stimulate lymphatic drainage and detoxify ones' body. And a marma points face therapy serves to soothe your mind and stimulate and activate energy channels in your body. The Gold Quartz Healing Therapy ends with the application of the eye patches, followed by the use of a cool towel to balance your body temperature. Lastly, a zero gravity practice, wherein the bed you lay in is tilted either side so as to promote blood flow to your head and your feet. The treatment was the best I've experienced so far.
Insider Tip:
Planning a last-minute Eid al-Fitr staycation? Take advantage of the spectacular 'Abu Dhabi Getaway – 20%' offer. Click the link below.
Book a Stay:
'Abu Dhabi Getaway – 20%' off is valid for selected dates between April 20, 2022 to January 5, 2024. 20 per cent off (minimum stay of 2 nights). Afternoon Tea at Al Meylas from 3-7pm at AED250 per couple. Friday Lunch at Butcher & Still from 1-4pm, dine à la carte. Gold Quartz Healing Therapy at The Pearl Spa and Wellness at AED890 for 90 minutes. Call +9712 333 2333. Book online. Visit the website or Instagram.